As far as household name American brands go, Bissell is one of the oldest. But wait, this is about the top Bissell air purifiers – not exactly the first home appliance that comes to mind. Well, Bissell happens to also manufacture high performance air purifiers. Customer feedback is glowing not only because they deodorize the air well, but also because of their relatively low price point.
Here are our top picks from Bissell's line of air purifiers:
All Around Winner: Best Bissell Air Purifier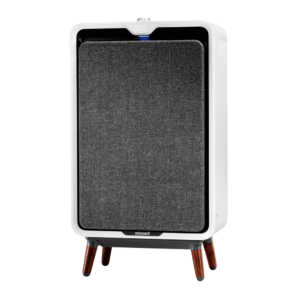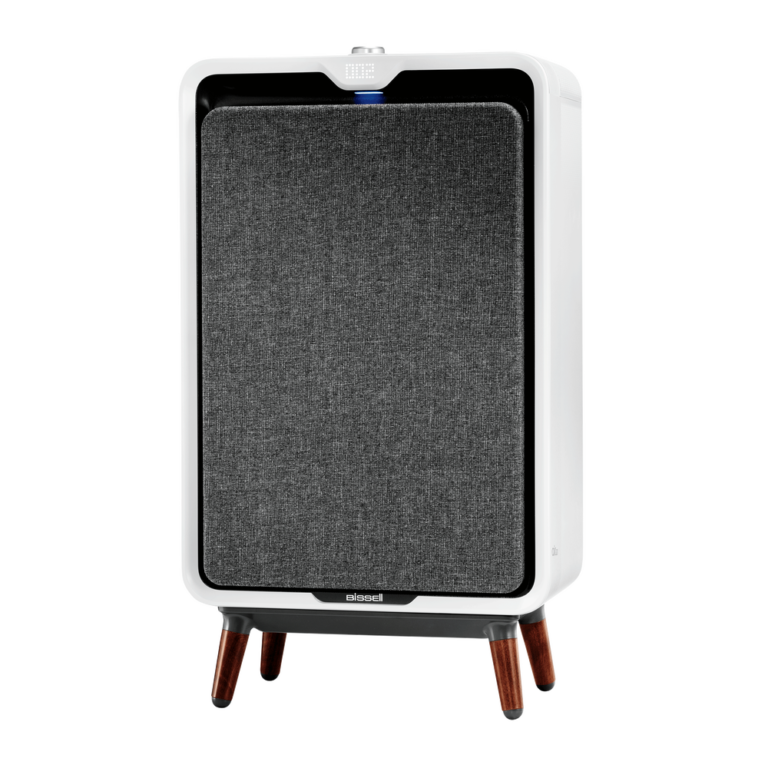 We think the air320 Smart Air Purifier struck the right balance between price, performance and features. It does forgo wifi-connectivity and a companion App. For us, that okay, and for those that prefer connectivity and an App, the BISSELL air320 Max is available, too.
Before getting into the details of the air320 we wanted to note that it has an exceptional 5-year warranty.
Medical-Grade HEPA + Carbon Filtration + Air Quality Sensor
The air purifier has 3 levels of filtration to offer what BISSELL calls "Simply Clean Air." Those three levels are a pre-filter which extends the life of the filters which follow by capturing the largest particulates. Next air moves past an H13 HEPA filter. BISSELL notes the H13 is a medical-grade HEPA filter. Finally, an activated carbon filter removes odors from the air before returning it to the room.
Air Quality is actively measured using a PM 2.5 air quality sensor, common place in better air purifiers. They're also found in commercial indoor air quality measurement tools.
Room Size and Operation
While in operation the air purifier removes allergens, dust, irritants, pet dander, pollen, smoke, and odors from the air. It can treat clean 327 square feet at 4.8 air changes per hour. That's one full treatment of the room's air in just 12 minutes. For larger rooms, it translates to 3 air changes per hour in a 527 square foot room. That would likely be the largest area you'd want to use it in. Figures are AHAM verified.
The air320 has 5 selectable fan speeds. In Auto Mode the PM 2.5 sensor determines which fan speed should be used, adjusting the fan speed up and down as indoor air conditions change.
Cost of Operation
Electrical draw when operating is 0.97 amps. BISSELL states both the carbon and HEPA filter should be changed at least every 6 months. But, replacement time is based upon hours of operation. Fortunately there are indicators on the unit's display when one or both filters need replacing. A filter set with both a HEPA and Carbon filter currently retail for around $49.
Dimensions: 14.5″ x 8.5″ x 25″
Weight: 19.2 lb.
Air Quality Sensor: Yes (PM 2.5)
Connectivity: No
CADR: 206 CFM (dust)
Noise: ≤ 59dB
Max Filtration: 97.97% / 0.3 micron
Filtration Levels: 3 incl. Carbon Filter
HEPA: Yes, Medical-grade H13
Warranty: 5 Year
The air320 efficiency and effectiveness were independently tested by AHAM. Bissell states "AHAM Verified for Clean Air Delivery Rates (CADR) of 211 CFM smoke, 245 CFM pollen, and 221 CFM dust." More about AHAM's test can be found on their website.
---
Top Pick: Best Bissell Small Room Air Purifier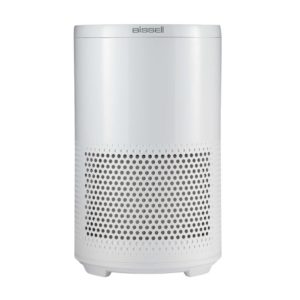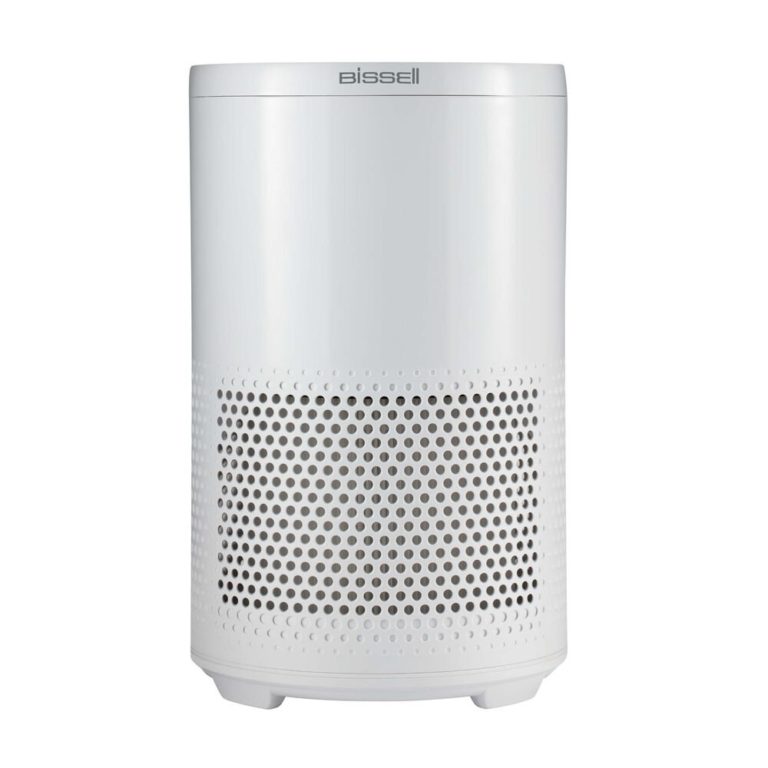 For smaller rooms such as a bedroom, home office, living area, kitchen or other common area, Bissell's MyAir Pro air purifier is a great fit. Bissell designed this model to address any smaller space in a home or office where air quality is of concern.
Room Size and Design
Bissell's specifications recommend the MYair Pro for spaces up to 110 square feet. This is calculated based on its CADR smoke rating of 72.
Within areas of this size, the Myair Pro provides the same protection that the larger air320 above provides. As far as its design goes, the air purifier takes on the familiar cylindrical design that many manufacturers employ.
Finished in white, and measuring a mere 14 inches tall and less than 9 inches wide, the MYair Pro can be placed on a table or nightstand or simply placed in the corner of a room. When visible the unit's understated design cues allow it to blend in nicely, too.
Operation and Filtration
Like the other air purifiers made by Bissell filtration is 3-stage: pre-filter, H13 HEPA and carbon. While much smaller in size, the MYair Pro captures thew same 99.97% of airborne particles .3 microns and smaller including smoke, VOCs, pet dander, dust and all the other irritants their larger units take on.
The unit has 3 fan speeds as well as a night light with adjustable brightness. On our cylindrical Levoit air purifier we've found that light to be distracting when trying to sleep. Thankfully, on this unit that light can be completely turned off. Controls are simple and straightforward, but it is worth noting that the unit doesn't include a timer. This is easily solved by a simple outlet timer. At this low price, it's understandable how a lot of extra bells and whistles didn't make the production unit.
The single round Bissell H13 carbon filter should be changed on average every 4 months. At last review, filters for the MYair Pro cost just over $20 on Amazon. Do note that this smaller unit doesn't share the 320's 5 year warranty. The MYair Pro has a one year warranty.
Dimensions: 14″ x 8.5″
Weight: 5.89 lb.
Air Quality Sensor: No
Connectivity: No
CADR: 72 CFM (Smoke)
Noise: ≤ 51dB
Max Filtration: 97.97% / 0.3 micron
Filtration Levels: 3 incl. Carbon Filter
HEPA: Yes, True HEPA
Warranty: 1 Year
---
Alternative Large Room Pick: Bissell Air Purifier for Larger Rooms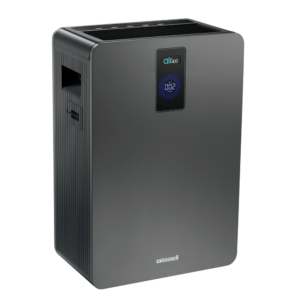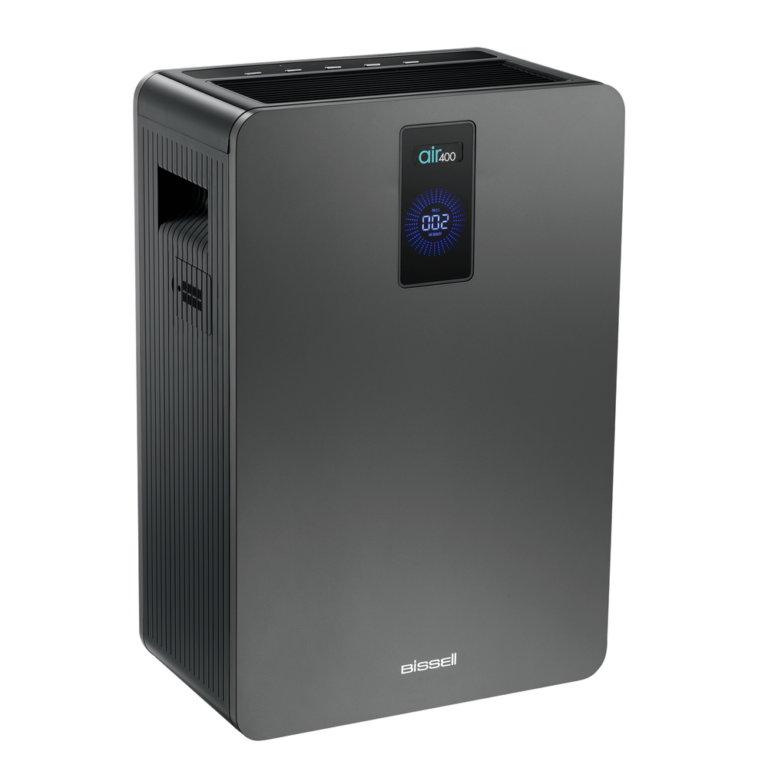 Our choice for later rooms and our all-around winner for the Best Bissell Air Purifier is the air320 with the slightly pricier, better-featured air320 Max closely behind it. Then there's the air400, which lags a bit behind, but is definitely worth consideration.
Same High Standard of Air Purification
The air400 shares the same high level of HEPA air purification as well as odor removing by way of carbon filtration. Maximum filtration is the same as al the recommendations from Bissell: 99.97% of 0.3 micron sized particles.
The air400 also leverages a PM 2.5 particle sensor like other air product family models, allowing it to measure air quality and adjust it's 5-speed fan's level automatically.
Purifiers Air in a Larger Rooms
One area where the air400 outdoes the air320 is in total treatment area. The air400 can perform five air changes per hour (ACH) in a 485 square foot room.
There's a lot to like with the Bissell air400 model, but it still doesn't edge out the air320 for it's combination of value and features.
Dimensions: 27.2 x 18.9 x 12.2
Weight: 22.82 lb.
Air Quality Sensor: Yes (PM 2.5)
Connectivity: No
CADR: 307 CFM (dust)
Noise: ≤ 65dB
Max Filtration: 97.97% / 0.3 micron
Filtration Levels: 3 incl. Carbon Filter
HEPA: Yes, True HEPA
Warranty: 2 Year
---
BISSELL air purifiers score high ratings on their website as well as Amazon.com. On both sites, the products above were rated between 4.6 and 4.7 stars.
Bissell Air Purifier Comparison Chart
Frequently Asked Questions
How long do Bissell air purifier filters last?
It varies by model, with current Bissell air purifiers requiring a filter change every 4 to 6 months with normal usage.
Of course, depending on use and environmental factors, filters can last for more or less time.
Are Bissell air purifier filters washable?
No. Bissell air purifier filters are disposable. At the end of their lifecycle they are intended to be disposed of and replaced with a new filter or filters.
Do any Bissell air purifiers offer HEPA air filtration?
Yes. All of the Bissell air purifiers we recommend including Bissell's air320, air320 Max, air 400 and MyAir Pro offer H13 HEPA filtration.
Are Bissell air purifiers made in the USA?
Bissell air purifiers were designed in the United States. Bissell air purifiers are manufactured in China, however.