In our hydroxyl generator overview we mentioned that ozone generators are much more commonplace than hydroxyl-based odor removal machines. There's also not nearly as many options, either. Below we review the best hydroxyl generators available today.
Each of the hydroxyl generators below are safe for use in occupied spaces. Consult the manufacturer's documentation for additional details.
The units below are designed to handle the most severe odors including smoke from wildfires, tobacco or structural fire, VOCs, pets and flood damage.
All Around Winner: Best Hydroxyl Generator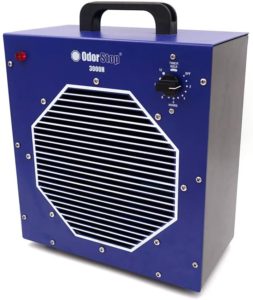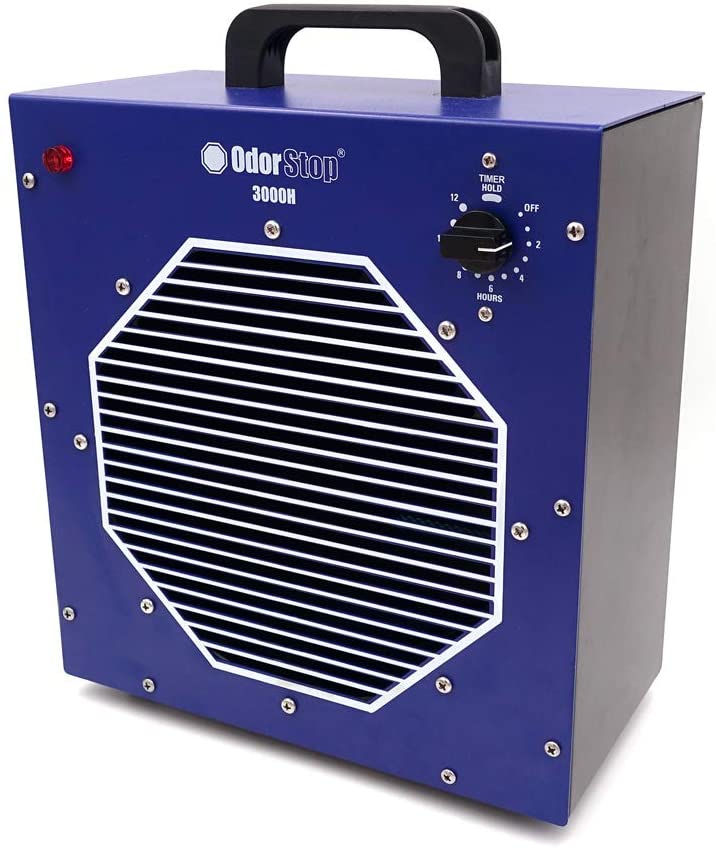 OdorStop's OS300H is our pick for best hydroxyl generator. Made to take on the toughest odors, the OS3000H combines the power of hydroxyl, UV light and activated charcoal all in one unit.
OdorStop says the unit is made specifically to treat odors in occupied areas including apartments, banquet halls, commercial properties, hotel suites, locker rooms, offices and restaurants.
In other words, the OS300H is intended for any indoor space where you need to remove bad odors from the air.
Treatment Area and Fan Blower
Air is pulled into the back of the hydroxyl generator by way of a powerful 500 CFM fan blower. As far as square footage goes, the maximum recommended treatment area is 3,000 square feet.
Filtration: Multiple Odor Removal Technologies
Once inside the unit, air is passed through three stages of filtration. First, odor passes through two filters. The first is a TiO2 Filter and the second is a Charcoal Filter. Charcoal Filters are used for an additional level of odor removal. Next, air is passed by two large high-output UV bulbs. Finally, air is pulled past the fan and purified air is returned to the room.
Portable Hydroxyl Odor Fighting Machine
OdorStop used lightweight aluminum for the shell of the OS300H. That choice keeps total weight down to 16 pounds. The addition of a handle atop the hydroxyl generator makes the unit easy to move and store.
Type: Hydroxyl Generator
Dimensions: 16.8″ x 13.6″ x 9.4″
Weight: 15.8 lb.
Blower CADR: 500
Timer: Yes, 12-hour
Filtration Levels: 3
UV Light: Yes
Warranty: 5 Year
---
Worth Consideration: Best Hydroxyl Generator with Optional Ozone Output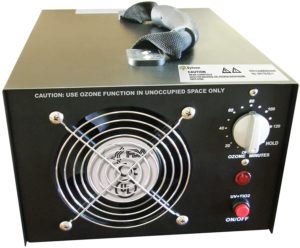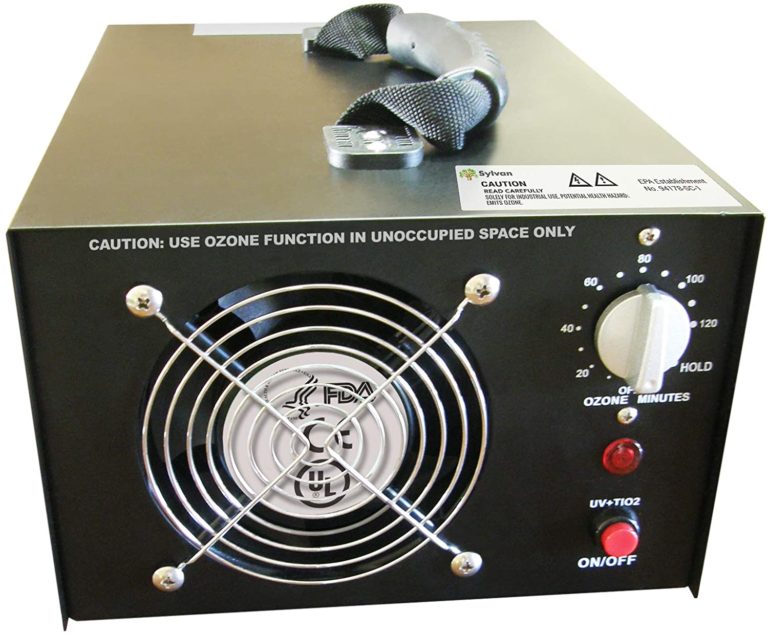 Like our top pick the Sylvan HX-3000 Hydroxyl Generator is capable of removing odors for occupied spaces up-to 3,000 square feet. Per Sylvan, this unit is intended to be used by restoration and remediation professionals.
There is one major difference between the two options.
In addition to hydroxyl, the Sylvan HX-3000 can also generate ozone. With that comes a caveat: that option cannot be used in spaces occupied by people or pets. In this review we'll focusing on the unit's hydroxyl generation.
Other differences include the a more compact size. If you do consider this option, we suggest you read reviews by those who have purchased it as there are different levels of satisfaction based on use.
HX-3000, Hydroxyl and Odor Removal
Sylvan does a good job explaining how hydroxyl generators do their job:
The hydroxyl creation process involves progressive/resistive Anatase TIO2 treated Mega Reactor Shield which was engineered to hold the maximum number of highly reactive nano-sized Anatase Titanium Dioxide.
As a result whole electron pairs are produced that will then react with the H2O and O2 in the air and form free electrons and Hydroxyl Radicals that when dispersed by the fan will then neutralize air pollutants and break them down into carbon dioxide and water.
The description of the active process fits all the options we've chosen. Well, with the exception of the Mega Reactor Shield naming!
Type: Hydroxyl Generator with Optional Ozone
Dimensions: 8.25″ x 7″ x 6″
Weight: 5 lb.
Blower CADR: Not Specified
Timer: Not for hydroxyl
Filtration Levels: 2
UV Light: No
Warranty: 30 Days
---
Frequently Asked Questions
Can Hydroxyl Generators be used in occupied spaces?
Yes. You can use a hydroxy generator is a room or building where people and pets are present as long as the unit isn't equipped to generate other compounds such as ozone.
Consult the manufacturer's manual and recommendations for not only proper, but safe use.
How long should a hydroxyl generator be used for?
The amount of time required for a hydroxyl generator to remove odors from an area depends upon the type of odor and the efficiency of the hydroxyl generator.
Are hydroxyl generators as fast as ozone generators for odor removal?
No. Generally speaking, hydroxyl generators require more time to do the same work an ozone generator can do. This tradeoff comes with the benefit of hydroxyl generators being safer to use.
Do Hydroxyl Generators remove mold?
Hydroxyl generators can remove airborne mold spores from the air. They are not adept at treating surface mold, however.