If you're from a humid region, a crawl space dehumidifier is quite normal. Nationwide, more than 1/3 of new homes are built with a crawl space. Since crawl spaces are partially underground, the potential for water and humidity creating issues is high. Left unchecked mold, mildew and even structural damage can occur.
Using a dehumidifier is the best way to keep a crawl space at recommended humidity levels. But, not all dehumidifiers can be used in a tight space like a crawl space. There are units specifically engineered for this purpose.
Below we've chosen our top crawl space dehumidifiers for residential and small business use.
Here's our top crawl space dehumidifier picks for home use:
We reviewed thirteen dehumidifiers designed for crawl space operation. Our top picks below.
Top Pick: Overall Best Crawl Space Dehumidifier (up to 2,200 sq. ft.)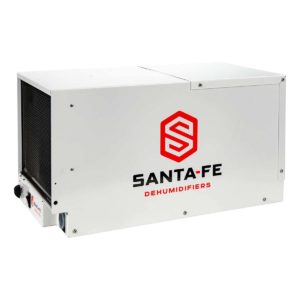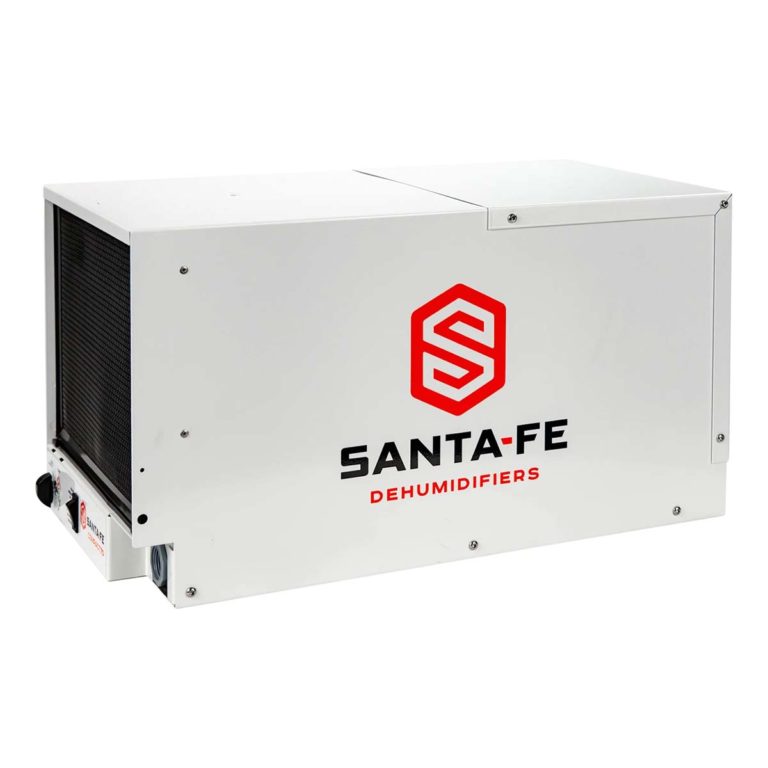 Santa Fe's Compact 70 Dehumidifier is our top pick. It is designed specifically for this use and is known for its reliability and efficiency. The unit is very compact – it measures 12″ x 12″ x 20″ with 20″ being the length. Even though it is small size, it's capable of removing dampness and humidity in spaces up to 2,200 square feet.
Filtration and Water Removal (PPD)
The Compact70 is good for up to 70 PPD (pints per day). This means that the dehumidifier can remove 70 pints of moisture in a 24 hour period under AHAM testing conditions. Controls are simple, reliable dials and switches.
There are two filters on the unit. The first is a washable pre-filter which is designed to increase the life of the replaceable MERV 13 filter. The unit can also run MERV 11 filters, but the manufacturer recommends MERV 13.
Water extracted from humid air passing through the unit is drained by gravity. Santa Fe also offers external pump options (see below).
Optional Accessories and Crawl Space installation
Santa Fe offers several accessories and packages to complete just about any installation – in a crawl space or otherwise. Notable options are a ducting kit, external condensate pump (including hose) capable of 15 feet of vertical lift and casters. The pump incorporates a float so it only runs when necessary.
Santa Fe also offers a Crawl Space Starter Kit. It includes hardware to hang suspend the dehumidifier between floor joists, a remote thermometer and humidity sensor, four replacement MERV 13 filters and one replacement pre-filter.
Water Removal (AHAM) : 70 PPD
Maximum Area: 2,200 sq. ft.
Maximum Airflow: 150 CFM
Dimensions (LxWxH): 20″ x 12″ x 12″
Weight: 55 lb
Controls: Manual
Manufacture: Made in the USA
Internal Condensate Pump: No
Automatic Defrost: Yes
Ductable: Yes
Filtration: 2 Stage
Warranty: 6 Years
---
Top Pick: Best Large Home and Office Crawl Space Dehumidifier (up to 7,200 sf)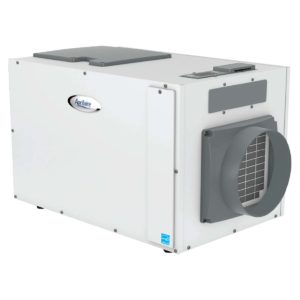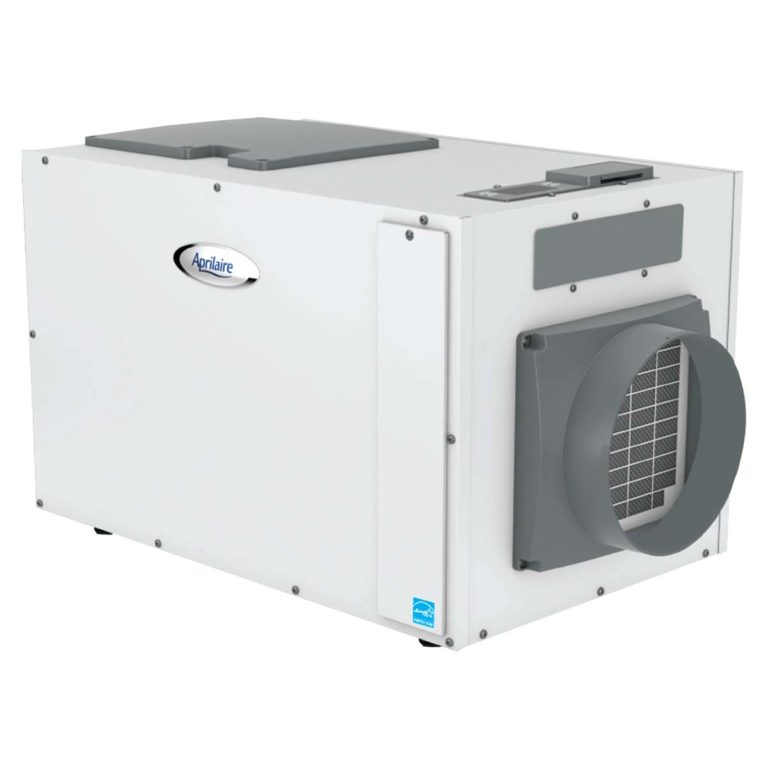 For homes or businesses with a larger area to dehumidify, Aprilaire's E130 Pro is worth consideration. The E130 Pro is a 130 pint dehumidifier that is recommended for spaces up to a staggering 7.200 square feet.
Designed to work in a crawl space, the E130 Pro can be used as a standalone unit or ducted. Before purchasing, be sure to measure how much clearance there is in your crawl space.
Size and Features
The E130 Pro is 18.75″ tall, 19.5″ deep and 30″ long. The dehumidifier is rated for 310 CFM (cubic feet per minute) of airflow. Aprilaire used corrosion resistant aluminum coils and an energy saving design to provide low-cost operation. For their efforts the E130 was awarded 2021 Most Efficient status by Energy Star.
Filters, Refrigerant and Accessories
The E130 is a single-filter design. The unit ships with MERV 8 filters which are necessary to achieve the air flow to cover the dehumidifiers large service area. Refrigerant is the same as all our recommended units (R-410A), and Aprilaire offers a wide range of accessories for monitoring, control, ducting and installation.
Water Removal (AHAM) : 130 PPD
Maximum Area: 7,200 sq. ft.
Maximum Airflow: 310 CFM
Dimensions (LxWxH): 30″ x 19.5″ x 18/75″
Weight: 98 lb
Controls: Electronic
Manufacture: Made in the USA
Internal Condensate Pump: No
Automatic Defrost: Yes
Ductable: Yes
Filtration: 1 Stage
Warranty: 5 Years
---
Top Pick: Basement/Crawl Space Dehumidifier with Condensate Pump (up to 2,600 sf)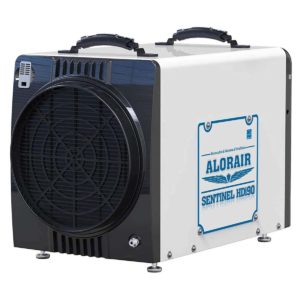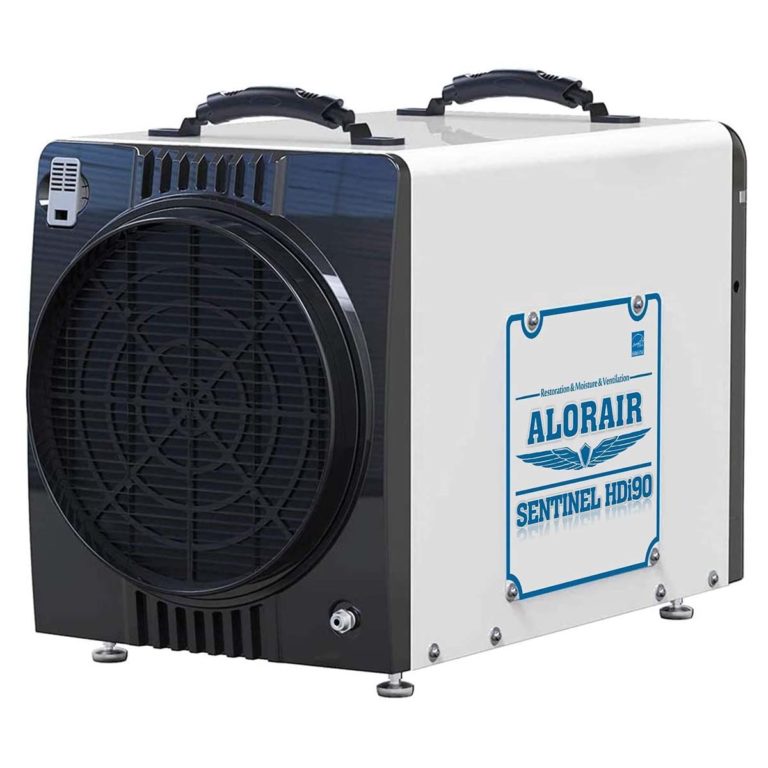 AlorAir has a lot of experience with dehumidifiers that was leveraged when creating the HDi90. This is the only crawl space dehumidifier with pump that can be used as either a whole home dehumidifier or standalone.
The HDi90 is recommended for dehumidifying crawl spaces, garages, shops and basements – residential or commercial.
Integrated Pump and Remote Control
Remote monitoring and control doesn't require additional equipment as a remote humidistat and control panel is included.
For long-life, AlorAir uses rare earth allow tube evaporator to extend the life of the coils while maintaining heat transferability. And, the integrated condensate pump is rugged, capable of constant operation.
Airflow, Filtration and Noise
With 210 CFM airflow, he Sentinel HDi90 is capable of treating an area up to 2,600 square feet. One of the more impressive stats is that the unit produces less than 59dBA while in operation. Filtration is a side-mounted MERV-8 filter.
Water Removal (AHAM) : 90 PPD
Maximum Area: 2,600 sq. ft.
Maximum Airflow: 210 CFM
Dimensions (LxWxH): 23.2″ x 15.2″ x 17.7″
Weight: 78 lb
Controls: Electronic
Manufacture: Made in the USA
Internal Condensate Pump: Yes
Automatic Defrost: Yes
Ductable: Yes
Filtration: 1 Stage
Warranty: 5 Years
---
Choosing a crawl space dehumidifier
When choosing for a dehumidifier, consider the following factors:
Airflow Rating – If you need a specific number of air changes per hour, be sure the unit you are looking at provides has a suitable CFM rating (or calculate how many units your shop would require).
Dimensions – One of the most important factors for a crawl space dehumidifier is that it fits into a tight area. Before buying a dehumidifier, be sure to measure available length, width and height.
Filtration Level – Dehumidifiers are for dehumidifying first, and removing particles from the air a distant second. If you do require a high level of filtration be sure to choose a unit which supports the type of filters you want to use. More highly rated filters restrict airflow and should only be used in units designed for them.
Filter Types – Some filters can be washed and reused. Others can be blown out with an air compressor and reused a few times before replacement. Check what type of filters the filtration system has, how they are cared for, and what the cost of replacement is.
Humidity, Serviceable Area and Water Removal – Of course, when choosing any unit, be sure it is capable of serving the area you will be dehumidifying. Beyond square footage alone, water removal in PPD (pints per day) also needs to be considered.
Portability or Fixed Installation – All of the dehumidifiers we have recommended can be used standalone or permanently mounted. If choosing a different unit, be sure to check if the unit can be used the way you want it to. Many units also have optional casters for portable use.
Value – Price is always a factor. But, dehumidifiers are often unattended and mix electricity and water. We recommend choosing a high quality, reputable unit known for longevity at your price point.
Quality – We've selected well known, tested crawl space dehumidifiers. Quality of construction matters for the demands of constant operation. Be sure to choose a trustworthy dehumidifier manufacturer.
Frequently Asked Questions
Will a dehumidifier dry out a crawl space?
When correctly setup, the dehumidifier should remove humidity until reaching a pre-set level. Then, the dehumidifier will turn itself on (or off) to maintain the desired humidity level.
What kind of dehumidifier should be used in a crawl space?
A low-profile dehumidifier designed for installation in a crawl space should be used. Standard sized units will not fit or lack the necessary space to function correctly.
Can a regular dehumidifier be used in a crawl space?
It depends on a few things. First, the unit would need to fit and have enough space around it to function properly. Second, the dehumidifier would need to be designed for constant operation. Finally, be sure the water drainage options work for the given area. If all these criteria are met, a standard unit can work.