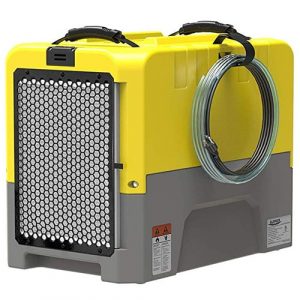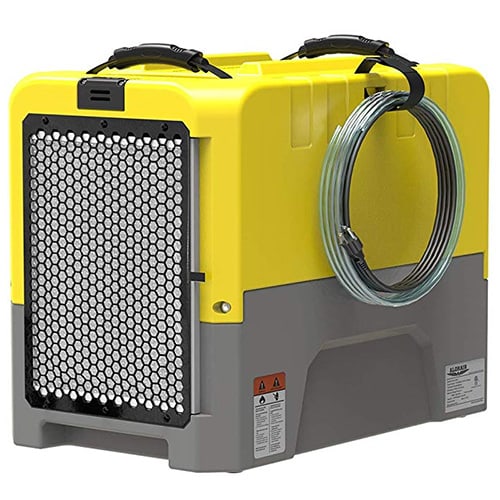 Shop for the best rated commercial dehumidifiers for mold remediation, water damage restoration and moisture removal work. In contrast to consumer models used to prevent mold or mitigate allergies, these commercial units are brought in once there has been a water breach, flood, or other extreme moisture event in a home or business.
All Around Winner: Best Commercial Dehumidifier to Remove Mold
If you're not up for reading about the intricacies of each review, we can make it easy for you. Each of the models below are designed to restore humidity levels, alleviate excess moisture and remove mold spores. Our pick for all-around best dehumidifier for removal of humidity and mold is AlorAir's Storm LGR Extreme. It's also the first on our list, and recommended for any water damage jobs that require restoring the humidity level by removing moisture from the air and most importantly removing mold spores. The incredibly capable and flexible AlorAir Storm LGR Extreme takes top honors.
---
Top Pick: Portable Dehumidifier with Pump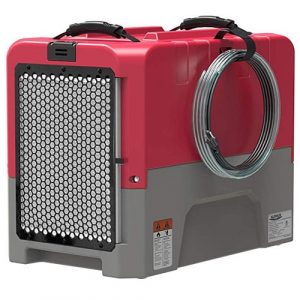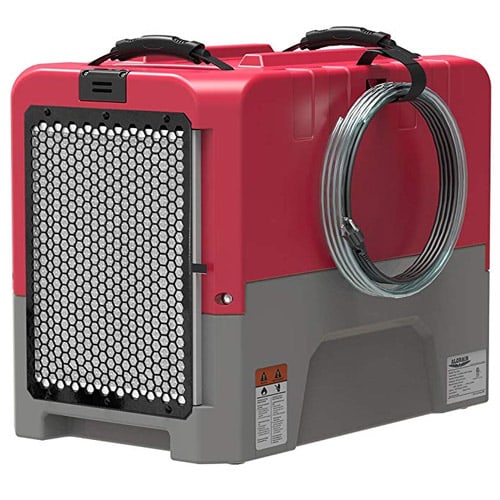 AlorAir is making a big statement among compact commercial dehumidifiers with the AlorAir LGR Extreme. The LGR unit effectively restores humidity levels achieving 85 PPD in AHAM standards and 190 PPD in saturation conditions at 210 CFM.
The unit runs MERV 8 filters and its built-in pump and 20 foot lifting distance allow it to continuously empty it's tank. The LGR Extreme is easy to service and clean and runs relatively quiet for a commercial unit.
The list of features continues with memory starting, hot-gas defrosting, auto on/off, stackable design and rigged handles. It can also be submerged in water courtesy of a sealed enclosure.
One last thing: it also comes with a 5-year warranty. This is our top pick for portable mold dehumidifier and our all around best pick.
Efficiency (AHAM): 85 PPD
Efficiency (Saturation): 190 PPD
Airflow: 210 CFM
Dimensions: 22.8 × 13.7 × 17.3 in
Weight: 78 lb.
Warranty: 5 yr
AlorAir Storm LGR Extreme Video Overview
---
Top Pick: Attic and Crawlspace Commercial Dehumidifier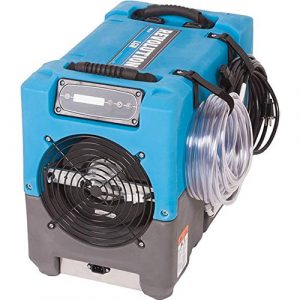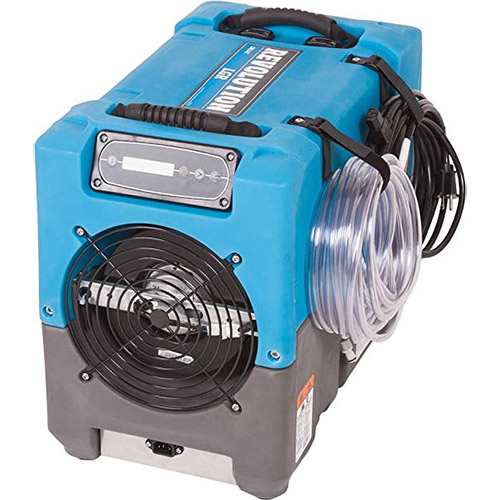 The Dri-Eaz Revolution LGR (L413) is a solid all-around dehumidifier for water remediation and renovation pros. At home moving from job to job, the Revolution is capable of 80 PPD AHAM and 130 at saturation. Those numbers aren't far off from our extreme duty portable (above).
Also smaller is the unit's size. The L413 is incredibly compact for the performance it provides. Three units can be stacked together for storage or transport. Compact size also brings flexibility in placement. The Revolution works great in tight spaces, making it a top pick for use in crawlspaces, attics and basements. The power cord is a very amply 25 feet long. The included drain hose can reach a window or doorway up to 40 feet away, too.
Bells-and-whistles-wise the Revolution has a digital control panel and automatic humidistat. Dri-Eaz says it's perfect in spaces 2,000 sf and below. A top contender, the L413 is our pick for crawlspaces, attics and other tight spaces where bulkier units can't compete.
Efficiency (AHAM): 80 PPD
Efficiency (Saturation): 139 PPD
Airflow: 180 CFM
Dimensions: 21.5 × 12.5 × 12.5 in
Weight: 65 lb.
Warranty: 1 yr (6 yr compressor & coils)
Cons
High price
1 year warranty (beyond compressor & coils)
---
Top Pick: Compact Desiccant Dehumidifiers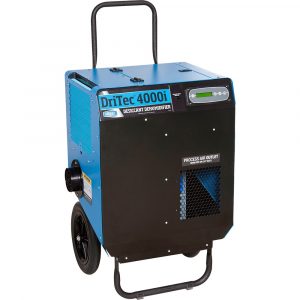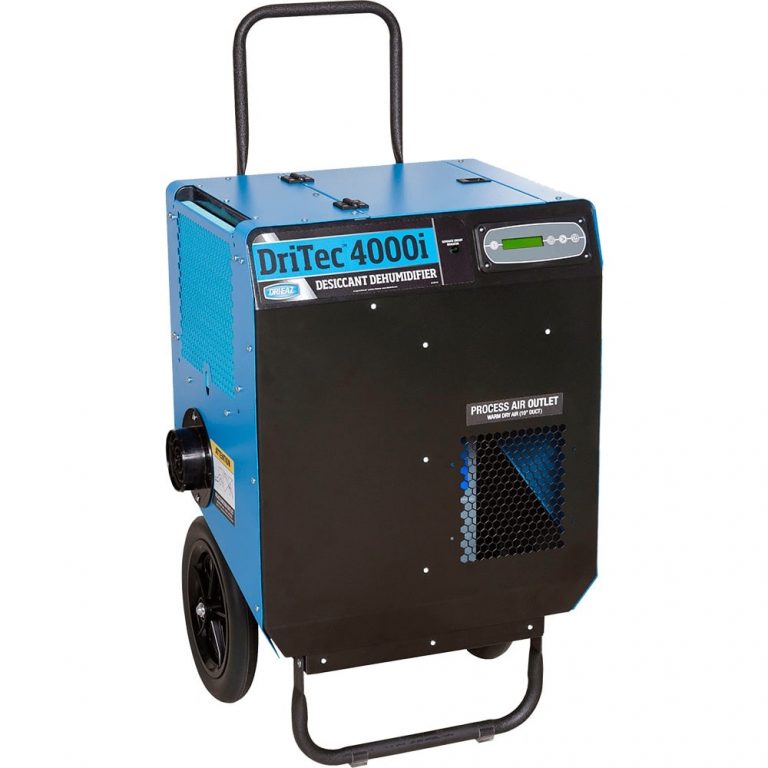 The Dri-Eaz DriTec 4000i is a unique, effective and compact desiccant dehumidifier for restoration remediation professionals. The emphasis might best be placed on the word compact. At time of publishing, the DriTec unit was 33% smaller than the nearest competing desiccant. And, beyond being small, it's also more flexibly placed than it's non-desiccant counterparts. The DriTec 4000i can be placed either horizontally or vertically, achieving the same 118 PPD AHAM regardless of orientation.
For the most extreme conditions, there's no beating this desiccant. For those not familiar with desiccant dehumidifiers, they absorb moisture into a silica gel. That's means there's no water collection, requiring no drain or pump setup. And, the 4000i can work at subzero temperatures and extremely low humidity (as low as 0% relative humidity).
Performance is excellent, and it excels at removing moisture from wood, brick, plaster and just about any other material.
Consider the Dri-Eaz DriTec 4000i as the perfect compliment to the non-desiccant dehumidifiers in your stable of dehumidifiers.
Efficiency (AHAM): 118 PPD
Efficiency (Saturation): Not Rated
Airflow

: 395 CFM
Dimensions: 21.1 × 33.1 × 20.3 in
Weight: 95 lb.
Warranty: 1 yr (7 yr housing)
Pros
Desiccant dehumidifier
Easy to use
Extremely portable
Extreme condition capable
Humidistat and RH minimum setpoint
Simple operation
No need for draining or pumping
---
Top Pick: Portable Worksite Commercial Dehumidifiers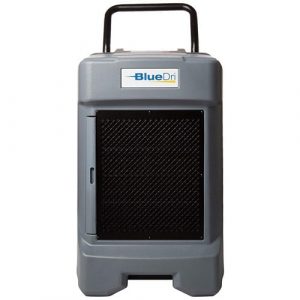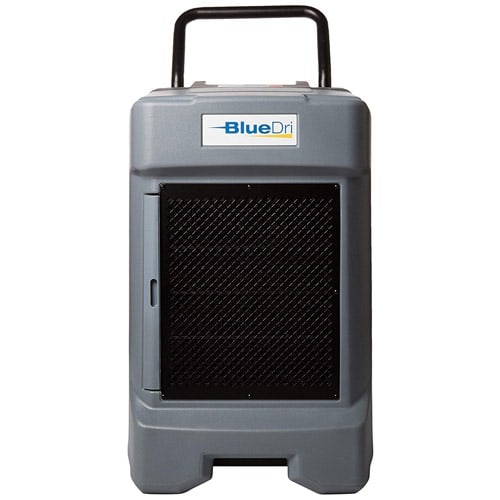 The BD-130P is the trusted workhorse of the group. An all-around capable performer, the BD-130P takes on mold and quickly restores the humidity level by way of an impressive 130 PPD AHAM rating. And, at saturation it pushes out a staggering 225 PPD. It's not the lightest, not the heaviest, nor is it the cheapest. And, you guessed it, it's not the most expensive either.
How is the BlueDri dehumidifier on our list? It's a reliable performer and all but expected to find on a mold cleanup job. It also boasts a performance to price ratio on-par if not better than most contractor-grade units.
The BlueDri BD-130P is equipped with a 25 foot power cord, an automatic water pump and a highly efficient rotary compressor.
Efficiency (AHAM): 130 PPD
Efficiency (Saturation): 225 PPD
Airflow: 410 CFM
Dimensions: 19.7 × 17 × 28 in
Weight: 107 lb.
Warranty: 1 yr (6 yr housing)
Cons
1 year warranty (beyond compressor & coils)
---
Top Pick: Large Capacity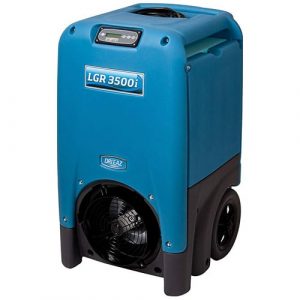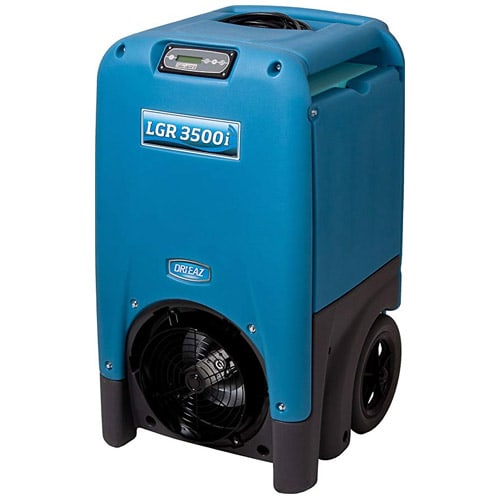 Woking big mold removal and restoration jobs? The Dri-Eaz LGR 3500i Commercial Dehumidifier is made for you. Also known as the F411, this workhorse can make its way through 170 pints-per-day (PPD) at AHAM. At saturation conditions that number soars to 264 PPD. That's over 30 gallons! Utilizing the latest low-grain refrigerant (LGR) technology, the 3500i removes moisture and expels it from the area with it's built-in pump and 40 foot drainage hose.
Airflow clocks in at a respectable 400 CFM and the whole package is encased in a tough polyethylene housing. How tough? They warranted it for life. Additionally, a long 25-foot power cord contributes to the unit's flexibility insofar as placement.
Efficiency (AHAM): 170 PPD
Efficiency (Saturation): 264 PPD
Airflow: 400 CFM
Dimensions: 40.5 × 24 × 23 in.
Weight: 160 lb.
Warranty: 1 yr / 6 yr (compressor/coils)
Cons
Large
Very heavy
Some critical early reviews
---
Top Pick: Value Priced Mold Dehumidifier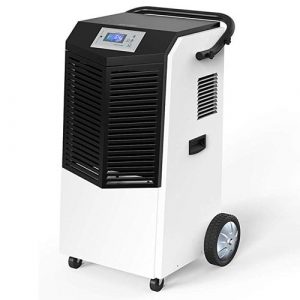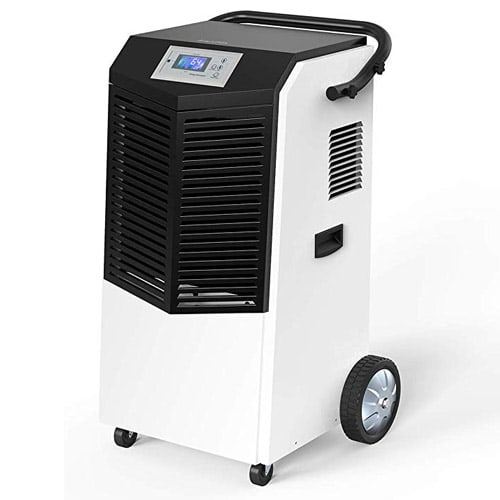 Looking for a mold dehumidifier with exceptional moisture removal? How about one at an affordable price? Inofia's 232 PPD fits that bill and gets things dry fast. The '232' in the product's model name stands for pints per day, or PPD. How much is 232 pints? 29 gallons. That's a lot of moisture! At the AHAM standard, the 232 clocks in at 110 PPD.
We made Infoia's 232 our value-price pick on the back of a sub-$1,000 price tag and an impressive list of features. The unit's fan boasts an airflow rate of 647 CFM and is capable of handling rooms up to 8,000 sf. Features we love include the automatic humidistat, automatic restart following a power outage, continuous drainage and self defrosting.
Efficiency (AHAM): 110 PPD
Efficiency (Saturation): 232 PPD
Airflow: 647 CFM
Dimensions: 12.2 × 8.2 × 17.3 in
Weight: 25 lb.
Warranty: 1 yr
Pros
Owner rating:
Excellent value for the money
Rated for rooms up to 8,000 sf
Balance of performance, features and price
Cons
Slightly lower AHAM than competing units
1 year warranty
---
What to Look for in a Commercial Dehumidifier
Ready to buy? Here are key criteria to consider as you choose the best commercial dehumidifier for your needs. The list below contains considerations when selecting a dehumidifier to use in professional mold restoration work (not to actively prevent mold, mildew and dust buildup as a consumer-level unit).
Convenience: In recent years dehumidifiers have gotten quiet technological. While most units have basic ease-of-use, some are multilingual and even have companion phone apps for remote monitoring.
Efficiency: Give a careful look at how the dehumidifiers you are considering perform at AHAM and at saturation.
Reliability: All the dehumidifiers we have selected above are reliable. We have selected them based on their ability to work for a specific niche customer. Above all, when looking at any brand or product, check for reliability claims, both good and bad.
Value: Some younger, aggressive brands offer highly competent, feature-filled units that undercut the price of their peers.
Warranty: How long does each manufacturer warrant their product? Beyond what we have outlined here, be sure to check the manufacturer's stated warranty.
Commercial dehumidifiers control the amount of humidity in rooms, buildings and other closed spaces by removing moisture. The principles used in an industrial dehumidifier are the same as in a consumer model.
Commercial Dehumidifier vs Residential
Commercial grade dehumidifiers are designed to deal with excessive amounts of humidity and the demands of constant operation in extreme conditions. They're also designed to put up with the wear and tear associated with being regularly transported from job to job.
Dehumidifiers and scrubbers perform different tasks and are often used together. Commercial dehumidifiers are commonly used during restoration and remediation to eliminate excessive moisture, eliminating the main ingredient allowing mold to grow and spread. Next, air scrubbers are enlisted to remove airborne contaminants.
---
Applications
Commercial grade dehumidifiers are used in the following industries:
Water Damage Restoration and Remediation
Within a day or two of water soaking a building, home, basement or room, damage begins. Water and dampness in and of itself can ruin a structure and everything in it. And, when mold and other bacteria take hold and spread the problems get even more concerning – and expensive.
Commercial dehumidifiers are the first step in restoring a home, building or space, by removing excessive ambient moisture. They're often tucked away in attics, crawlspaces and basements dutifully drying the air.
Businesses, storefronts, warehouses and essentially all built structures are made of porous materials. Among the most widely used are drywall, carpet, insulation and wood. When waterlogged, bacteria and mold spawn and spread. The faster moisture is removed from water-soaked materials the faster bacteria and mold can be stopped.
Flood and Disaster Relief
Organizations like FEMA and the Red Cross know that water damage is destroys property and creates a health risk. Within 24 to 48 hours of exposure to water mold colonies start to grow. First responders tasked with saving structures compromised by water use dehumidifiers as soon as water levels subside.
How do commercial dehumidifiers work?
First, commercial dehumidifiers take in moist air from a building or room. Next, excess moisture is removed by either the process of condensation or by absorption. Finally, the dehumidified air is exhausted from the dehumidifier.
For commercial dehumidifiers that use an evaporator, the evaporator is cooled which causes moisture to condense and gather on it. The air is then exhausted from the dehumidifier. Over time the water condensed on the evaporator gathers. Eventually it is collected in a drip pan.
To prevent water from overflowing the drip pan dehumidifiers have automatic shut off circuits designed to stop operation before an overflow.
What are LGR dehumidifiers?
When shopping for a dehumidifier you will likely come across the term LGR. LGR stands for Low-Grain Refrigerants. Low-grain refrigerants remove humidity more efficiently than standard dehumidifiers. They also cool to a lower humidity. In addition to using a different refrigerant, LGR dehumidifiers often use a pre-cooling and/or air-to-air heat exchangers.
At the end of the day, LGR dehumidifiers can complete a job faster or complete the same job at a lower price.
What is a desiccant dehumidifier?
Desiccant dehumidifiers remove moisture through the process of absorption and do not use an evaporator. Since the water is absorbed, desiccant dehumidifiers do not gather water like their evaporative siblings.
A stand-out differentiator for desiccant dehumidifiers is their ability to work well at low temperatures as well as in low humidity environments.
Do Dehumidifiers Remove Airborne Contaminants?
Dehumidifiers do remove some contaminants in the air. But, airborne particle removal isn't their intended use. As their name indicates, dehumidifiers remove moisture from air passing through them. As air passes over a wet evaporator some contaminants become trapped in that water. It's best to consider this an added benefit as opposed to what a dehumidifier should be used for.