Shop these top-rated ozone generators for mold remediation, odor removal and other home, commercial and industrial applications.
All Around Winner: Best Ozone Generator
Don't have time or want to read each ozone generator review? As far as identifying the best ozone generator for mold, bacteria or odors, we're confident that it is a OdorStop. Which OdorStop is the best one depends up on the size of the job. Here's our recommendations:
---
Top Pick: Portable Odor Removal UV Ozone Generator – Up to 3,500 sf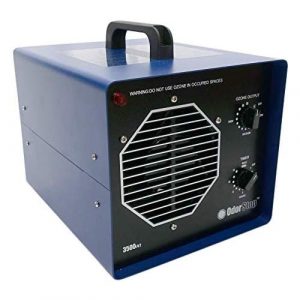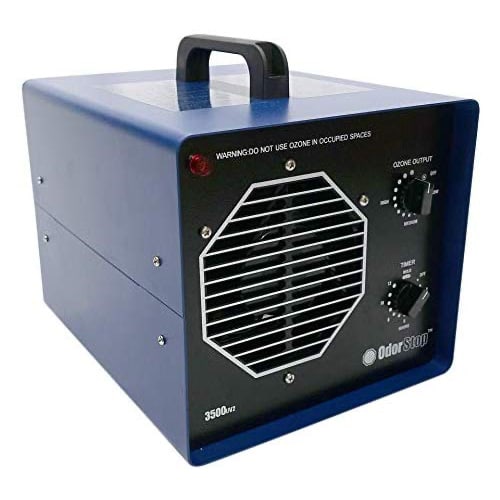 The OdorStop UV OS3500UV2 is the update to one of the most popular ozone generators OdorStop makes. There's three elements inside the unit that allow it to efficiently clean and deodorize the air. First of all, the unit has a trio of high-output ceramic ozone plates. Additionally the unit has 2 germicidal UVC bulbs as well as a charcoal filter. The trio makes the unit OdorStop's first commercial grade ozone generator and UV air cleaner.
OdorStop says the unit excels at eliminating bacteria, odors and viruses. And, with its 3,500 square foot reach its suitable for deodorizing offices, homes, hotel rooms and rental properties. Finally, a standout feature is that the unit can be used in occupied spaces. That's because the ozone generation can be turned off, allowing for cleaning the air with just the UVC bulbs and charcoal filter.
For more information, refer to the user manual and always follow safety precautions. Whether combatting mold, mildew, bacteria, smoke or other odors, the OS3500UV2 is a solid performer.
Ozone Output: up to 3.5 g/h
Dimensions: 10″ x 9″ x 12″
Weight: 15 lb
Ozone Plates: 3 Plates
Treatment Area: Up to 3,500 sq. ft.
Warranty: 5 years
---
Top Pick: Industrial Mold and Odor Removal – Up to 6,000 sf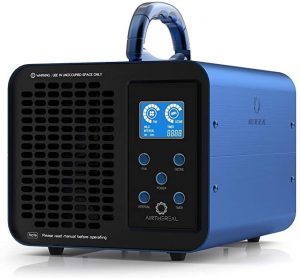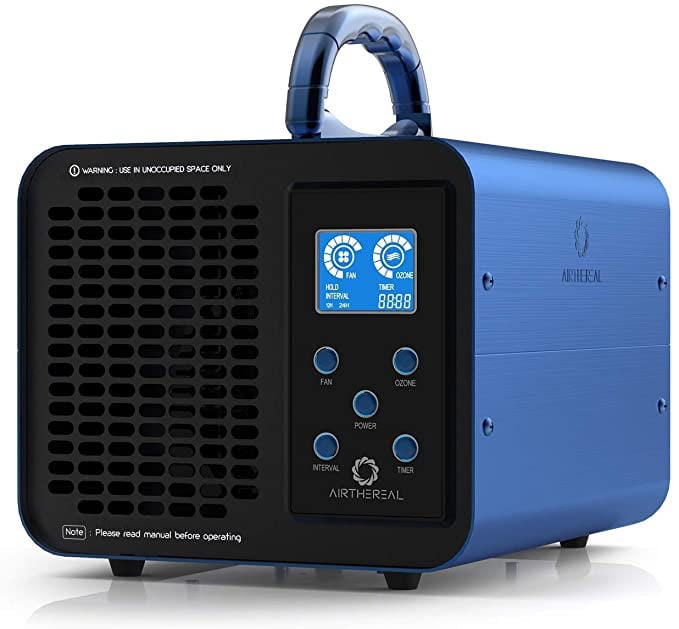 The Airthereal MA10K-PRODIGI is one is the latest of Airthereal ozone generators and features a ceramic honeycomb plate that has an impressive 20,000 hour service life. The unit has variable ozone output of 2 g/h, 4 g/h, 6 g/h, 8 g/h and the maximum, 10 g/h. Air circulation speeds are 40, 60, 70, 85 and 100 CFM. In step with the other range of options, the timer has a maximum setting of 120 minutes and a 12 hour and 24 hour interval. Operation is straightforward with 5 simple buttons and a clear LCD display.
The company cites pet odors and dander, bacteria, viruses, pollen, mold spores, smoke, musty smells and chemical odors as suitable use for the generator. Recommended for use in the home, kitchen, offices, stores, hotels, restaurants, hospitals and clinics.
Ozone Output: 2,000 mg/h to 10,000 mg/h
Dimensions: 9.3″ x 7.1″ x 6.8″
Weight: 6.6 lb
Ozone Plates: 1 (Ceramic Honeycomb)
Treatment Area: Up to 6,000 sq. ft.
Warranty: 3 years
---
Top Pick: Home and Office Duct-Mount Industrial Ozone Generator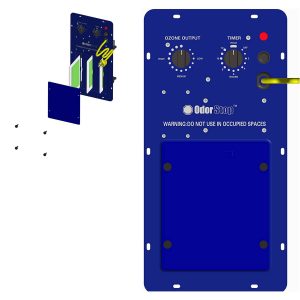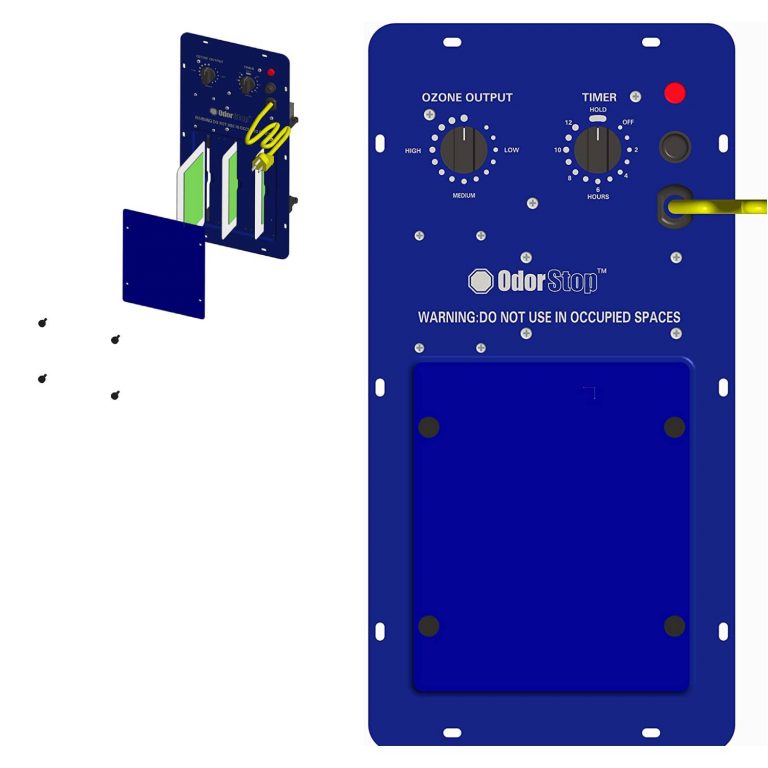 For duct-mounted installations and treating up to 10,000 square feet, our recommendation is another OdorStop model, this time the OS500D. The OS500D integrates with the HVAC system in a home or office as opposed to a free-standing or portable unit.
Once installed, the OS500D's 3 ozone plates prevent the growth of mold, mildew, viruses and bacteria. The unit is also effective at removing stubborn food and smoke and is often added to an air conditioner or heating system following water damage from a flood or after a fire.
Installation is simple, requiring only simple hand tools. And, the unit is backed by a 2-year warranty.
Ozone Output: 150 mg/h to 1.4 g/h
Dimensions: 8″ x 16″ x 5″
Weight: 10 lb.
Ozone Plates: 3 Plates
Treatment Area: Up to 10,000 sq. ft.
Warranty: 2 years
---
Top Pick: Professional Grade Commercial Ozone Generator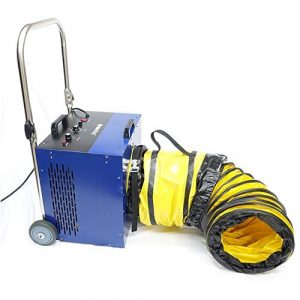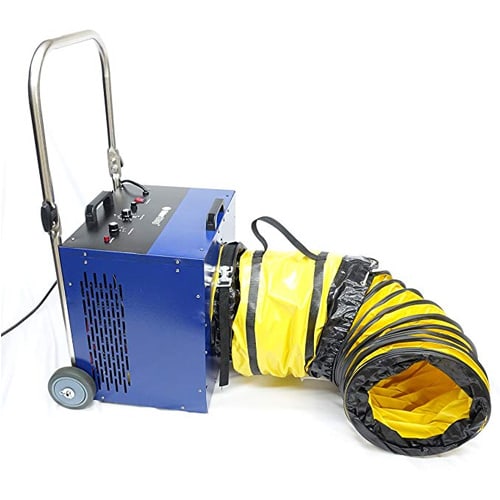 Simply stated: nothing compares to the OdorStop OS12500 when shopping for the best-of-the-best in commercial ozone generators.
OdorStop's top-end unit boasts no less than 12 ozone plates capable of an ozone yield of 2 g/hour all the way up to a staggering 10 g/hour. There's also a pre-filter and large 2,000 CFM fan to service a 12,500 square foot area. While not required for operation, the unit accepts up to 50 feet of 12″ flexible ducting.
Built with flexibility and constant use in mind, the OS12500's ozone plates can be cleaned without disassembling the unit. For transport the unit has wheels and a handle which is foldable. For large jobs, there's no match for OdorStop's flagship product.
Ozone Output: 2 g/h to 10 g/h
Dimensions: 22″ x 22″ x 22″
Weight: 66 lb.
Ozone Plates: 12 Plates
Treatment Area: Up to 12,500 sq. ft.
Warranty: 5 years
---
Top Pick: Ozone Generator for Car and RV Odor Removal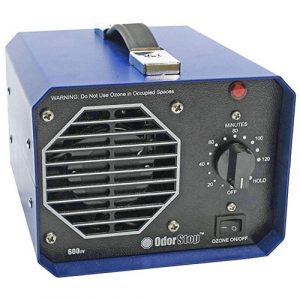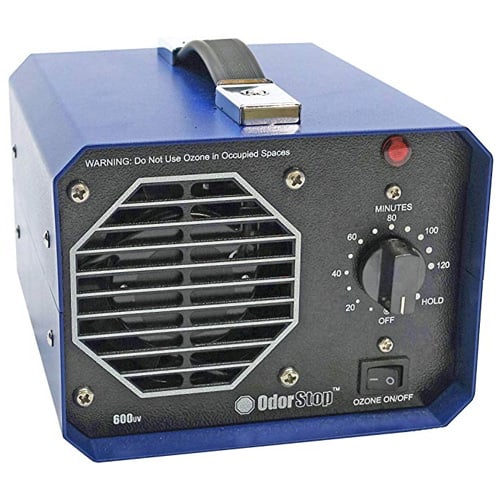 The smallest unit on our best-of list is another OdorStop. The OS600UV is designed for RV, truck and car mold removal (and odor removal). This car ozone generator is a great pick for automotive detailers, restoration professionals as well as general consumers looking to rid vehicles of stubborn odors, mold and bacteria.
The unit can be thought of as a miniature version of the 3,500 square foot model above, just designed for 600 square feet and below. That's larger than any RV and far smaller than any ozone generator you'd need for automotive jobs. Just like its big brother, this highly portable ozone generator has a single ozone plate, a UV-C bulb and charcoal filter.
It's also the only unit that can be used in spaces that are occupied. For use in occupied space the 600 should be used with its ozone emissions turned off. In this mode the unit serves as a UV air cleaner and can kill bacteria, viruses and odor without bothering occupants. Of course, for maximum effect the unit's ozone generation function should be enabled (and the room should be occupant free).
Ozone Output: 300 mg/h
Dimensions: 12.5″ x 9″ x 7.5″
Weight: 5.8 lb.
Ozone Plates: 1 Plate
Treatment Area: Up to 600 sq. ft.
Warranty: 5 year
---
Top Pick: Budget 10,000 mg/h Ozone Generator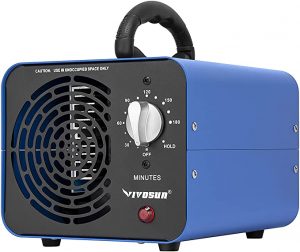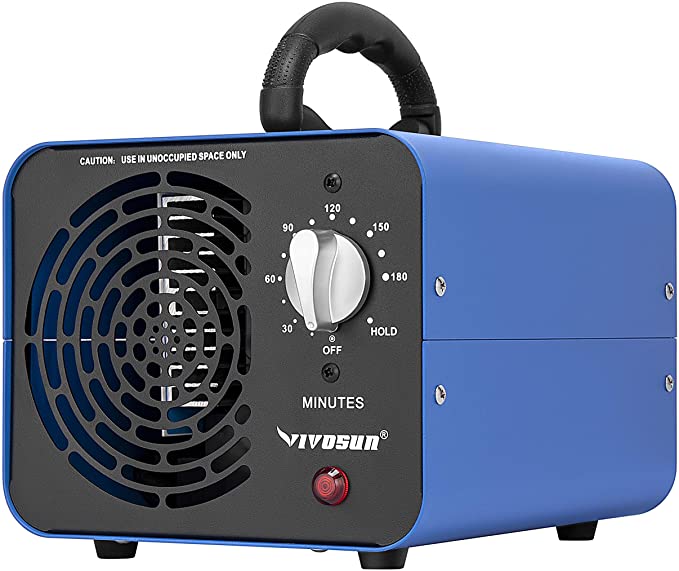 A low price paired with Vivosun' quality and reliability combine in their 10,000 mg/h Industrial Commercial Ozone Generator. This unit is a budget one with less in just about every specification to Airthereal's digital unit. But, if your needs are simple, you'll like the lower price.
The ozone plates are rated for 20,000 service hours or 5 years, whichever comes first. That's in line with pricier models in this range.
What's lacking? Neither ozone output level nor fan speed are variable, and the timer function is limiting. T warranty isn't quite as long as the competitors, either. But, Vivosun makes good products and we'd expect it to hold up just fine.
Ozone Output: 150 mg/h to 900 mg/h
Dimensions: 11.1″ x 10.9″ x 9.4″
Weight: 7.6 lb.
Ozone Plates: 2 Plates
Treatment Area: Up to 2,000 sq. ft.
Warranty: 1 year
---
Choosing the Right Ozone Generator
When selecting an air scrubber there are a few factors that should always be considered, including:
Ozone Output – Ozone output varies by the size of the unit, number of ozone plates and what technology is enlisted to generate ozone.
Square Footage – Scale the ozone generator purchase based upon the size of the area you'll most often be treating. Most units declared a maximum working area in square feet.
UV Light – UV light isn't a given. Some ozone generators incorporate a UV light for additional air purification. Some units with UV lights also allow the ozone generator to run with just UV air cleaning enabled and ozone generation disabled.
Portability – Most purchasers of ozone generators for home, office or professional require portability. Most of the units above are hand-carry units. The one exception is the largest, industrial unit. Regardless, each unit is easily moved.
Price – In comparison to other air purification, remediation and remodeling products, ozone generators are comparatively cheaper than the best air scrubbers and commercial dehumidifiers. With that said, any money spent should be an investment in a quality product. Each product above meets that standard.
Quality – We recommend going with a trustworthy brand that has verified customer reviews as well as a comprehensive warranty. Each of the ozone generator manufacturers above have one if not both characteristics. As reviews change over time, do consult the most recent product reviews.