Shop these top-rated ozone generators to treat mold, odor removal, bacteria, viruses and other air pollutants. A consumer ozone machine is well suited for the home, office, small remediation jobs and even cars and RVs. Large scale remediation, remodeling and restoration jobs require a commercial ozone generator.
Consumer (for Home, Office and Travel)
Commercial (for Professional Use)
Important: Never use an ozone generator in a space occupied by humans or pets.
Top Pick: Best Home and Small Space Use – Up to 2,000 sq. ft.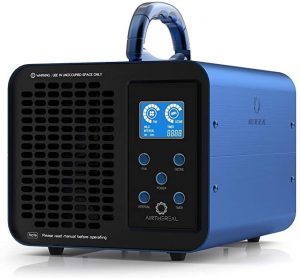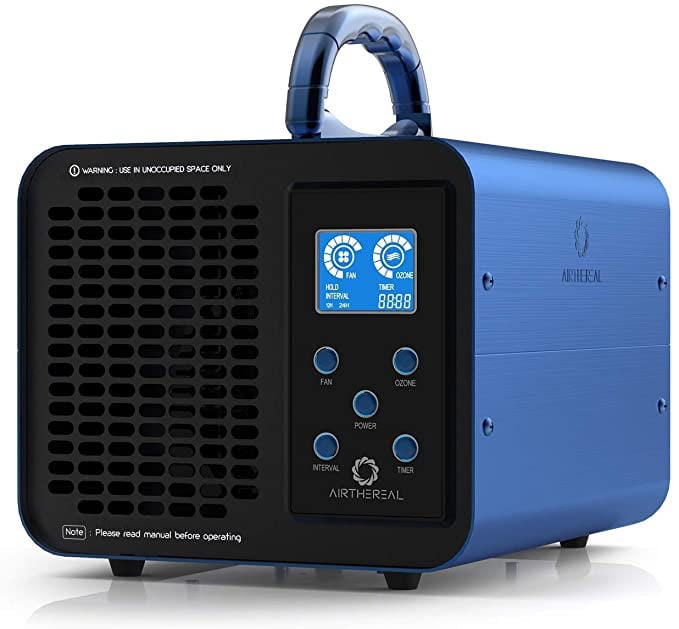 The Airthereal MA10K-PRODIGI is one is the latest of Airthereal ozone generators and features a ceramic honeycomb ozone plate that has an impressive 20,000 hour service life. The unit has variable ozone output of 2 g/h, 4 g/h, 6 g/h, 8 g/h and the maximum, 10 g/h.
Air circulation speeds are 40, 60, 70, 85 and 100 CFM. In step with the other range of options, the timer has a maximum setting of 120 minutes and a 12 hour and 24 hour interval. Operation is straightforward with 5 simple buttons and a clear LCD display.
The company states pet odors and dander, bacteria, viruses, pollen, mold spores, smoke, musty smells, VOCs and chemical odors are suitable use for the ozone machine. Recommended for use in the home, kitchen, offices, stores, hotels, restaurants, hospitals and clinics.
Ozone Output: 2,000 mg/h to 10,000 mg/h
Maximum Airflow: 100 CFM
Treatment Area: Up to 2,000 sq. ft.
Dimensions: 9.3″ x 7.1″ x 6.8″
Weight: 6.6 lb
Intended Use: Home, Office
Ozone Plates: 1 Plate
Charcoal Filter: No
UVC Light: No
Warranty: 3 years
---
Best Ozone Generator for Mold and Odors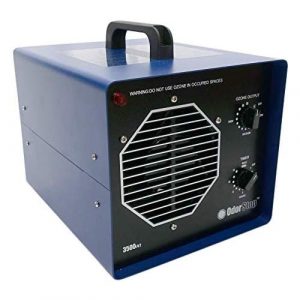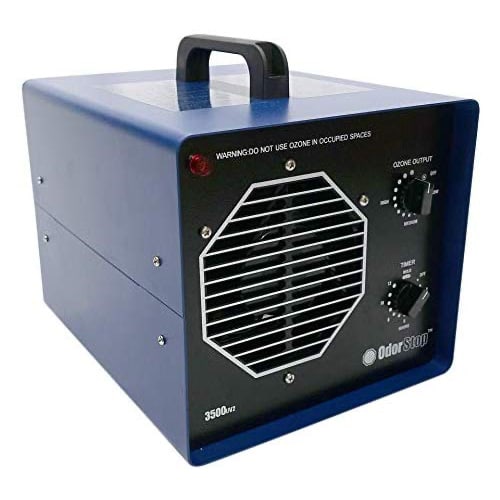 As far as versatility goes, any OdorStop model that has a model number ending in UV2 is our pick. Choose an ozone machine based upon the size of the area being treated.
The OdorStop UV OS3500UV2 (pictured) is the update to one of the most popular ozone generators OdorStop makes. Like all UV2 designated models, there's three separate air cleaning stages inside the unit that allow it to efficiently clean and deodorize the air.
First, the unit has a trio of high-output ceramic ozone plates. Next, the unit has 2 germicidal UVC bulbs. Finally, a charcoal filter is present to remove odors and further purify the air.
Multiple air purification and deodorizing capability makes the unit not only a great choice for a small, consumer grade ozone generator but also a highly capable UV air cleaner with excellent odor control that could be used on mold remediation and other restoration and renovation work.
OdorStop says the unit excels at eliminating bacteria, odors and viruses. It's suitable for deodorizing homes, offices, homes, hotel rooms and rental properties. Finally, a standout feature is that the unit can be used in occupied spaces. That's because the ozone generation can be turned off, allowing for cleaning the air with just the UVC bulbs and charcoal filter. Visit Amazon to see the full range of UV2 designated models.
Up to 2,500 sq. ft. Up to 3,500 sq. ft. Up to 4,500 sq. ft.
Ozone Output: up to 3.5 g/h
Maximum Airflow: 300 CFM
Treatment Area: 2,500 to 4,500 sq. ft.
Dimensions: 10″ x 9″ x 12″
Weight: 15 lb
Intended Use: Home, Office, Professional
Ozone Plates: 3 Plates
Charcoal Filter: Yes
UVC Light: Yes
Warranty

: 5 years
---
Top Pick: Ozone Generator for Cars and RVs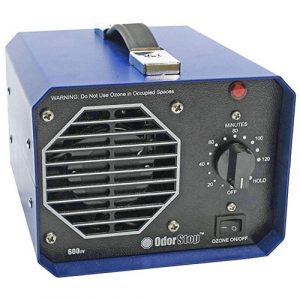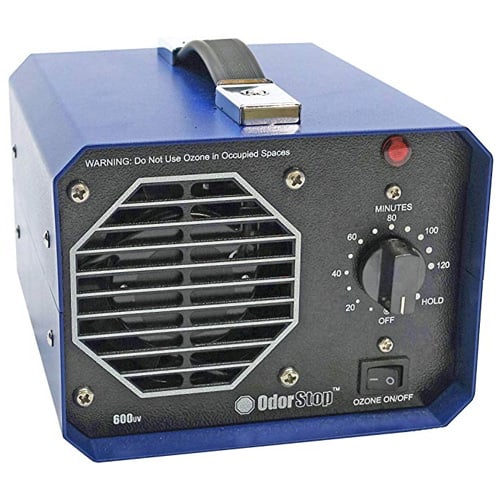 The OS600UV is an ozone generator designed for RV, truck and car odor elimination and mold treatment. This car ozone generator is a great pick for automotive detailers, restoration professionals as well as general consumers looking to rid vehicles of stubborn odors, mold and bacteria.
The unit can be thought of as a miniature version of the 3,500 square foot model above, just designed for 600 square feet and below. That's larger than any RV and far smaller than any ozone generator you'd need for automotive jobs. Just like its big brother, this small, highly portable ozone generator has a single ozone plate, a UV-C bulb and charcoal filter.
It's also the only unit that can be used in spaces that are occupied. For use in occupied space the 600 can be used with its ozone emissions turned off. In this mode the unit serves as a UV air cleaner and can kill bacteria, viruses and remove odors without risking the health of occupants.
Of course, for maximum effect the unit's ozone generation function should be enabled (and the room should be occupant free).
Ozone Output: 300 mg/h
Maximum Airflow: 50 CFM
Treatment Area: Up to 600 sq. ft.
Dimensions: 12.5″ x 9″ x 7.5″
Weight: 5.8 lb.
Intended Use: Automotive (Car, RV)
Ozone Plates: 1 Plate
Charcoal Filter: Yes
UVC Light: Yes
Warranty: 5 year
---
Top Pick: Best for those on a Budget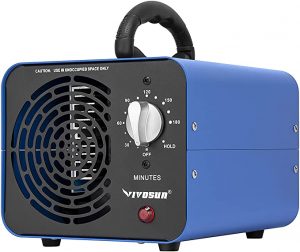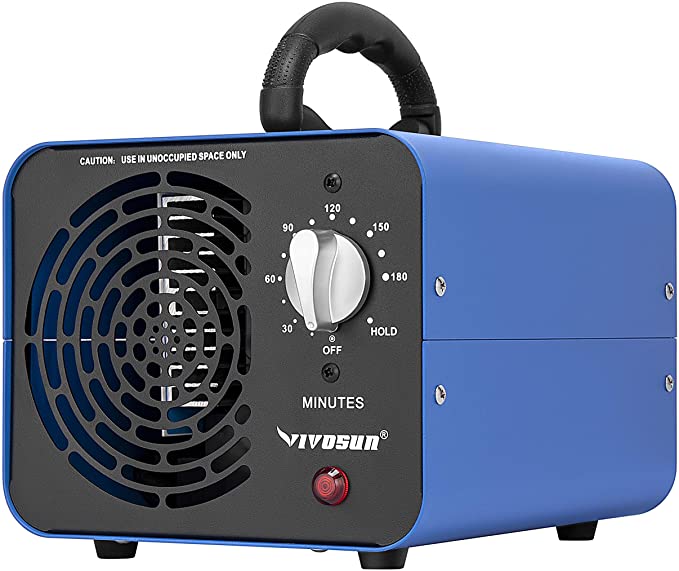 A low price paired with Vivosun' quality and reliability combine in their 10,000 mg/h Ozone Generator. This unit is a budget one with less in just about every specification to the more feature-rich units above. But, if your needs are simple, you'll like the lower price.
The ozone plates are rated for 5 years or 20,000 service hours, whichever comes first. That's in line with pricier models in this range.
What's lacking? Neither ozone output level nor fan speed are variable, and the timer function is limiting. The warranty isn't quite as long as the competitors, either. But, Vivosun makes good products and we'd expect it to hold up just fine.
One note we have to make is regarding the relationship of this products name and its intended use. While this unit could be used on small jobs, a true commercial ozone generator should be considered for restoration, remodeling and mold remediation work. While very capable for a consumer, we wouldn't recommend this unit for professional use.
Ozone Output: 150 mg/h to 900 mg/h
Maximum Airflow: Not specified
Treatment Area: Up to 2,000 sq. ft.
Dimensions: 11.1″ x 10.9″ x 9.4″
Weight: 7.6 lb.
Intended Use: Home, Small Office
Ozone Plates: 2 Plates
Charcola Filter: No
UVC Light: No
Warranty: 1 year
---
Top Pick: Industrial Grade Portable Ozone Machine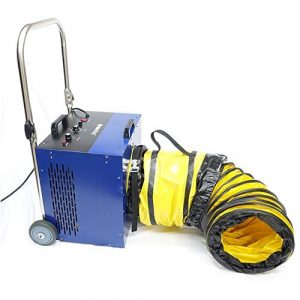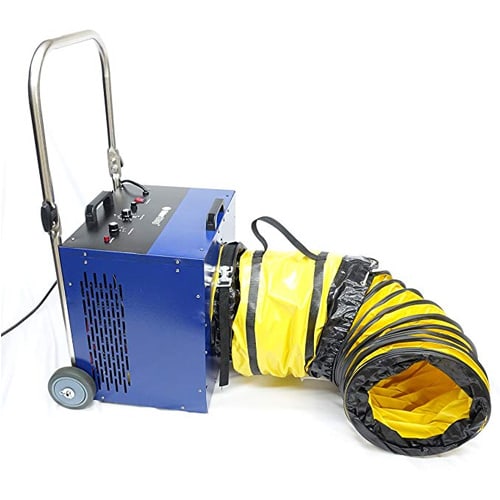 Simply stated: nothing compares to the OdorStop OS12500 when shopping for the best-of-the-best in commercial ozone generators.
OdorStop's top-end unit boasts 12 ozone plates capable of an ozone yield of 2 g/hour all the way up to a staggering 10 g/hour. There's also a pre-filter and large 2,500 CFM fan to service a 12,500 square foot area. While not required for operation, the unit accepts up to 50 feet of 12″ flexible ducting.
Built with flexibility and constant use in mind, the OS12500's ozone plates can be cleaned without disassembling the unit. Moving the large ozone generator is easy as it has wheels and a foldable handle. For large jobs and industrial use, there's no match for this professional ozone machine.
This is our top pick for it's unmatched capabilities and 5-year warranty.
Ozone Output: 2 g/h to 10 g/h
Fan: 2,500 CFM
Dimensions: 22″ x 22″ x 22″
Weight: 66 lb.
Ozone Plates: 12 Plates
Treatment Area: Up to 12,500 sq. ft.
Warranty: 5 years
---
Top Pick: Commercial Ozone Generator with UV and Carbon Filtration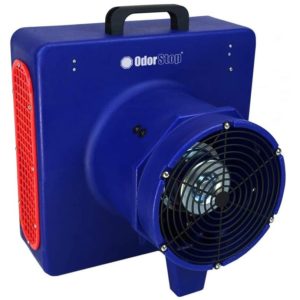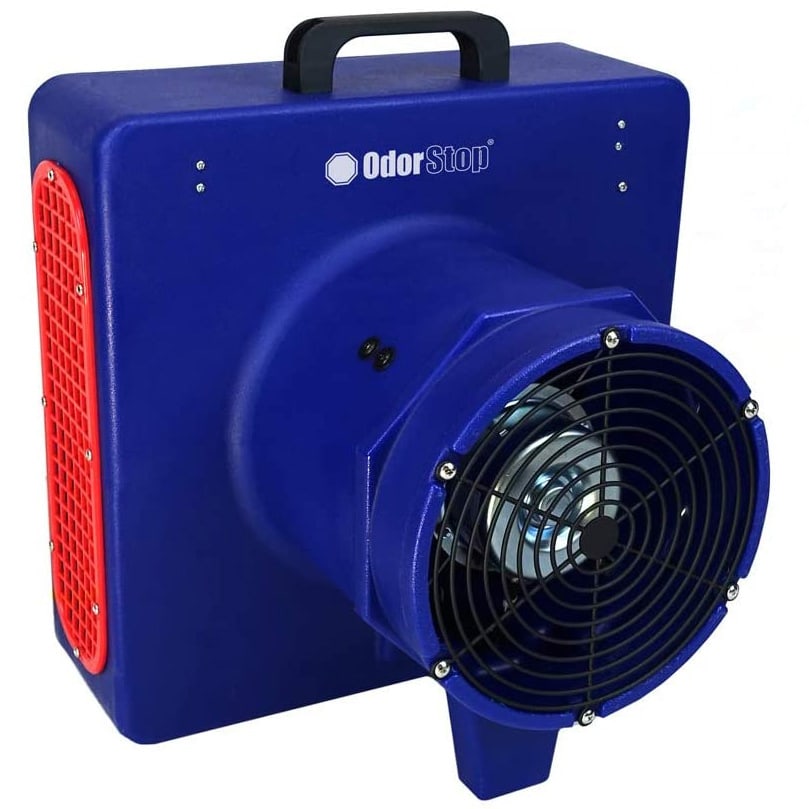 This commercial ozone machine has a higher degree of air purification than any other professional grade unit. Designed to deodorize large spaces like hotel rooms, conference rooms, nursing homes, offices and warehouses, the OS6500UV2 treats spaces up to 6,500 square feet.
Deodorizing comes by ozone purification plus the optional use of UV (ultraviolet) ionization and active carbon filtration. A 1,000 CFM fan draws ambient air past all stages of purification and exhausts treated air through the opposite site.
Unique among commercial ozone generators, the unit can be run with the ozone generator turned off. This allows air purification in occupied spaces using the safe UV and carbon filters to remove odors and particulates from the treated area.
Ozone Output: 0 to 6000 mg/h
Fan: 1,000 CFM
Dimensions: 20″ x 20″ x 19″
Weight: 26 lb.
Ozone Plates: 6 Plates
Treatment Area: Up to 6,500 sq. ft.
Warranty: 5 years
---
Top Pick: Duct-Mounted HVAC Ozone Generator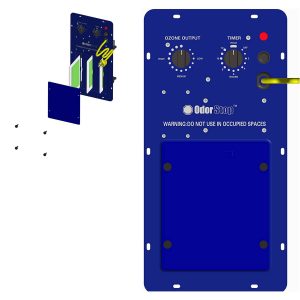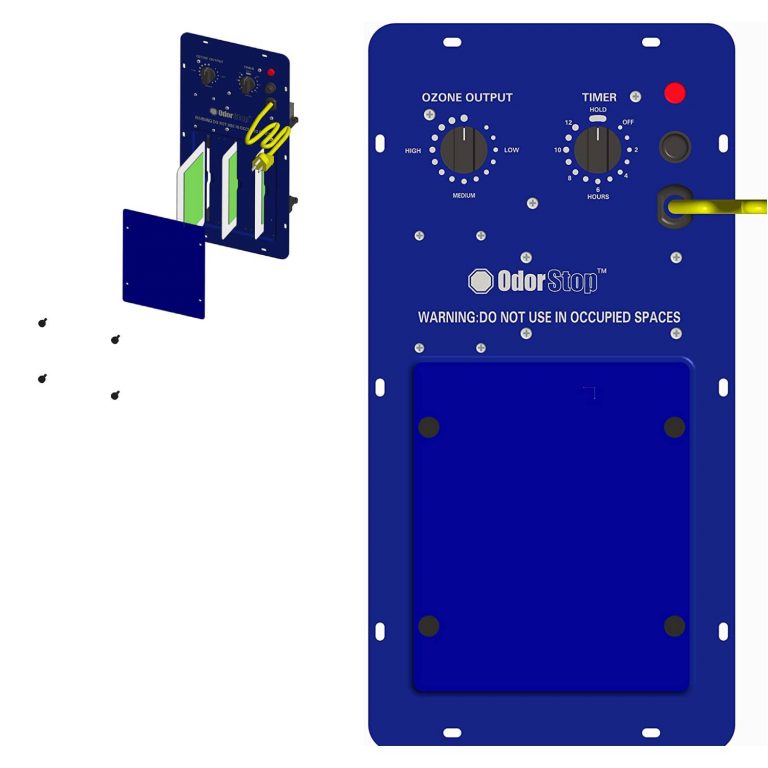 For duct-mounted installations and treating up to 10,000 square feet, our recommendation is another OdorStop model, this time the OS500D. The OS500D integrates with the HVAC system in a home or office as opposed to a free-standing or portable commercial ozone generator.
Since this unit is incorporated into a building's ductwork, as you'd imagine, it is designed to be used while a building is occupied. Of course, the manufacture recommends monitoring ozone levels carefully in occupied spaces. We recommend using a high-quality indoor air quality monitor in rooms which the unit will service for safety.
Once installed, the OS500D's 3 ozone plates prevent the growth of mold, mildew, viruses and bacteria. The unit is also effective at removing stubborn food and smoke and is often added to an air conditioner or heating system following water damage from a flood or after a fire.
Installation is simple, requiring only simple hand tools. And, the unit is backed by a 2-year warranty.
Ozone Output: 150 mg/h to 1.4 g/h
Dimensions: 8″ x 16″ x 5″
Weight: 10 lb.
Ozone Plates: 3 Plates
Treatment Area: Up to 10,000 sq. ft.
Warranty: 2 years
---
Safety First: Before using any ozone generator please make yourself aware of all of the manufacturer's safety warnings about ozone concentration and appropriate use. While ozone generators can be safely used in a wide variety situations, it does have the ability to cause sickness and even death in animals and humans.
How Ozone Generators Work
Generally speaking, all ozone machines draw air in one end of the unit, run that air through a chamber with ceramic ozone plates, and exhaust it back into the same area it was drawn from. Ceramic plates produce ozone which breaks down mold spores, odors and other air pollutants. The technical name for the chemical process is corona discharge. Newer units have incorporated charcoal filters and UV lights to provide additional air cleaning.
Choosing the Right Ozone Generator
When selecting an ozone generator consider the following:
Health and Safe Operation – Most ozone generators are not intended to be used in rooms that are occupied by people or animals. Some newer models can be used when people or pets are in the area being treated, however. Be sure to check the manufacturer's instructions for safely using whichever machine you purchase. If you need to treat an area when it is occupied, be sure to purchase one that is rated for that type of use.
Operating Costs – Beyond the cost of electricity, additional operating costs include replacing ceramic ozone plates, filters, charcoal media and UV bulbs. Every ozone generator will have at least one consumable, the ceramic ozone plates. Most also have at least one filter. UV bulbs are less common. For units that do use UV light, the bulbs are generally long-lasting. It is worth noting that they aren't cheap when they do burn out.
Ozone Output – Ozone output varies by the size of the unit, number of ozone plates and what technology is enlisted to generate ozone.
Portability

 – Most purchasers of ozone machines for home, office or professional require portability. Most of the units above are hand-carry units. The one exception is the largest, industrial unit. Regardless, each unit is easily moved.

Price – In comparison to other air purification, remediation and remodeling products, ozone generators are comparatively cheaper than the best air scrubbers and commercial dehumidifiers. With that said, any money spent should be an investment in a quality product. Each product above meets that standard.
Quality – We recommend going with a trustworthy brand that has verified customer reviews as well as a comprehensive warranty. Each of the ozone generator manufacturers above have one if not both characteristics. As reviews change over time, do consult the most recent product reviews. 
Square Footage

 – Scale the ozone generator purchase based upon the size of the area you'll most often be treating. Most units declared a maximum working area in square feet.

UV Light – UV light isn't a given. Some ozone generators incorporate a UV light for additional air purification. Some units with UV lights also allow the ozone generator to run with just UV air cleaning enabled and ozone generation disabled. 
Frequently Asked Questions about Ozone and Ozone Machines
Can ozone generators be used in occupied areas?
Generally speaking, no. A more complete answer would be only when specifically designed for this use, and when the level of ozone being generated is at levels is low. Ozone is harmful to humans and pets and ozone generators should only be used in areas where people and pets are not present. While people can be in an area where very low levels of ozone are being generated, we do not recommend it, and you should consult with the manufacturer of the unit you are considering.
There are some ozone generators that use a combination of methods to purify air which can turn off the ozone generation feature when occupants are in a space, however. One ozone generator that can be used in occupied spaces unit is the UV2 product line from OdorStop which uses UV light and activated charcoal when ozone generation is disabled.
How long should an ozone generator be run for?
The length of time to use an ozone generator is directly related to what it is being used for and how much ozone the ozone generator being used produces. Check the manufacturer's recommendations to get accurate estimates.
Are ozone generators bad for you?
Exposure to high levels of ozone over time can harm both people and pets. Even low levels of ozone can induce a variety of symptoms including chest pain, coughing, shortness of breath, throat irritation and wheezing. Ozone is especially of concern to those who suffer from a chronic respiratory disease or heart condition. It's also worth noting that older adults and children are more susceptible to negative health effects of ozone exposure.
Don't some air purifiers use ozone to purify the air?
Yes. These air purifiers are using exceptionally low levels of ozone which is much less than the amount of ozone used when dealing with mold remediation, flood or smoke damage repair or similar commercial use.
Are ozone generators safe?
When used per manufacturer recommendations, consumer and commercial ozone generators are safe. The number one thing to be sure of is to never run an ozone generator in an occupied space.
What is the difference between a consumer ozone generator and commercial ozone machine?
Commercial ozone generators operate with the same principles of their smaller consumer-grade ozone generators. The main difference is the amount of air they can move and treat and their uses in smoke damage clean-up, fire restoration, mold remediation and flood damage repair.
What is an ozonator?
An ozonator is just another name for an ozone generator or ozone machine. The different names are often used interchangeably.
Information and reviews last updated July 1, 2021.