Keeping dust from shop power tools down to a minimum is a must. And, as far as dust collection goes, cyclone dust collectors are among the most efficient tools in the shop. Cyclone dust collectors work by employing a two-stage air cleaning system which leverages centrifugal force combined, high air flow and a second-stage filter.
Here's our top picks for cyclone dust collectors for a healthier shop experience:
The units reviewed are all-in-one, complete cyclonic dust collection systems and not to be confused with add-on shop vacuum cyclonic separators which require a vacuum or second system to do the final filtration. By their nature, they are generally larger in size than their single-stage siblings.
---
Top Pick: Overall Best Cyclonic Dust Collection System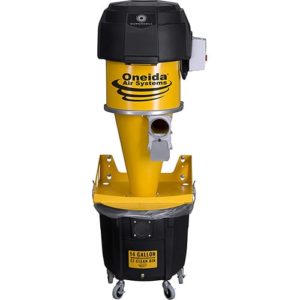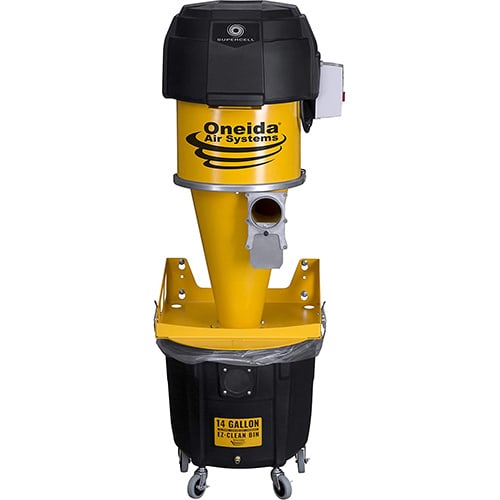 Simply put, this cyclonic dust collector is as good as it gets. Oneida Air Systems' Supercell works at extremely high suction power, creating great enough static pressure and air flow to work any tool in your shop that has a 1″ to 5″ dust port. It's the highest priced system on our list, but it easily earns the price it commands.
Flexible, Innovative and Compact Cyclonic Dust Collection
Oneida's Supercell was a 2020 Popular Mechanics Tool Awards Best Dust Collector winner for its flexibility, sheer dust collection ability and design.
The system can be ordered as a 14-gallon, 35-gallon, 55-gallon or wall-mounted solution. A wireless remote can turn the unit on and off. And, with three fan blower motors generating a combined 5 HP, the Supercell is so strong, it can extract dust from an astonishing 100′ away through a 4″ hose. The unit can also be used by up to three tools with 1″ to 2.5″ dust ports at the same time.
HEPA filtration is rated at 99.7% efficiency at 0.3 microns. And,, an internal pulse filter removes dust from the filter without requiring removal. The unit itself is small for the extreme performance it offers, too.
Portable: Yes
Wall-mountable: Yes
Dimensions: 21″ x 20″ x 61″
Weight: 76 lb
Warranty: 1 Year
Total Power: 5 HP
CFM: 465
Noise Level: 80 dB
Filtration: 2 Stage, HEPA
Remote: Yes, Wireless
Dimensions and weight above are for the 14-gallon model.
---
Top Pick: 3 HP Cyclone Dust Collector (3.0 HP)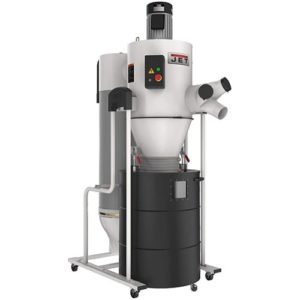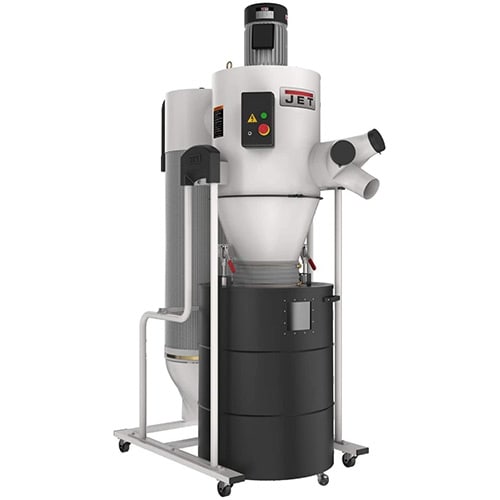 For shops needing a heavy-duty system, the Jet JCDC-3 is ready and willing. The large, high airflow cyclone dust collector unit produces 1,240 CFM by way of a 13 AMP, 3 HP motor. Everything on the JCDC-3 is bigger, and that includes its 66 gallon drum that captures the heaviest debris thrown at it.
Overall filter efficiency is 1 micron. Jet provides overall filter efficiency at the 2 micron level at 99%. The direct-mount filter is a huge plus, and the remote timer's automatic shutoff settings with 2, 4, 6 and 8 hour intervals are a thoughtful addition we didn't see on other units.
This unit is a workhorse. A big addition to our affinity for this dust collector is Jet's impressive 5 year warranty.
Portable: Yes
Wall-mountable: No
Dimensions: 30 7/16″ x 57″ x 88″
Weight: 242 lb
Warranty: 25′ (4″ diameter)
Total Power: 3 HP
CFM: 1,240
Noise Level: 76 dB
Filtration: 2 Stage, non-HEPA
Warranty: 5 Years
---
Top Pick: 1.5 HP Cyclone Dust Collector (1.5 HP)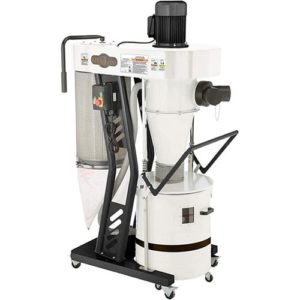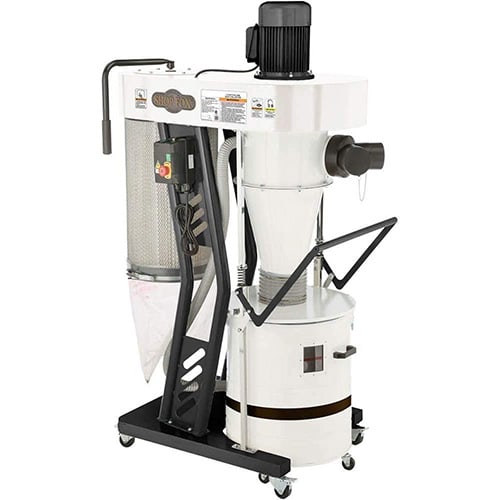 Most shops don't need all the bells and whistles of the priciest units, but a good shop workhorse that gets the job done. The Shop Fox W1868 fits that bill. The cyclonic effect and high air flow is by way of a 1.5 HP motor on this portable unit. Dust cake removal is achieved with mechanical paddles and the collection drum is a stout 30-gallons.
Filtration level isn't as high as our top pick, but comes in at a more than respectable 99% at 1 micron. This is achieved by a pleated filter with a high surface area. For convenience, the unit includes a small wireless remote and casters make moving the entire unit around the shop easy, too.
The unit is portable, sturdy and backed by a 2 year warranty.
Portable: Yes
Wall-mountable: No
Dimensions: 27 ½" x 44″ x 70″
Weight: 280 lb
Warranty: 2 Years
Total Power: 1.5 HP
CFM: 868
Noise Level: 78 dB
Filtration: 2 Stage, Non-HEPA
Remote: Yes, Wireless
---
Choosing a cyclone dust collector for your shop
When shopping for a workshop air filtration system, consider the following factors:
Airflow – CFM stands for cubic feet per minute (airflow is its common name). CFM is how much air a fan can move at its highest speed using both the rate and volume of air.
Filtration Level -Cyclonic dust collectors are made for trapping both larger particles (like wood shavings or chips) as well as fine particulates like dust. While few units do provide HEPA-level filtration, most offer 97% or better level of efficiency at 2 microns or smaller. Better units, like the ones above beat that level handily.
Hose Diameter and Length – Be sure the hose diameter and length is right for your shop. Think through your usage and if the cyclone dust collector will be portable or not as well as the diameter of the dust ports on your existing tools. Units generally come with some hoses and adapters, but it's likely you'll need to purchase some items to make everything work for your individual needs.
Portable or Fixed Installation – Most units are either wall mount or portable. It's rare to find a unit which can be used in either configuration.
Price – Fortunately, all of the units we are recommending are high priced. If you're choosing a different air cleaning system, make sure the specifications, warranty and brand reputation add up to a fair price. Also consider the ongoing cost of replacement filters. One option for the price-conscious or those with an existing single-stage system is to consider an add-on separator.
Quality – We've selected the most reputable, highest quality filtration systems we could find. While these units are simple, their constant operation puts a heavy demand on the internal motor.
Warranty – When you're buying something that costs this amount of money, understand the manufacture's reputation and warranty.
Frequently Asked Questions
How do cyclone dust collectors work?
First, air is drawn into the dust collector's chamber with circular airflow. As larger debris and other particles are forced to the chamber walls they rapidly lose velocity and fall downward into a collection area. Next, the finer particles move into a second-stage filtering area were they are captured. Finally, the cleaned air is exhausted.
What size particles can cyclonic dust collectors capture?
Most woodworking-grade cyclonic dust collectors capture particles that are 2 microns or larger. Some units can capture smaller particles, however. Check the maximum level of filtration before making your final purchase. Generally speaking, to ensure clean shop air, shop air filtration systems are used to collect finer particles.
Are there advantages to cyclone dust collectors?
When compared with non-cyclonic dust collectors, cyclone-based units have two distinct advantages. First, the filters in cyclonic units don't need their filters changed as often which saves both time and money. This is because of the two-stage system where larger particles are caught before reaching the filter. Second, the collection bin, container or bag primarily contains larger particles. When emptied, there is less fine dust which is reintroduced into the shop area.
Are cyclone dust collectors and add-on cyclone separators the same thing?
No.Cyclone dust collectors are stand-alone units which perform both stages of filtration. Add-on cyclone separators are added on to existing single-stage dust collectors to remove dust and debris before reaching it. Without the single-stage dust collector, add-on cyclonic separators don't function.