An overhead shop air filtration system is a great investment for work or wood shop owner. Airborne dust, particles and pollutants do more than just leave your workshop unsightly. In woodworking, welding and other workshops tiny particulates take their toll on the respiratory system. Recent studies show that there is a link between cancer and wood dust exposure. Wood dust is actually considered a Class I carcinogen.
Here's our top shop air filtration picks for a healthier work environment:
We reviewed eight workshop filtration options to arrive at our top 3. One or more units should fit the bill for any shop. Please note that all units in this review are for whole-shop air filtration, not individual tool dust collection.
Top Pick: Overall Best Wood Shop Air Filtration System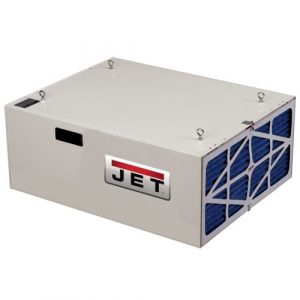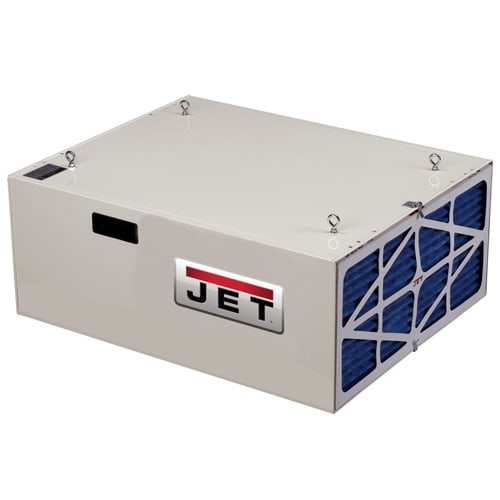 For those with larger shops or shops that need a high ACH (air changes per hour) count, JET's heavy duty 3-speed air filtering system is the best choice. Period. The system checks all the boxes you'd expect in a workshop air filtration system and it comes with a 5-year warranty. If you have a larger shop, or plan on moving to one, this is the best unit to buy unless you require HEPA filtration.
Quiet, Heavy Duty Air Filtration
JET's quiet, 3-speed motor produces 556, 702 and 1,044 CFM in its low, medium and high speed settings. The motor itself is rated at 1/5 hp. Air is cleaned by way of a two-filter system. The outer filter is an electrostatic filter which can be washed and reused several times. The inner filter can also be cleaned with compressed air. The two-filter system improves indoor air quality by removing 98% of all 5 micron particles and 85% of 1 micron particles.
The system is capable of filtering the air in a 20′ x 20′ x 8′ shop in only 5 minutes. As with all the other filtration systems we've recommended, this JET unit has a remote control and a timer function. JET has earned a reputation for manufacturing high-quality, reliable products made to withstand the abuse of constant operation. And, the 708620B is an excellent example of a trusted JET product.
Variable Speed: Yes, 3
Speeds: 556 CFM, 702 CFM, 1,044 CFM
ACH: 19.6/hour (400sf)
Dimensions: 30.25″ x 24″ x 12″
Weight: 54 lb
Remote Control: Included
Motor: 1/5 HP
Filtration: 2 Stage
Warranty: 5 Years
It's worth noting that we had a strong runner-up in the higher CFM/larger shop category. The JET unit just edged out WEN's entry, the WEN 3417. Specifications between the JET and WEN air cleaners were very, very similar. In the end, JET's longer 5-year warranty was the final factor allowing it to rise to the top.
Learn more about WEN's slightly cheaper, very competent 3417 Air Filtration System.
---
Top Pick: Portable Micro Dust Air Filtration (700 sf) Quietest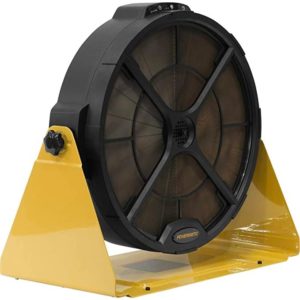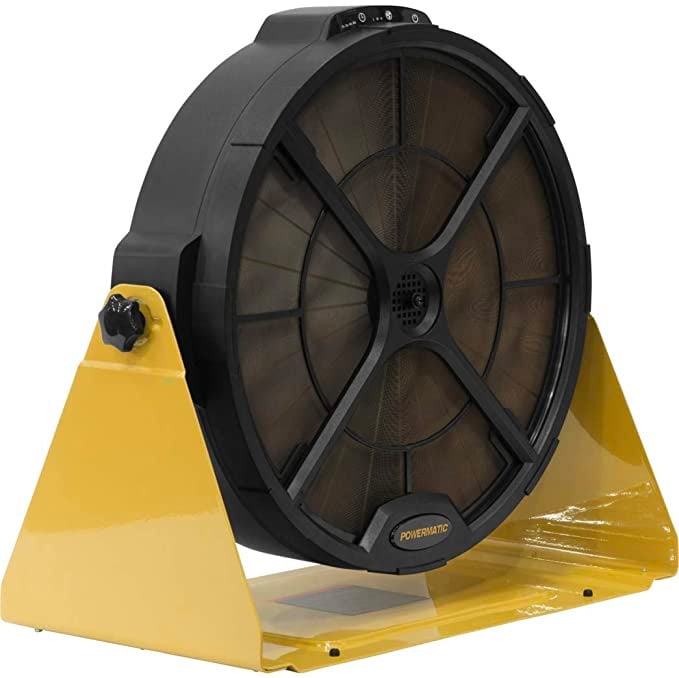 Wood shop toolmaking pioneer Powermatic has a unique, effective air filtration system that's also extremely quiet. On its high speed setting the Micro Dust Air Filtration system operates at only 50.8 dB. While cleaning the air on its low setting, ambient noise is a mere 41.3 dB. For reference, a normal conversation between two workers is 60 dB.
This unique design, more like a traditional fan than an overhead unit, employs an electrostatic filter which can be cleaned with a shop vacuum. The filter has a 3,000 hour lifespan. Clean Air Delivery Rate (CADR) for dust at low, medium and high speeds are 250 CFM, 363 CFM and over 400 CFM respectively.
Performance-wise, the unit can cycle the air in a 680 square foot area five times hourly. While doing so, it purifies shop air of microscopic particulates at a 99.7% efficiency rate. The Micro Dust Air Filtration System is also the most portable (it can also be hung or mounted in various ways) and versatile air filtration system in the lineup. It's both lightweight and has a carrying handle. It also ships with a remote control.
The only factor that kept the Powermatic PM1250 from being our number one pick is it's price. But, it was extremely hard not to grant it top honors. Excellent air filtration performance, a 5 year warranty and having a brand like Powermatic behind it make it a great choice, price notwithstanding.
Variable Speed: Yes, 3
Speeds: 441 CFM, 567 CFM, 754 CFM
ACH: 7.5/hour (400sf)
Dimensions: 15″ x 27″ x 25.6″
Weight: 38 lb
Remote Control: Included
Motor: 120 volt
Filtration: Electrostatic
Warranty: 5 Years
---
Top Pick: Small Wood Shop Air Filtration (400 sf)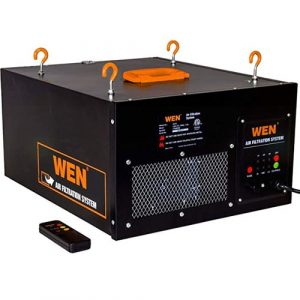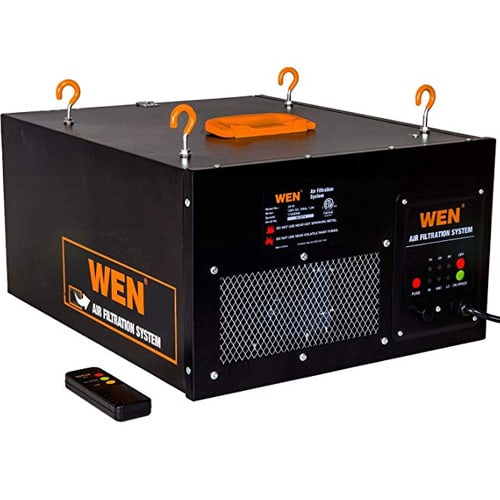 WEN's 3410 is an exceptional pick for those with smaller workshops. The 3-speed unit has a two-stage filtration system. The two filters, a 1-micron primary filter and 5-micron pre-filter, can achieve 7.5 ACH (air changes per hour) in a 400 square foot room.
The lightweight unit has three speeds: 300, 350 and 400 CFM. Designed to be hung overhead or moved from job-to-job, the unit weighs in at a slight 31 pounds. Both hooks and a handle is included for mounting or transport. All air filtration functions can be controlled remotely using the included remote control. The 3410 also has a programmable timer.
Variable Speed: Yes, 3
Speeds: 300 CFM, 350 CFM, 400 CFM
ACH: 7.5/hour (400sf)
Dimensions: 17″ x 20.5″ x 10″
Weight: 31 lb
Remote Control: Included
Motor: 1/6 HP
Filtration: 2 Stage
Warranty: 2 Years
---
Top Pick: Workshop HEPA Air Filtration System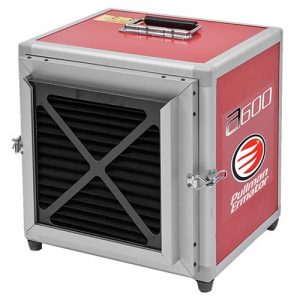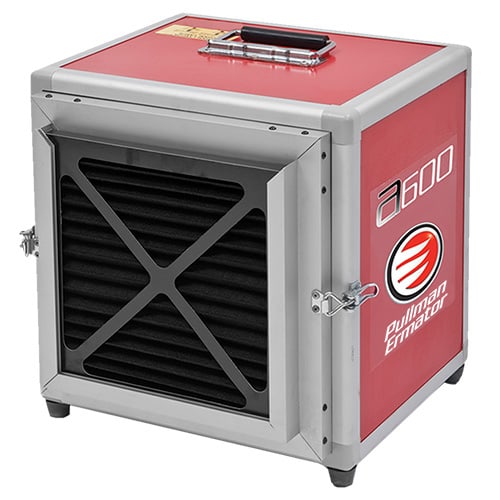 If your shop requires the highest level of air purification, the Pullman Ermator A600 air filtration with HEPA filtration is an excellent choice. The A600 has a two-speed air flow capacity of 300 and 600 CFM and a two-filter setup. The primary filter is a disposable polyester filter. The secondary filter is the HEPA filter that boasts a 99.99% efficiency at capturing particles at .3 microns. A carbon filter can also be fitted.
So, what's the difference between the other units on this list and the A600? HEPA filtration. HEPA filtration will capture particles smaller than either of the options above. That includes pollutants that aren't visible to the human eye and VOCs from paints, stains, cleaners, and other chemically-based shop products.
The no-frills unit has a clogged filter indicator light. More importantly, it has a red light indicating if the HEPA filter is broken or leaking. This is extremely helpful as a HEPA air cleaner can't trap the tiny particles it is designed for if the HEPA filter is improperly installed or defective.
We also picked this workshop unit in our best air scrubber roundup.
Variable Speed: Yes, 2
ACH: 7.5/hour (400sf)
Dimensions: 15″ x 15″ x 17″
Weight: 41 lb
Remote Control: No
Motor: 1/4 HP
Filtration: 2 Stage
Warranty: 1 Year
---
Shop air filtration and worker health
Exposure to wood dust alone can be traced to a number of respiratory and general health issues. Alarmingly, these health issues include asthma, chronic bronchitis, skin conditions and even cancer. Chemicals used in stripping, cleaning and finishing products increase the health risks present in a shop lacking proper air filtration. A high quality air filtration system can reduce if not eliminate critical health concerns for you and your workers.
The best method of removing fine dust from a woodworking environment is a single-stage or two-stage cyclone dust collector. Shop air filtration systems like the ones below are often used in conjunction with those machines and in environments with other collection methods for the finest particles.
Choosing a shop air filtration system
When shopping for a workshop air filtration system, consider the following factors:
Airflow Rating – If you need a specific number of air changes per hour, be sure the unit you are looking at provides has a suitable CFM rating (or calculate how many units your shop would require).
Air Speeds – Variable air speeds not only provide a wider range of use, they also can control the amount of ambient noise the air filtration system produces.
Filtration Level – Most units are made for trapping larger particulates such as dust and smoke. Filtration units that have HEPA filtration can trap particles which are far smaller. In our picks above, there is only one unit. with HEPA level filtration. If you require the highest possible levels of filtration, an air scrubber might better align with your workshop needs.
Filter Types – Some filters can be washed and reused. Others can be blown out with an air compressor and reused a few times before replacement. Check what type of filters the filtration system has, how they are cared for, and what the cost of replacement is.
Portability or Fixed Installation – Most workshop air filtration systems are designed to be hung overhead. Most, if not all, however, can be used as portable units, too. The exception we have recommended above is the A600. which is meant to be portable.
Price – Fortunately, all of the units we are recommending are well priced. If you're choosing a different air cleaning system, make sure the specifications, warranty and brand reputation add up to a fair price. Also consider the ongoing cost of replacement filters.
Quality – We've selected the most reputable, highest quality filtration systems we could find. While these units are simple, their constant operation puts a heavy demand on the internal motor.