ULV foggers (also called ULV cold foggers, or simply cold foggers) have become an increasingly popular type of fogger in the past year. This is because of their use in disinfecting public spaces against viruses including COVID-19. ULV foggers are also used for mold control, applying repellents, insecticides and for other aerosol disinfectants.
The ULV fogger and cold fogging
ULV foggers are machines that deliver water and oil based solutions, like biocides and pesticides, in the form of a cold mist or fog. ULV stands for ultra low volume, referring to the 5-50 micron size (in diameter) of the droplets in the fog or mist these devices expel. The cold part of ULV cold fogging is a point of differentiation from thermal foggers. Thermal foggers use heat and generally, but not exclusively, are used with oil-based solutions. Their cold counterparts do not use heat. Instead, they compress an either oil or water-based solution through a nozzle which creates a superfine cold aerosol (also called a fog or mist).
Below we've covered the best cold fogging units for a variety of applications with a focus on indoor use for bacteria, virus and mold control (fungi abatement) but these units are all also capably of use with pesticides and other disinfectants and repellents. These cold foggers can also be employed in remodeling and remediation work when harmful particles, such as asbestos, need to be kept to a minimum.
There are a lot of knock-off and fly-by-night brands. We are only recommending well-known brands with a long history manufacturing ULV fogging machines.
Top Pick: Overall Best ULV Fogger – Corded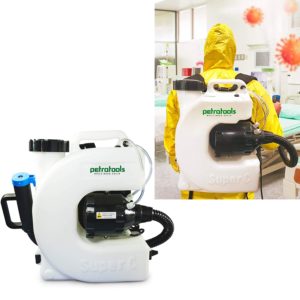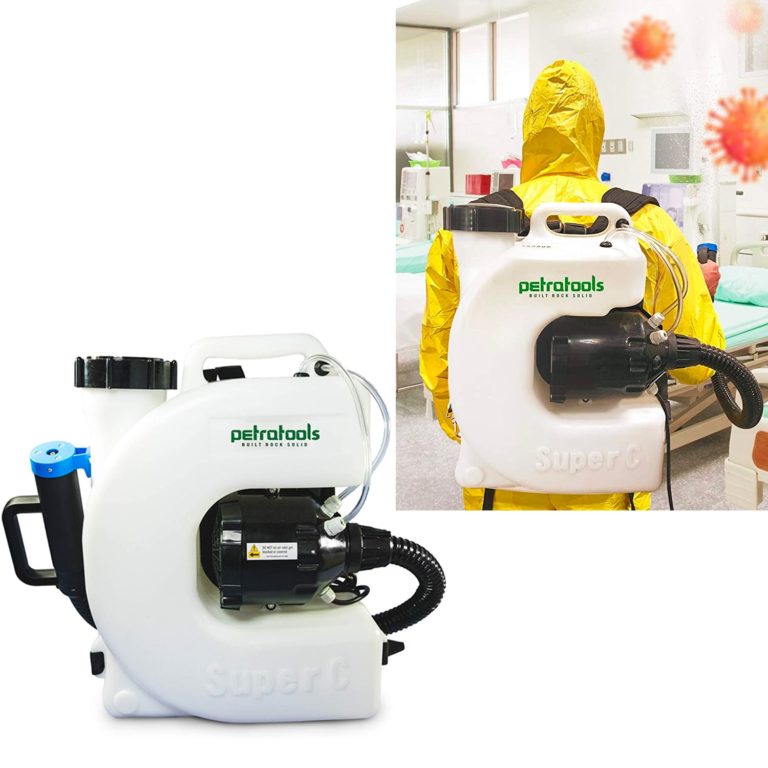 Our top pick for cold ULV foggers is PetraTools' ULV5000 Disinfecting Fogging Machine. This is a great pick for heavy-duty commercial or pro use and especially useful for larger areas. Designed as a backpack sprayer, this fogger has a 4 gallon tank. Misting distance is rated at up-to 15 feet and mist can be adjusted from 20 to 50 microns.
This is a corded unit (110v) and is suited for both indoor and outdoor use including mold control, cleaning, deodorizing and sanitizing as well as outdoor garden and greenhouse use. Made for commercial use, this is a larger mister. We've included a picture of the fogger backpack on an average sized person for reference.
PetraTools has operations in America, and final assembly of their cold foggers is done domestically. They also have US-based customer support and are known for having exceptional customer service.
ULV Mist Size: 20 to 50 micron
Cord: Corded (110v)
Tank Size: 4 Gallon
Coverage: 30,000 square feet
Motor: 1200W
Dimensions: 21."1 x 17.1″ x 9.3″
Empty Weight: 13.8 lb.
Form Factor: Backpack Fogger
Mist Distance: Up-to 15 feet
Warranty: 9 months
---
Top Pick: Professional Cordless ULV Fogger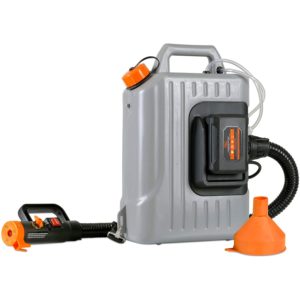 This ULV fogger is also a backpack fogger. The biggest difference between this one and the PetraTools unit above is that this unit is cordless by way of a 48v lithium-ion battery.
While that 48v battery is powering a much smaller 350w motor, SuperHandy's ULV fogger still achieves an up-to 20′ mist horizontal coverage. We're assuming that is under optimal conditions and a 12-15′ range is likely closer to real-world use.
There is both a benefit, but with it a trade-off, in the unit's 2.6 gallon capacity. While the unit will be far less of a strain when full when compared to higher volume foggers, it won't match the larger coverage area before refilling.
As far as mold control and cleaning duties, the manufacturer recommends use for public sanitation and disinfection of businesses, airports, docks, hotels, restaurants, hospitals, public transport, theaters and other public spaces. They also state that the unit's primary purpose is disinfecting and that includes fighting pathogens and vector carriers. It is also suitable for keeping dust to a minimum during asbestos abatement.
ULV Mist Size: 0 to 50 micron
Cord: Cordless (48v Lithium Ion)
Tank Size: 2.6 Gallon
Coverage: 25,000 square feet
Motor: 350W
Dimensions: 19.8″ x 17.5″ x 9.63″
Empty Weight: 8.8 lb.
Form Factor: Backpack Fogger
Mist Distance: Up-to 20 feet
Warranty: 30 days
---
Top Pick: ULV Fogging Machine for Mold Control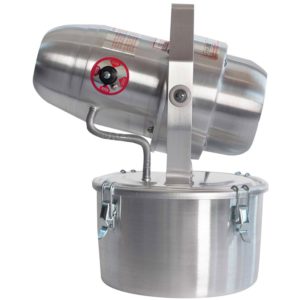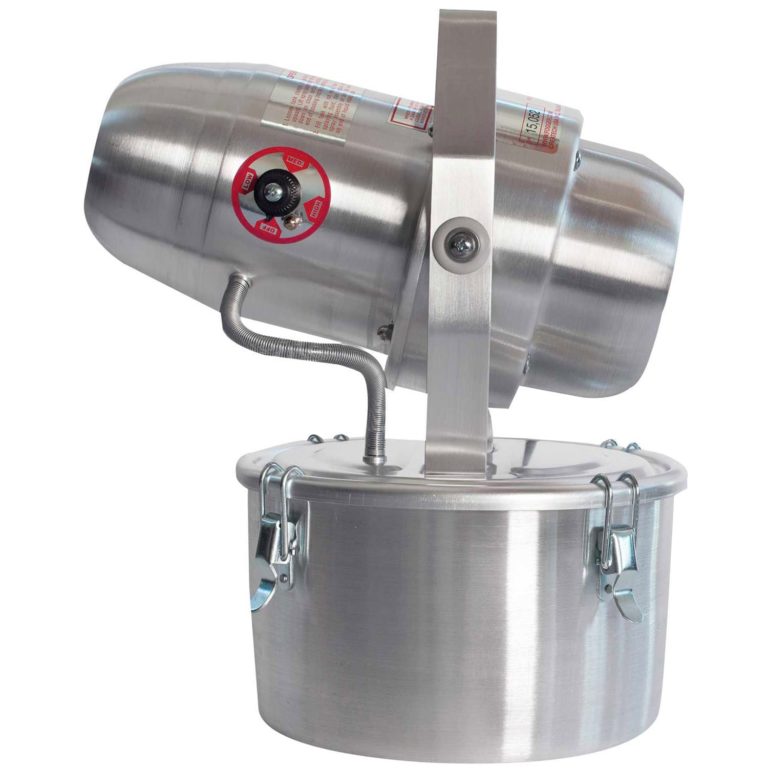 Concrobium, the manufaturer of some of the most popular mold control household cleaners, offers a mold ULV fogger of their own branding. This unit meant to be set-up in a mildewy or moldy environment and left in place to saturate the area with a fine mist of mold control solution (Concrobium's or any other water or oil-based mold abatement solution).
Concrobium's ULV fogger is a durable metal design and made for heavy, repetitive use by contractors and mold remediation professionals.
Fogger atomizers are excellent in mold-control use as they can reach behind walls and in tight spaces as long as there is air present. The manufacturer has even stated that it can be used in HVAC systems.
Concrobium's mold control fogger is good for up to 2,800 square feet of coverage and recommended for use in large areas, closed houses, attics, crawlspaces, garages, basements and wall cavities.
It's worth mentioning Concrobium's Mold Control for mold remediation. as opposed to cleaning with bleach. Concrobium states that their solution "…goes beyond just eliminating mold on the surface. While bleach, which can damage clothes and creates fumes, targets only the top portion of mold, Concrobium goes deeper. Instead of leaving mold's roots intact, Mold Control encapsulates and crushes the whole mold spore, leaving nothing left to regrow. It also lays down an invisible anti-microbial barrier over surfaces to repel new spores and keep them from taking root."
We like that Concrobium is selling a fogger of their own as it is likely to ensure the excellent reputation of their mold control solution has a ULV fogger to match. The 5-year warranty and stellar reviews tell us this isn't a purchase you'll regret.
ULV Mist Size: < 50 micron
Cord: Corded (110v)
Tank Size: 1 Gallon
Coverage: 2,800 square feet
Motor: 350W
Dimensions: 11″ x 8″ x 16″
Empty Weight: 8.0 lb.
Form Factor: Standalone Cold Fogger
Mist Distance: Unk.

Warranty:

5 years
---
Top Pick: Portable ULV Fogging Machines/Cold Fogging Machines
For a more portable cold fogger, we actually have two picks. One is corded and the other is cordless. They're both also cold fogger brands that have already made our list of top picks. Portability is important with these units.
While many customers are looking for larger units that cover the largest possible areas, larger backpack style units are heavy when filled with solution. These smaller, more portable ULV foggers are much easier to manuever as they are both lighter and smaller in size.
Corded Portable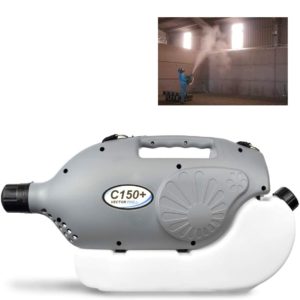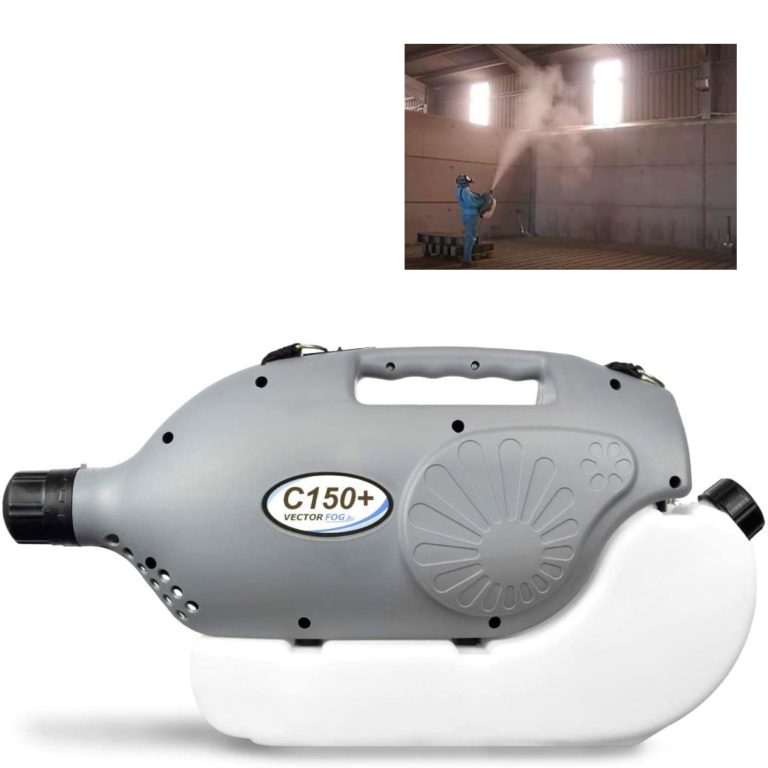 This is a 5-liter, or 1.32 gallon ULV fogger which is very manageable. It is corded and has a strong 1,250 watt motor which allows the C150's mist to reach up to 26 feet horizontally! Vectorfog recommends their electric cold fogger indoors or outdoors, and for mold control, cleaning and disinfecting against bacteria and viruses. They explicitly mention Coronaviruses in their product's description.
A recent redesign of this cold fogger resulted in a reduction of the fogger's core temperature by 20° providing a clear performance gain.
Vectorfog has an excellent reputation and this cold fogger has received excellent reviews, too. While it is on the pricier side (north of $400) it is an extremely capable and user-friendly cold fogger. They also manufacture a slightly smaller unit, the Vectorfog C100+ which is smaller in capacity, dimensions and price, too!
ULV Mist Size: 5 to 50 micron
Cord: Corded (110v)
Tank Size: 1.32 Gallon
Coverage: 2,800 square feet
Motor: 1,250W
Dimensions: 25.5″ x 14.9″ x 10.6″
Empty Weight: 8.0 lb.
Form Factor: Standalone Cold Fogger
Mist Distance: Up-to 26 feet

Warranty:

1 year
Cordless Portable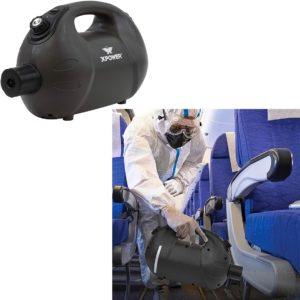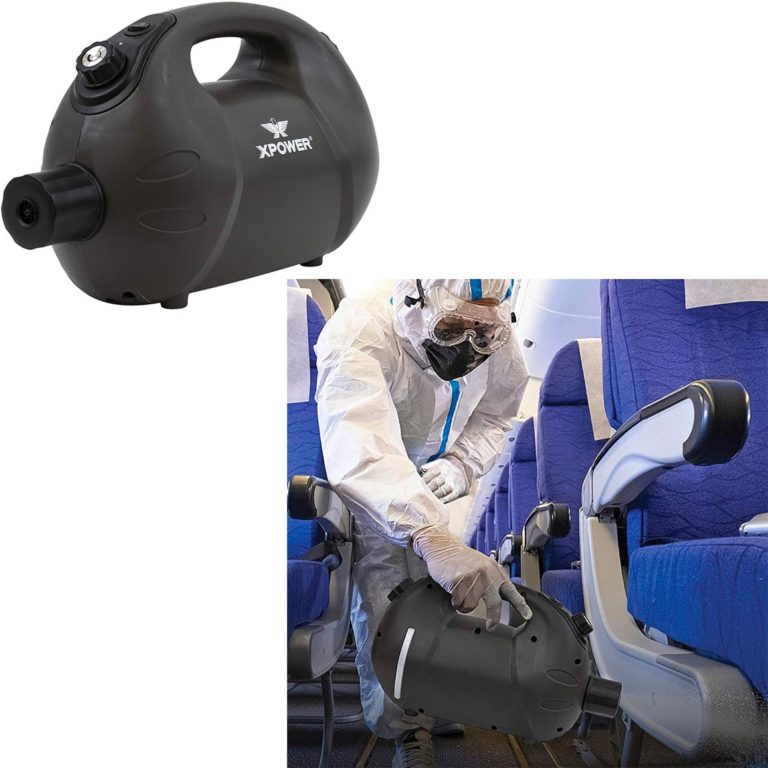 While we have other XPOWER products, we do not own the XPOWER F-16B ULV fogger. But, we are still bringing it to the table as it is a very well-rounded, portable cold fogging unit.
Although battery operated, the unit still achieves a 20+ foot fogging distance from the operator. XPOWER states use is intended for applying disinfectants, insecticides, biocides, deodorants, fungicides, repellents and surface sanitizers.
XPOWER is known for its mold and remediation commercial products including air scrubbers and the XPOWER F-16B comes with their standard 1 year warranty.
For those looking for a longer warranty, Sylvane also sells this and other XPOWER ULV foggers and they offer extended warranties.
ULV Mist Size: < 50 micron
Cord: Corded (110v)
Tank Size: 1 Gallon
Coverage: 2,800 square feet
Motor: 350W
Dimensions: 14.6″ x 6.8″ x 8.3″
Empty Weight: 5.7 lb.
Form Factor: Standalone Cold Fogger
Mist Distance: Up-to 20 feet

Warranty:

1 year
---
Frequently Asked Questions
How does a ULV fogger work?
A cold fogger works by moving water or oil-based liquid through a nozzle which turns the liquid into extremely small particles which create a mist, or fog. The entire process is enabled by an electric motor which is either battery powered or corded using an AC outlet.
What makes a ULV fogger different from a thermal fogger?
A ULV fogger does not use heat when atomizing the solution it creates whereas a thermal fogger does. ULV Foggers which produce a cold fog are more often used indoors where they need not be monitored. Thermal foggers are most often used outdoors for insect control and require constant monitoring.
What does ULV stand for in cold ULV fogger?
ULV stands for ultra-low volume. The low volume refers to the small amount of liquid which is mixed with the air, creating the mist or fog.
What are cold foggers used for?
Cold ULV foggers are used for mold control and remediation, interior disinfecting against viruses and bacteria, and dispensing insecticides and other biocides in gardens, greenhouses and other spaces.
Should a mask be worn when using a ULV fogger?
Generally, yes. What type of protective gear (PPE) should be work depends upon what liquid is being used in the cold fogger. Check with both the manufacturer of the cold fogger and the solution being used for safety specifications.