Levoit has been manufacturing some of the best regarded consumer-level air purifiers on the market today. The company has offices around the world, including in the United States. Levoit air purifiers are designed in the United States but manufactured offshore. After a long look at their 2020 lineup, here's our top picks:
All Around Winner: Best Levoit Air Purifier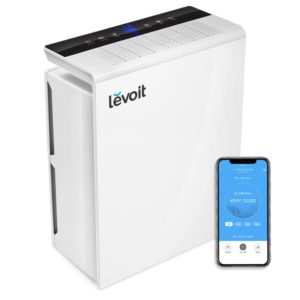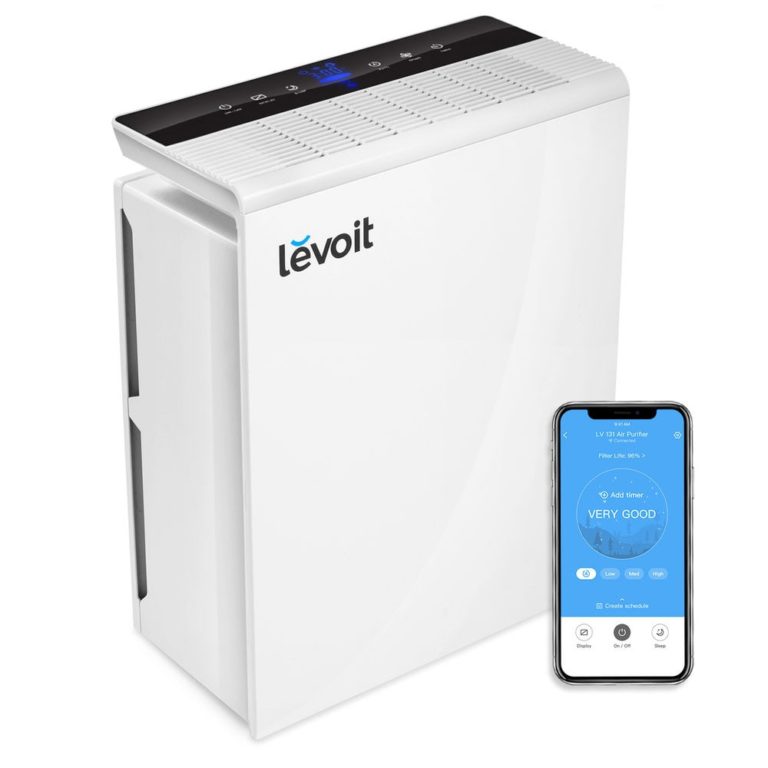 It's hard to pick an all-around winner as Levoit has so many great models to choose from. Currently, our pick is the LV-PUR131S. If you don't want or need the WiFi connected features and app, the LV-PUR131 is virtually identical from an air purification standpoint. Their difference is in app-connectivity which is more than worth the small premium in price.
True HEPA and Air Quality Sensor
The LV-PUR131 is a well-made True HEPA air purifier. One of our favorite features is the onboard air quality sensor. Based upon the sensor's reading, the unit adjusts its fan speed to a level that can appropriately tackle airborne pollutants, dust, viruses, bacteria and other contaminants.
An indicator on the top of the unit keeps you informed of the four levels of air quality: Blue indicates Very Good air quality or when the unit has been put into Sleep Mode. Green indicates Good air quality and yellow means Moderate. Red, the worst indicator, stands for Bad air quality.
Room Size and Fan Speed
The room size the LV-PUR131 is recommended for depends upon the fan speed the unit is operated at. For quietest operation (using the lowest fan setting) room size tops out at 360 square feet. Using the second fan setting, 500 square feet can be effectively cleaned. At the highest fan speed, up to 900 square feet can be purified. It is worth noting that as the fan speed increases, so does ambient noise.
Unsurprisingly, Sleep Mode delivers the quietest operation at a mere 27 dB.
Air Filtration and Cost of Operation
Three-stage filtration does the heavy lifting for air purification. First, air passes through a pre-filter which captures the largest particles. Next, a True HEPA filter captures smaller particles. Finally, an activated carbon filter removes odors including VOCs. Like other Levoit models, the LV-PUR131S filters airborne particles 0.3 micrometers in size or larger, capturing 99.97% of harmful dust, pet dander, mold, allergens, pollens and other particulates.
Total cost of operation is manageable with the unit consuming 40 watts of power. The stated average filter life is 6 months with the unit itself tracking usage and reporting back the usable life remaining. Replacements run around $30 at the time of review.
The unit is very easy to use with clearly labeled buttons atop the unit. And, the App expands the user experience with an air quality monitor, remote operation, a timer, advanced scheduling and Alexa integration.
Dimensions: 14.6″ x 7.2″ x 18.5″
Weight: 11.5 lb.
Air Quality Sensor: Yes
Connectivity: Wifi, Alexa, App
CADR: 135 CFM
Noise: ≤ 52dB
Max Filtration: 97.97% / 0.3 micron
Filtration Levels: 3 incl. Carbon Filter
HEPA: Yes, True HEPA
Warranty: 2 Year
---
Top Pick: Levoit Air Purifier for Large Rooms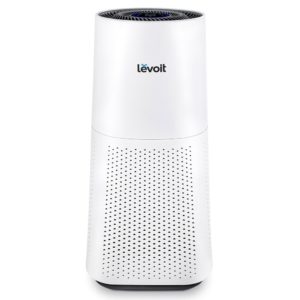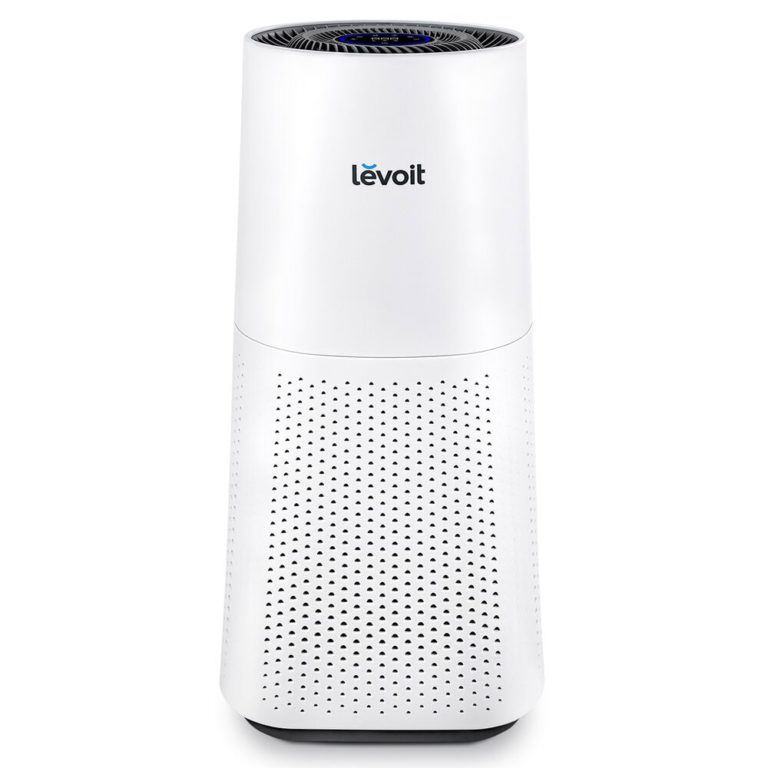 For those with larger rooms, Levoit's LV-H134 Tower Pro is our top pick. Taking cues from both smaller cylindrical air cleaners and larger rectangular ones, the Tower Pro is square at its base tapering to a circular top. What's inside is the advanced air cleaning technology we've come to expect from Levoit. To be clear, this unit is a step-up from their lower-end offering.
Air Quality Sensor with PM2.5
A cutting-edge laser sensor reports air quality in real-time including a PM2.5 reading. Without going into too much detail here PM stands for Particulate Matter. For more information on particulates check out our particulate size blog post. Add the dust sensor directly in front of the laser and you have the sensor array which power the LV-H134's automatic mode. When this mode is enabled the air purifier adjusts its airflow level (fan) to appropriately handle any airborne contaminants.
Colored lighting indicates the current air quality level in the order blue, green, yellow and red. Those colors reflect sleep mode or very good, good, moderate and bad respectively.
H13 True HEPA Filtration Performance
The filter on this Levoit unit is rated at H13 True HEPA level. H13 is great for just about anything you can throw at it, be wildfire smoke, allergens, dust and pet dander. Air purification is stated at 30 minutes for a room of 1,170 ft2. For a 710 ft2 space the job is done in only 18.
Other highlights include a certifications from CARB, FCC and ETL. The unit has a one to twelve hour timer and a filter-change indicator lets you know when the unit needs a new filter. Filters run about $65 if you go with ones manufactured by Levoit.
Dimensions: 13.7″ x 13.7″ x 30.9″
Weight: 28.5 lb.
Air Quality Sensor: Yes
Connectivity: No
CADR: 312 CFM
Noise: ≤ 54dB
Max Filtration: 97.97% / 0.3 micron
Filtration Levels: 3 incl. Carbon Filter
HEPA: Yes, True HEPA
Warranty: 2 Year
---
Top Pick: Levoit Air Purifier for Small Rooms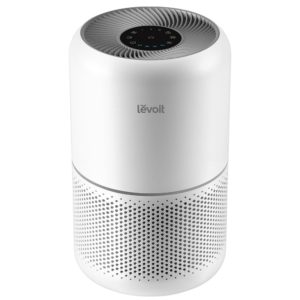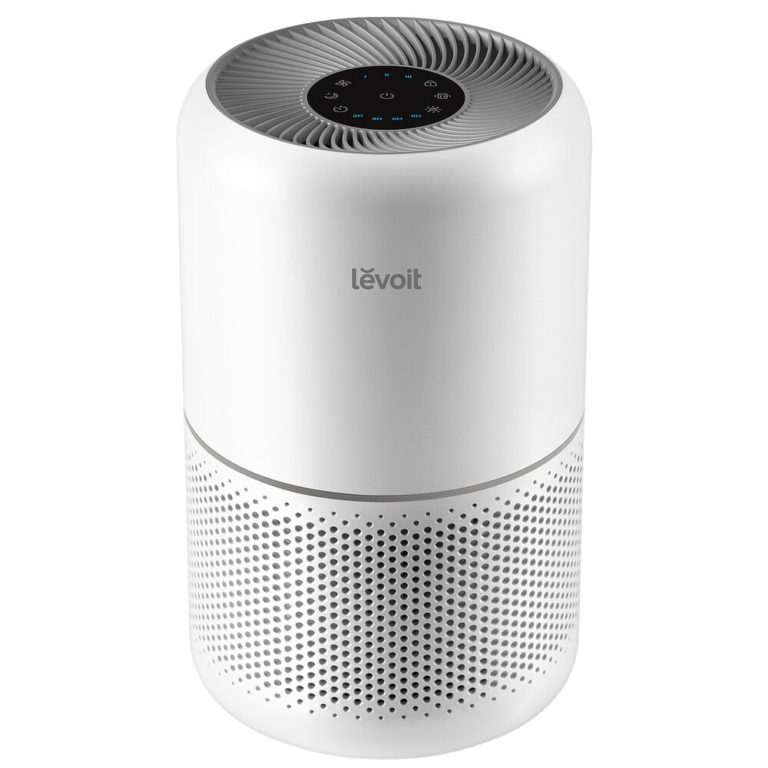 When we say smaller rooms, we're talking about 200 ft; 215 to be exact. Like other Levoit units, expect 97.97% 0.3 micron filtration and reasonably quiet operation. The filter array includes a True HEPA filter and a carbon activated filter. One thing you'll find on the Core 300 that isn't on every Levoit is an owner-serviceable (and cleanable) pre-filter.
Cleaner Air Without the Extras
We like that there is an owner-cleanable pre-filter and would hope to see this on other Levoit models in the future. Everything else is what you'd expect in a basic air cleaner for a small area. Compared to more advanced Levoit models, the Core 300 has less of the technological advancements. But, for a small area, this unit does just fine.
Dimensions: 8.7″ x 8.7″ x 14.2″
Weight: 7.5 lb.
Air Quality Sensor: No
Connectivity: No
CADR: 135 CFM
Noise: ≤ 50dB
Max Filtration: 97.97% / 0.3 micron
Filtration Levels: 3 incl. Carbon Filter
HEPA: Yes, True HEPA
Warranty: 2 Year
---
Levoit's offering continues to be impressive. Aimed squarely at the residential consumer, Levoit has a product for just about any room size.
Frequently Asked Quesitons
How long do Levoit filters last?
Levoit states 6 months as an average lifespan. But, each Levoit air purifier filter lasts a different amount of time based upon usage. To help customers know when to change their filter, some models include a check filter function.
Can a Levoit air purifier be left on all the time?
Yes, you can leave your Levoit air purifier on all of the time. It is worth noting that doing so will cause you to run through filters more quickly. When an air purifier is run with a dirty filter it is far less effective. Changing the air filter more often will increase the overall operating cost of your Levoit air purifier.
Are Levoit air purifiers good?
Levoit makes high quality air purifiers and replacement filters. We wouldn't hesitate to recommend any model they manufacture for regular home use. Our top pick is the feature-rich Levoit LV-PUR131S. We also recommend the LV-H134 and the Core 300 for smaller spaces.