Cyclonic separators are a great way to upgrade a single-stage dust collector. We've covered all-in-one cyclone dust collector systems before. Taking a single-stage dust collector or shop vac and adding a standalone cyclonic dust separator achieves the same end. There are several benefits to adding a standalone cyclonic separator to a single-stage system and they all come down to preventing fine dust from clogging shop vacuums.
First, overall efficiency is greatly increased. Second, filter life on the vacuum or single-stage system is extended as it has less work to do. Finally, and most importantly, the motor life of the dust collector or vacuum is prolonged. Simply stated, adding a cyclonic separator to a shop dust collector will save both time and money.
Here are our top picks for standalone cyclonic separator to add to single-stage dust collectors and vacuums
---
Top Pick: Overall Best Deluxe Cyclonic Separator for 5-Gallon Bucket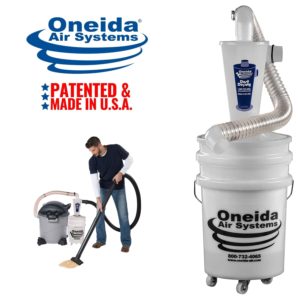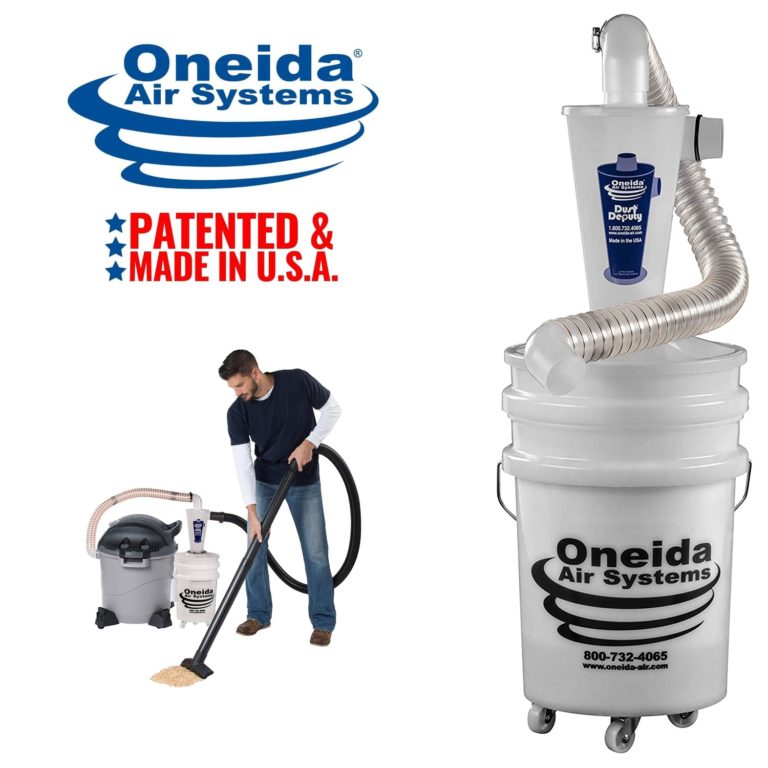 Oneida's Dust Deputy is an American made, best-in-class standalone cyclone separator kit. Oneida includes everything necessary to connect the Dust Deputy to any shop vacuum and uses premium fittings and seals to ensure maximum suction and durability.
The 5 gallon bucket is included, which we like, as the lid and the dust bucket are both coming from the same source.
Oneida is known for higher horsepower standalone cyclone separators or profilers for sustained, heavy shop usage. This simple, efficient design takes Oneida's experience and offers the a high level of quality and value whether used at home, in a workshop or on a job site.
In the box you'll find everything you need to use this portable cyclone separator with your existing shop vac including the 5 gallon dust bucket, form-fitting lid, caster wheels, gaskets and mounting hardware. There is some simple assembly required, but it's worth it.
This cyclonic dust separator is the best option for turning a shop vacuum into a 2-stage dust-free system.
Hose Diameter: 1.5″ to 2.5″
Container: 5 Gallon Bucket (included)
Dimensions: 12″ x 12″ x 29.5″ (with bucket)
Weight: 10.2 lb.
Suggested Use: Workshop, Job Site
Warranty: 1 Year
---
Top Pick: Value Pick fro Small Shop Vac Cyclonic Separator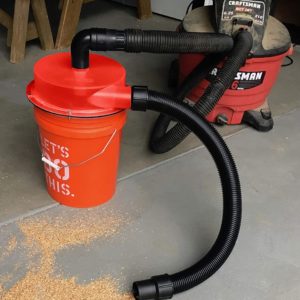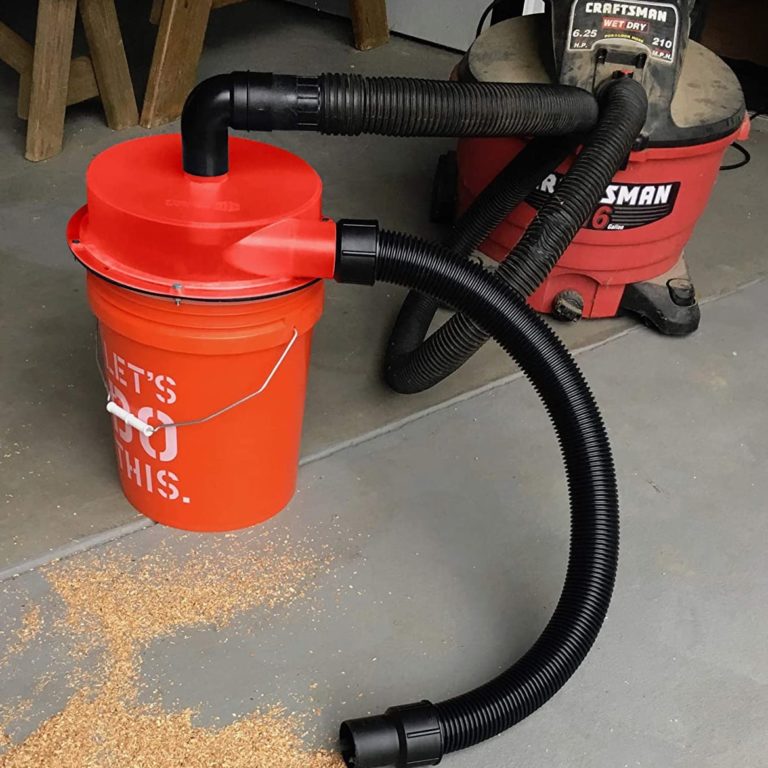 This is one of the most popular cyclonic separator uses: pre-filtering dust and debris before it reaches a shop vac. The setup is incredibly simple and extends the life of not only the shop vacuum's filter but also the vacuum motor. While this unit isn't at the level of fit-and-finish as the Oneida unit above, it is our value pick for home use or a small shop.
The shop vacuum cyclonic dust separator sucks in the air and debris through a tube. As the dust and debris spin in the 5 gallon bucket, the heavier wood chips, sawdust and dust falls to the bottom of the bucket. The cleanest air is at the center-top of the cyclonic separator. Finally, a tube provides that cleaned air to the shop vac.
All tubing, connectors and the 90 degree elbow are designed for the standard 2.5″ shop vacuum hose diameter.
Delmar's Shop Vacuum Dust Separator gets high marks for a few reasons. First, it clips right on to a 5 gallon bucket. Second, rubber gaskets make sure there is maximum suction. This is incredibly important as it maintains the suction power experienced when using the shop vacuum on its own. Finally, Delmar Tools backs up the separator with a lifetime warranty.
Hose Diameter: 2.5″
Container: 5 Gallon Bucket (not included)
Dimensions: 15.7″ x 13.3″ x 7.3″
Weight: 3.24 lb.
Suggested Use: Home, Small Workshop
Warranty: Lifetime
---
Top Pick: Large Hose Diameter Cyclonic Dust Separator (4″ to 6″ Applications)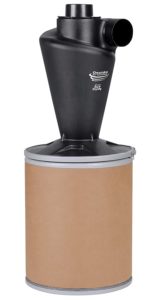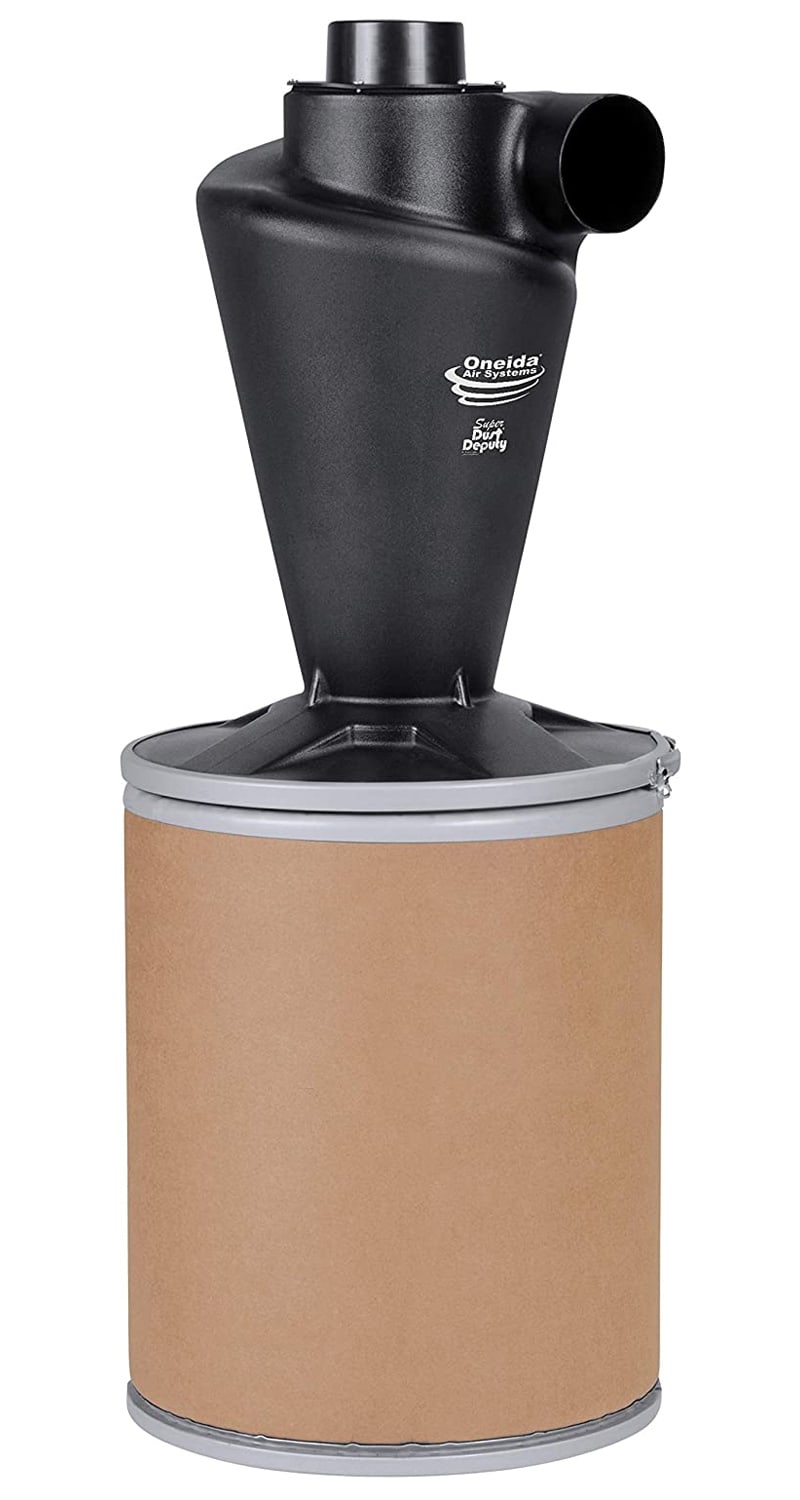 For larger diameter hose applications, Oneida again provides the best option for both performance and value: The Oneida Air Systems Super Dust Deputy. This patented design is an excellent option for any shop needing a 4″, 5″ or 6″ diameter hose application.
The cyclone separates better than 99% of dust and debris that it takes in. This all but eliminates filter clogging and suction loss. Each size (the 4 inch, 5 inch and 6 inch) intake and exhaust ports are tapered for easy and flex-hose connection. While made be Oneida, the dust collector can work with virtually any manufacturer's dust collector (Delta, Grizzly, Harbor Freight, Jet, etc.).
When purchasing do note that Oneida offers the 4″ as a dust collector alone, or as a dust collector kit which includes the dust collection drum (pictured). The 4″ kit's bin is a 15 gallon dustbin which has a high-quality, quick-release latch.
TIP: The 5″ and 6″ units are the dust collectors only, and do not include the bin. So, when purchasing a 5″ or 6″ unit do take a look at what is included. Depending on what you have on hand, you may need to also purchase additional hose(s), couplings and will almost certainly need to pick up a collection bin. This is not a knock on the 5″ or 6″ units, we just wanted to be sure that you get everything you need if you purchase in one of those hose diameters.
Please not that the specifications below (beyond hose diameter) are for the 4″ Super Dust Deputy Kit.
Hose Diameter: 3 3/4 ID, 4″ OD
Container: 15 Gallon Bucket
Dimensions: 20.5″ x 16.8″ x 16.5″
Weight: 11.4 lb.
Suggested Use: Medium/Large Workshop
Warranty: 1 Year
What to look for in a pre-stage or add-on cyclonic dust separator
Dust Bin – Some, but not all, add-on cyclonic dust separators come with a dust bin. Others are made for use with a standard container, such as the 5-gallon bucket models above. Still others have no bin at all. If using a bin of your own be sure it can handle the amount of air pressure your system requires.
Hose Diameter – Consumer grade and small shop vacuums use a smaller diameter hose than larger dust collectors. Only use a hose diameter that is appropriate for the vacuum or dust collector in use.
Hose Length, Connectors and Adapters – Calculate how much hose you'll need before purchasing a system. While units for smaller applications, such as with a shop vac, will include everything you need, larger systems almost always require additional hoses, connectors and adapters.
Portability – All of the units above are portable, based on their weight, but not all have casters to easily move around the shop.
Seal – Beyond selecting a high-quality unit, the seal between the cyclone component and the dust collection bin is crucial. A poor seal will not only reduce the effectiveness of the unit, it will also lower suction for the entire system.
Warranty – While these are simple, non-mechanical items, a warranty is still important. One year is the minimum warranty we find acceptable.