Our roundup of the best air scrubbers to buy for commercial applications. Each of the commercial air purifiers which made the best air scrubbers list are adept at mold, mold spore, smoke, chemical fumes, VOC, lead, asbestos and other fine airborne particle removal.
Air scrubbers are primarily used by professionals for mold remediation and smoke and water damage restoration. Each machine below cleans contaminants from the air using a fan to move air through a series of filters removing hazardous particulates and improving indoor air quality (IAQ).
View each if the models reviewed below. We've also provided a quick air scrubber feature comparison after the reviews as well as frequently asked questions.
All Around Winner: Best Air Scrubber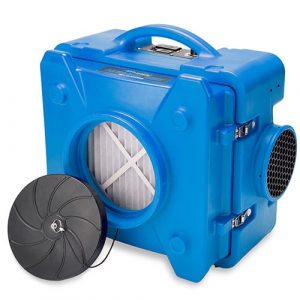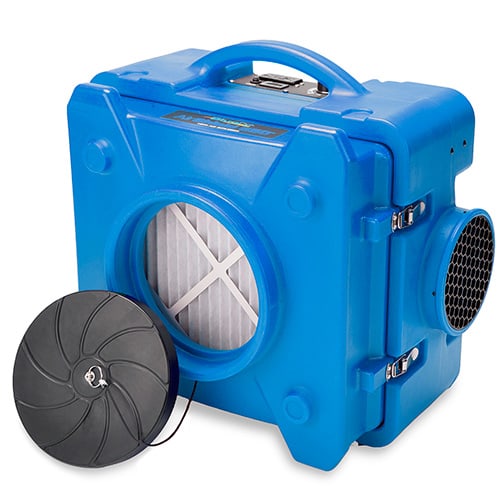 Don't have time to read each review? Here's a spoiler: Our all-around best air scrubber pick for commercial use is the BlueDri AirShield 550 HEPA Air Scrubber. Considering its wide variety of uses for mold removal, restoration and renovation and strong list of features it is our top recommendation. This unit is a great all-around pick combining performance characteristics, a HEPA filtration option and price to offer an incredible value.
The tried and true BlueDri Air Shield 550 HEPA (AS550) is our all-around winner. The Air Shield 550 HEPA was made for use in rugged industrial and commercial environments where it would be subject to constant use. To get the job done this BlueDri unit leverages a 3-stage filter system. The first filter is a pre-filter, followed by an optional second stage filter and finally a HEPA filter.
With all three of its filters in place the 550 removes 99.97% of particles sized .3 micrometers and larger. That makes dust, mold and drywall particles quick work for the BlueDri unit. It's at home in a wide variety of application use-cases including home repair and constructions sites, mold and sewage remediation jobs, and water and fire damage restoration cleanups. All this is packed into a tight package that weights in at a mere 45 pounds.
Although blue is in the name, it doesn't have to be the color of your scrubber. The 550 comes in blue, green, grey and red. Beyond being our top pick, the BlueDri Air Shield 550 is also our winner for best value.
Latest Price and Promotions Contractor's 4 Pack
Airflow Rating: 250 – 500 CFM
Max CADR: 500
Dimensions: 25″ x 20″ x 14″
Weight: 45 lb
Ductable: Yes
Inlet Diameter: 11.75″
Exhaust/Outlet Diameter: 7.75″
Power: 115 v, 2.5 amp, 60 Hz
Motor: Variable Speed
Warranty: 1 year, 180 days on electrical
---
Top Pick: Professional HEPA Air Scrubber w/UV-C Light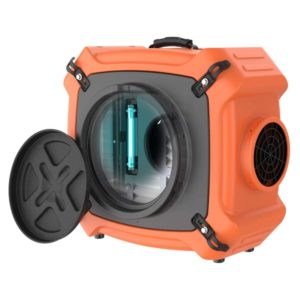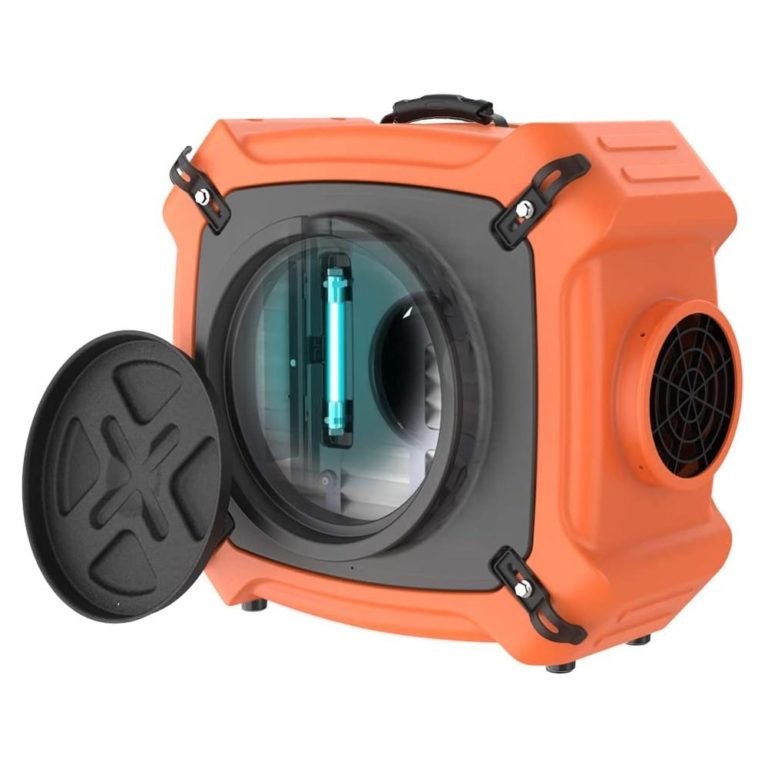 One of the newer air scrubber models to make our list is AlorAir's PureAiro HEPA Max 970. The PureAiro is at the high-end of AlorAir's line. The PureAiro HEPA Max 970 integrates something no other unit on this list does: UV-C light. UV-C light. On it's own UV-C light is effective at breaking down odors like smoke, and moldy, musty smells. It also highly effective at killing mold and other fungi.
AlorAir has taken hose mold remediation qualities and paired it up with contractor grade air scrubber filters to create a highly-effective and efficient air purifier. The resulting air cleaning system is a 3-stage negative air machine with up to 750 CFM of airflow.
This highly versatile air scrubber is designed for use during water/flood restoration, mold remediation, remodeling, sewage clean-up, renovation and construction, and fire damage restoration. The manufacturer also states that it is perfect for a salon or print shop.
The first filter stage is a pre-filter which removes the largest particles. These first line of defense filters lengthen the lifespan of the more expensive filter to follow. That filter is the second stage which is a 2-in-1 HEPA filter that leverages activated carbon. It is effective at removing mold spores, bacteria, asbestos and other airborne pathogens from the air. The final stage is the UV-C light which enhances abatement of airborne germs.
Up to three PureAiro HEPA Max units can be used on a single power outlet (daisy chain).
Latest Price and Promotions Contractor's 5 Pack
Airflow Rating: 330 CFM to 750 CFM
Max CADR: 750
Dimensions: 25″ x 21.7″ x 14.2″
Weight: 39.6 lb
Ductable: Yes
Air Intake/Inlet Diameter: 14″
Exhaust/Outlet Diameter: 8″
Power: 115V, 2.8 amp, 60 Hz
Motor: Adjustable speed
Warranty: 1 year, 10 years on chassis
---
Top Pick: Best Air Scrubber for Contractors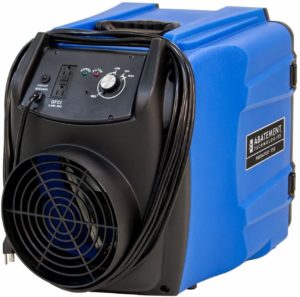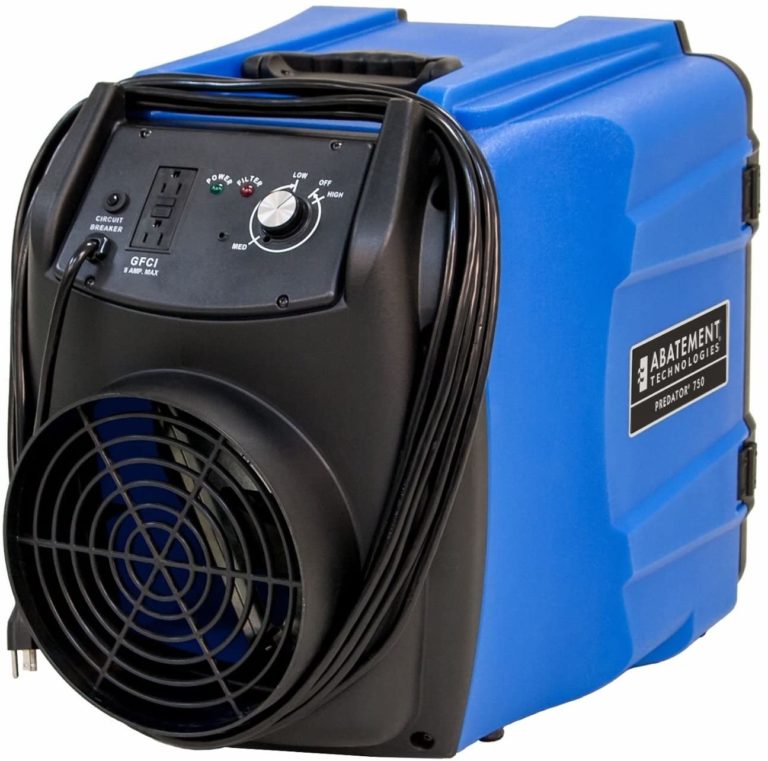 For portability, power and heavy use, Abatement Technologies' Predator 750 is an air scrubber that makes contractors' short list. The no-frills unit has the all the right specifications, and some capabilities that simply outclass the competition.
This patented air scrubber is relatively small, yet more powerful than most on our list. With a variable speed motor, CFM can be adjusted anywhere between 200 and 750 CFM. At the high end, that's 50% more than most air scrubbers. Whether the job at hand is removing mold spores, cleaning particulates from the air at a construction site or any other job, the work gets done faster than units with a lower airflow rating.
The unit itself has a design that breaks for the popular thin/tall design in use by most manufacturers. Abatement says their design creates a "zero bypass" cabinet which creates a tighter seal, important for achieving negative air pressure.
At it's 750 CFM top-end, expect 6 ACH (air changes per hour) for an area of 6,000 to 7,500 square feet.
Up to 5 Predator 750s can be daisy-chained together on a single 15-amp circuit.
Airflow Rating: up to 750 CFM
Max CADR: 750
Dimensions: 25.5″ x 19.5″ x 20.5″
Weight: 35.0 lb
Ductable: Yes
Air Intake/Inlet Diameter: 10″
Exhaust/Outlet Diameter: 10″
Power: 115 v, 1.9 amp, 60 Hz
Motor: Variable Speed
Warranty: 1 year
---
Top Pick: Best HEPA Air Scrubber for Mold Remediation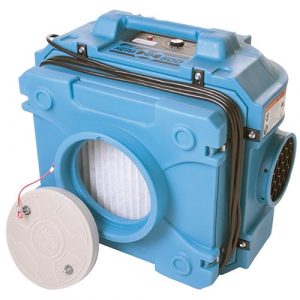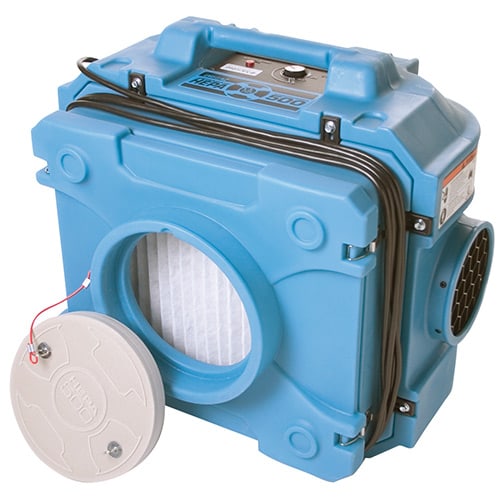 The Dri-Eaz F284 Air Scrubber/Negative Air Machine HEPA 500 (that's a mouthful) is a venerable competitor in the Air Scrubber space. Known for being a reliable workhorse, the only downside of the F284 is the premium price tag that comes with it. Make no mistake, the price tag is absolutely justified. We consider this to be a tie for best air scrubber. If the F284 is within your budget, buy it.
Standout features include an onboard GFCI protected outlet allowing other equipment to be plugged into the F284. The power cord for the unit itself is 25 feet. And, of course, as the name would suggest the F284 takes a HEPA filter making it the right tool for the job for dealing with mold, lead paint, VOCs and more. It can also use an activated carbon filter for smoke and other odor removal work.
So, why wasn't this the all around winner? The steep price point, while an exceptional deal considering the capabilities the F284 offers, may be out of range for some buyers.
Airflow Rating: up to 500 CFM
Max CADR: 500
Dimensions: 18.2″ x 26.2″ x 24.6″
Weight: 44 lb
Ductable: Yes
Air Intake/Inlet Diameter: 12″
Exhaust/Outlet Diameter: 8″
Power: 115 v, 4.5 amp, 60 Hz
Motor: Variable Speed
Warranty: 1 year
---
Top Pick: Best Portable Air Scrubber for Mold, Smoke & Odor Removal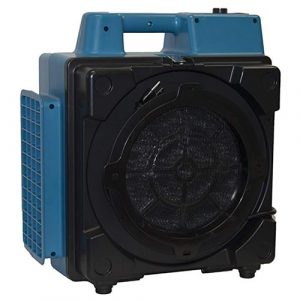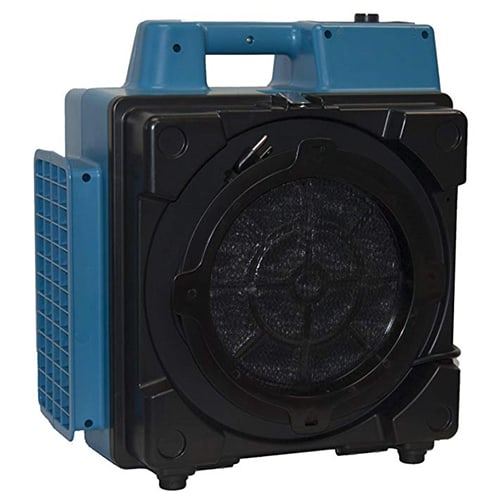 As it's longer name confirms, this potent air scrubber for smoke and odor removal has a 4-stage filtration system that includes both a HEPA filter and a carbon filter.
For smoke removal a carbon filter is a must. Being able to run the filter array the X-2580 allows is just one reason why it's among our best air scrubbers to buy. This air scrubber is an excellent choice whether for smoke, odor, VOC and of course mold remediation. The X-2580 packs a lot of punch into its highly portable, compact ABS enclosure.
Weighing in at less than 24 pounds, we didn't expect this unit to be big on moving air, but we were wrong. It's 1/2 HP motor is rated for 550 CFM. And, it has a 5 speed motor which is a welcome feature for not only controlling air flow but noise, too.
How many of these air scrubbers would you need? A single X-2580 is effective for smoke or any other contaminant in a 1,500 square foot area. If in addition to harmful airborne contaminants you're also looking for activated carbon filtration, put the X-2580 on your list.
Can the X-2580 also work on mold remediation sites? As we mentioned earlier, it can, but for those jobs we still recommend the higher performing, more flexible and powerful X-4700AM. Speaking of the X-4700, please note that if you need a more featured unit, XPOWER's X-4700AM will accept a carbon filter.
XPOWER Air Scrubber Video Overview
Airflow Rating: up to 550 CFM
Max CADR: 550
Dimensions: 18.9″ x 16.6″ x 10.4″
Weight: 23.6 lb
Ductable: Yes
Air Intake/Inlet Diameter: 11.9″
Exhaust/Outlet Diameter: 6″
Power: 115V, 2.8 amp, 60 Hz
Motor: 5-speed
Warranty: 1 year
---
Top Pick: Best Air Scrubber – 2000 CFM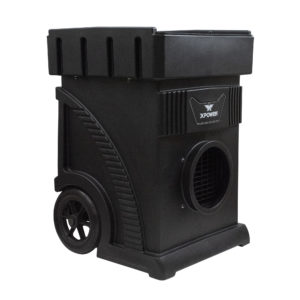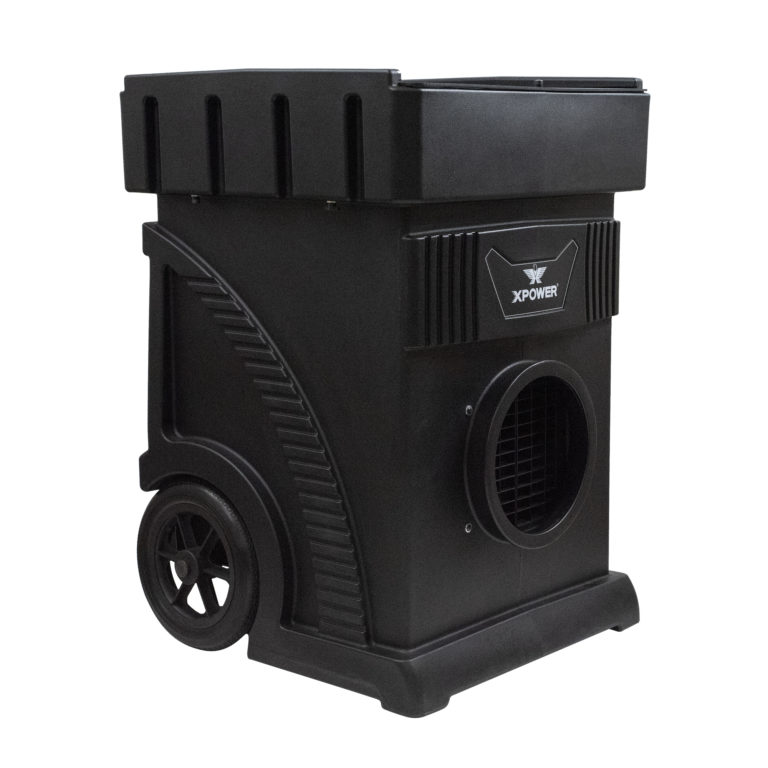 For large jobs that require cleaning large volumes of air, but still requiring a portable air scrubber, XPOWER has produced a 2000 CFM air scrubber with 3-levels of filtration (including HEPA filtration). Housed in a one-piece roto-molded enclosure, the the ductable AP-2000 is designed for large-scale use.
XPOWER suggests it be used to remediate air in large spaces including arenas, conference rooms, construction sites, gyms, hospitals, hotels, offices and schools.
The brushless DC motor is one of the air scrubber's biggest selling points. When used at lower CFM rates it can be used in occupied spaces without causing disruption. Of course, it can also be turned up to efficiently and aggressively remove mold, dust, VOCs and other airborne particles from the air.
The 2,000 CFM air scrubber's trio of filters include a washable pre-filter, a HEPA filter and a carbon filter. The carbon filter is optional, allowing cost-saving operation when odor removal isn't required.
Unique to a unit of this size, the AP-2500D also includes a digital PM 2.5 air quality sensor as well as a vacuum pressure gauge. The unit can also optionally operate at negative air pressure by way of its ductable 12-inch exhaust outlet. Ducting is sold separately.
Contractors and professionals will appreciate the ease of moving the unit as well as it being stackable.
For large-scale remediation jobs this unit is our recommended pick.
Airflow Rating: up to 2000 CFM
Max CADR: 2000
Dimensions: 38.8″ x 26.7″ x 29.4″
Weight: 98.7 lb
Ductable: Yes
Power: 115V, 8.0 amp, 60 Hz
Motor: Variable Speed
Warranty: 1 year
---
Air Scrubber Comparison Table
Choosing the Right Commercial Air Scrubber
When selecting an air scrubber there are a few factors that should always be considered, including:
ACH / ACPH – Both ACH and ACPH stand for air changes per hour. Simply stated, air changes per hour is a metric that defines how many times an air scrubber can fill up or remove the entire volume of air in a room.
Airflow Rating – CFM, or cubic feet per minute, is used to express how much air an air scrubber can move. Be sure the unit you pick has a CFM rating that is suitable for the jobs it will be used for. Not sure how many air scrubbers you need for a job? Check out our air scrubber calculations.
Air Speeds – A great feature that makes a unit more versatile is a blower with variable speed settings. Not only does fan speed effect how much air is being purified, it also determines the level of ambient noise where the unit is placed.
Filtration – At the end of the day, filtration is what an air scrubber does. Pick a unit that can filter out the particulates you need to remove while reliably dealing with the strain the amount of airflow moving through it demands. Most units have HEPA rated filters. Some also have pre-filters and optional carbon filters. Pre-filters remove larger particulates, saving the HEPA filter for the smallest ones. Carbon filters remove VOCs and odor smells.
Negative Air Pressure – For remediation work, an air scrubber needs to achieve negative air pressure. This requires an air scrubber with a well-sealed cabinet and a strong enough motor and fan to sustain negative air pressure.
Portability – Today, most air scrubbers are considered to be of the PAS variety, which stands for portable air scrubber. Take note of the form factor, stackability, weight, number and placement of wheels, and if the scrubber has one or more handles to make moving it around easier.
Price – Quality usually comes at a price. While you cannot compromise on quality, you can right-size the air scrubbers you purchase for the type of work they'll be used for. Buying units with inferior specs will introduce increased running time or the inability to perform the required work. Purchasing those with specs that far outpace the requirements of the work they'll be used for is simply wasting money.
Quality – Always go with a tried-and-true brand which has a track record of manufacturing high-quality products. Knowing the type of work that you'll require from a unit, make sure it's up to the task.
Frequently Asked Questions
What does an air scrubber do?
An air scrubber takes in air and filters out mold, mold spores, smoke, chemical fumes, VOCs, lead, asbestos and other fine airborne particles. The purified air is then exhausted from the air scrubber and back into the room.
What is a HEPA air scrubber?
A HEPA air scrubber is an air scrubber which employs HEPA filters. HEPA is an acronym which stands for "high efficiency particulate air" filter. To have this designation, the filter must be capable of removing 99.97% of particles that are 0.3 microns or larger.
Are air scrubbers effective?
Yes. Air scrubbers are very effective at what they do. They are also designed to run long duty cycles for use in harsh environments including mold remediation, flood damage restoration, smoke abatement, construction, remodeling and welding.
What is the difference between an air scrubber and an air purifier?
An air purifier is mainly used in residential and office environments to clean airborne particles from the air. Air purifiers are generally quite enough to use in an occupied space. Air scrubbers are mainly used in unoccupied spaces where renovation, remediation or construction work is taking place. Air scrubbers work at a higher duty cycle, and they not only remove particles from the air, but can also remove some particles from surfaces. Air scrubbers are also far louder than a consumer-grade air purifier.
How long should an air scrubber be run?
The length of time an air scrubber should be run depends upon the type of work it is being used for and the efficiency of the air scrubber. While some sites provide general guidance, due to this high amount of variability we recommend consulting the manufacturer's recommendation.
A simple example of the differences would be an air scrubber being used to reduce dust in a construction area vs. one being used to remove mold from a room. The construction use-case would be a continually run air scrubber to capture dust and sawdust created while work is being performed. In the mold remediation scenario the exact amount of time would depend on the volume of the room and the extent of the mold infestation.
Are air scrubbers dangerous?
An air scrubber is no more dangerous than any other electric tool one would use on a construction or work site. Air scrubbers have zero-off-gassing, and the result of using an air scrubber is a cleaner, safer environment to be in.
In some use cases, the environment itself can be dangerous, such as when high levels of VOCs or asbestos are present, but using an air scrubber to remove thos pathogens decreases that level of danger.
What is the difference between an air scrubber and a negative air machine?
These terms are often used interchangeable. An air scrubber and a negative air machine are the same thing. When doing mold remediation, flood damage cleanup and a number of other tasks, negative air pressure needs to be achieved.
This is done by removing more air from the area than is being replaced. In practice, that means first using temporary walls to cordon off an area. Next, the air scrubber is set-up using flexible ducting so that treated air is removed from the area where the air is being purified.