Shop for these top-rated air scrubbers for commercial applications. Each of the commercial air purifiers which made the best air scrubbers list are adept at mold, mold spore, smoke, chemical fumes, VOC, lead, asbestos and other fine airborne particle removal. Air scrubbers are primarily used by professionals for mold remediation and smoke and water damage restoration. Each machine below cleans contaminants from the air by passing it through a series of filters, removing hazardous particulates and improving indoor air quality (IAQ).
All Around Winner: Best Commercial Air Scrubber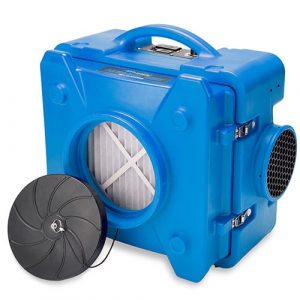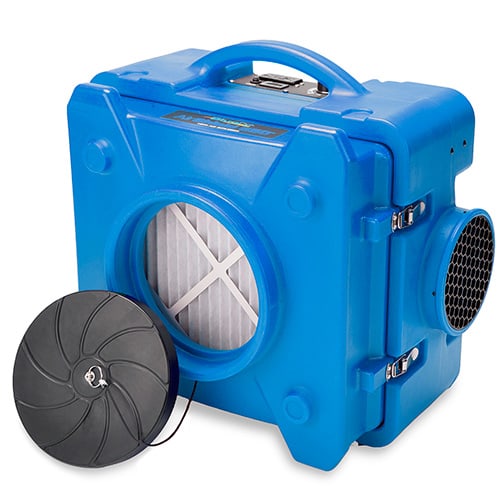 Don't have time to read each review? Here's a spoiler: Our all-around best air scrubber pick for commercial use is the BlueDri AirShield 550 HEPA Air Scrubber. Considering its wide variety of uses for mold removal, restoration and renovation and strong list of features it is our top recommendation. This unit is a great all-around pick combining performance characteristics, a HEPA filtration option and price to offer an incredible value.
The tried and true BlueDri Air Shield 550 HEPA (AS550) is our all-around winner. The Air Shield 550 HEPA was made for use in rugged industrial and commercial environments where it would be subject to constant use. To get the job done this BlueDri unit leverages a 3-stage filter system. The first filter is a pre-filter, followed by an optional second stage filter and finally a HEPA filter.
With all three of its filters in place the 550 removes 99.97% of particles sized .3 micrometers and larger. That makes dust, mold and drywall particles quick work for the BlueDri unit. It's at home in a wide variety of application use-cases including home repair and constructions sites, mold and sewage remediation jobs, and water and fire damage restoration cleanups. All this is packed into a tight package that weights in at a mere 45 pounds.
Although blue is in the name, it doesn't have to be the color of your scrubber. The 550 comes in blue, green, grey and red. Beyond being our value pick, the BlueDri Air Shield 550 is also our all-around winner for best air scrubber.
Airflow Rating: 250 – 500 CFM
Dimensions: 25″ x 20″ x 14″
Weight: 45 lb
Power: 115 v, 2.5 amp, 60 Hz
Motor: Variable Speed
Warranty: 1 year, 180 days on electrical
---
Top Pick: Best HEPA Air Scrubber for Mold Remediation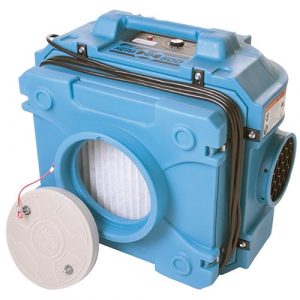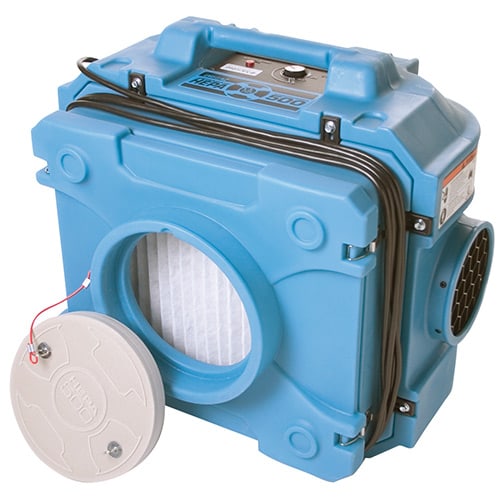 The Dri-Eaz F284 Air Scrubber/Negative Air Machine HEPA 500 (that's a mouthful) is a venerable competitor in the Air Scrubber space. Known for being a reliable workhorse, the only downside of the F284 is the premium price tag that comes with it. Make no mistake, the price tag is absolutely justified. We consider this to be a tie for best air scrubber. If the F284 is within your budget, buy it.
Some manufacturers use a numbering system that defines the maximum CFM of a negative air machine. Dri-Eaz isn't one of them. The F284 is capable of a staggering 1,500 CFM. That's triple the CFM of the BlueDri Air Shield 550. And, the F284 Negative Air Machine/Air Scrubber has more going for it than merely a high CFM rating.
Standout features include an onboard GFCI protected outlet allowing other equipment to be plugged into the F284. The power cord for the unit itself is 25 feet. And, of course, as the name would suggest the F284 takes a HEPA filter making it the right tool for the job for dealing with mold, lead paint, VOCs and more. It can also use an activated carbon filter for smoke and other odor removal work.
So, why wasn't this the all around winner? The steep price point, while an exceptional deal considering the capabilities the F284 offers, may be out of range for some buyers.
Airflow Rating: up to 1,500 CFM
Dimensions: 18.2″ x 26.2″ x 24.6″
Weight: 44 lb
Power: 115 v, 4.5 amp, 60 Hz
Motor: Variable Speed
Warranty: 1 year
---
Top Pick: Portable Air Scrubber for Smoke & Odor Removal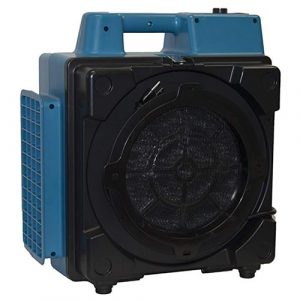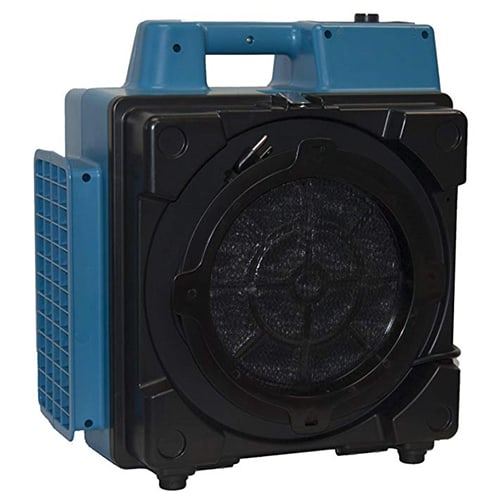 As it's longer name confirms, this potent air scrubber for smoke and odor removal has a 4-stage filtration system that includes both a HEPA filter and a carbon filter.
For smoke removal a carbon filter is a must. Being able to run the filter array the X-2580 allows is just one reason why it's among our best air scrubbers to buy. This air scrubber is an excellent choice whether for smoke, odor, VOC and of course mold remediation. The X-2580 packs a lot of punch into its highly portable, compact ABS enclosure.
Weighing in at less than 24 pounds, we didn't expect this unit to be big on moving air, but we were wrong. It's 1/2 HP motor is rated for 550 CFM. And, it has a 5 speed motor which is a welcome feature for not only controlling air flow but noise, too.
How many of these air scrubbers would you need? A single X-2580 is effective for smoke or any other contaminant in a 1,500 square foot area. If in addition to harmful airborne contaminants you're also looking for activated carbon filtration, put the X-2580 on your list.
Can the X-2580 also work on mold remediation sites? As we mentioned earlier, it can, but for those jobs we still recommend the higher performing, more flexible and powerful X-4700AM. Speaking of the X-4700, please note that if you need a more featured unit, XPOWER's X-4700AM will accept a carbon filter.
XPOWER Air Scrubber Video Overview
Airflow Rating: up to 550 CFM
Dimensions: 18.9″ x 16.6″ x 10.4″
Weight: 23.6 lb
Power: 115 v, 2.8 amp, 60 Hz
Motor: 5-speed
Warranty: 1 year
---
Top Pick: Shop Air Scrubber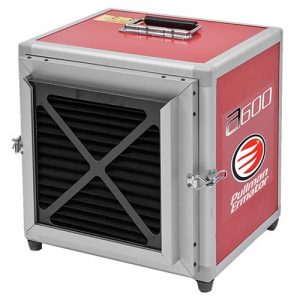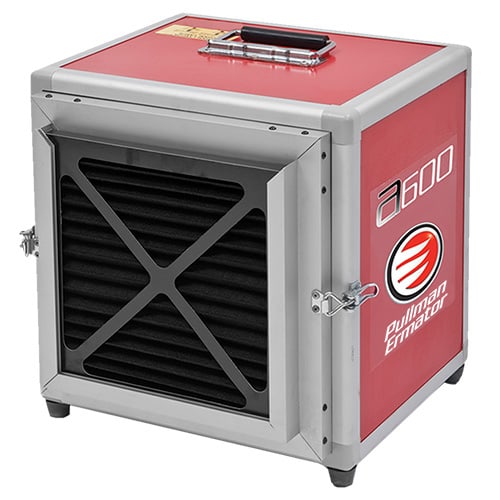 One thing that will immediately stand out about the Pullman Ermator A600 is that it's not a big chunk of molded ABS plastic.
Contractors give the A600 a thumbs up, and this might just be part of the reason. While it has a great set of specifications, it's one downside might be that it is a bit awkward to move as compared to other highly portable units. This thing is boxy in the best and worse sense of the word. Enough about looks. Let's get to those specs.
The A600 Air Scrubber features a two speed quarter HP motor that demands only 2.1 amps. The two speeds yield 300 CFM and 600 CFM in low and high operation modes. Filtration is impressive with the manufacturer boasting their HEPA filter to be 99.99% efficient at .3 microns and less.
The more we look this one over, the more there is to like. Most buyers of commercial air scrubbers are looking for portable units. While this one is technically portable, it seems more at home in the shop to us.
Airflow Rating: 300 / 600 CFM
Dimensions: 15″ x 15″ x 17″
Weight: 41 lb
Power: 115 v, 2.1 amp, 60 Hz
Motor: 2-speed
Warranty: 1 year, 180 days on electrical
---
Top Pick: Hospital/Medical Grade Scrubber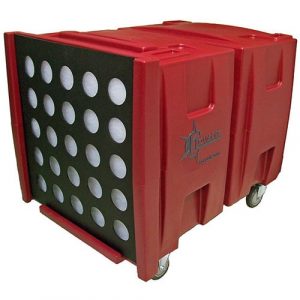 For applications in hospitals, clinics, or medical research facilities, Novair's F2100 Air Scrubber is our top pick. The Novair 2100 leverages a 2 horsepower, 2 speed motor to pull air at a consistent flow rate while utilizing the entire filter media area. The two speeds allow for 1,300 CFM and 2,000 CFM operation (in low speed and high speed modes respectively).
Novatek recommends the 2100 for use in abatement, air scrubbing, or anywhere dust is a concern. It's powerful, durable, efficient and lightweight considering it's specifications. But, those caster wheels mounted to the bottom of the unit are nothing short of a lifesaver. While it's the top pick for medical and hospital grade use, the F2100 can also be used in a wide variety of environments by exchanging HEPA filters for general purpose filters.
If the F2100 is overkill, consider the F1000 below. It's our pick for lead paint abatement and fine particulate work but is also a medical grade scrubber.
Airflow Rating: 1,300 CFM / 2,000 CFM
Dimensions: 37″ x 26″ x 31″
Weight: 135 lb
Power: 115 v, 5 amp, 60 Hz
Motor: 2-speed
Warranty: 1 year, 180 days on electrical
---
Top Pick: Lead Paint Dust and Fine Particulate Remediation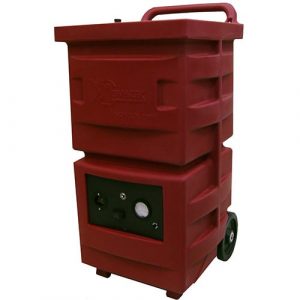 Novair's F1000 is our second pick for medical applications and hospitals. It's also our top pick for air scrubbers to use for lead paint dust and fine particulate removal. The F1000 also has a two speed motor and shares the high-quality bar set by Novair. It isn't quite as hefty as the F2100, but still manages 500 CFM (at low speed) and 1,000 CFM (at high speed).
Like its big brother, the F1000 is known for durability and long life. It also routes air through it so the entire media surface is utilized. Correctly placing the TruHepa filters when operating the F1000 is critical for any use. It's even more critical with harmful VOCs and lead remediation. So, take care to properly seat all filters. And, stick with the filters recommended by Novair for a snug fit.
For moving the unit around there's two large 8″ wheels and an integrated handle, too.
Airflow Rating: 500 CFM / 1,000 CFM
Dimensions

: 20″ x 23″ x 40″

Weight: 81 lb
Power: 115 v, 15 amp, 60 Hz
Motor: Yes (2-speed)
Warranty: 1 year, 180 days on electrical
---
Choosing the Right Commercial Air Scrubber
When selecting an air scrubber there are a few factors that should always be considered, including:
Airflow Rating – CFM, or cubic feet per minute, is used to express how much air an air scrubber can move. Be sure the unit you pick has a CFM rating that is suitable for the jobs it will be used for. Not sure how many air scrubbers you need for a job? Check out our air scrubber calculations.
Air Speeds – A great feature that makes a unit more versatile is a blower with variable speed settings. Not only does fan speed effect how much air is being purified, it also determines the level of ambient noise where the unit is placed.
Filtration – At the end of the day, filtration is what an air scrubber does. Pick a unit that can filter out the particulates you need to remove while reliably dealing with the strain the amount of airflow moving through it demands. Most units have HEPA rated filters. Some also have pre-filters and optional carbon filters. Pre-filters remove larger particulates, saving the HEPA filter for the smallest ones. Carbon filters remove VOCs and odor smells.
Portability – Today, most air scrubbers are considered to be of the PAS variety, which stands for portable air scrubber. Take note of the form factor, weight, number and placement of wheels, and if the scrubber has one or more handles to make moving it around easier.
Price – Quality usually comes at a price. While you cannot compromise on quality, you can right-size the air scrubbers you purchase for the type of work they'll be used for. Buying units with inferior specs will introduce increased running time or the inability to perform the required work. Purchasing those with specs that far outpace the requirements of the work they'll be used for is simply wasting money.
Quality – Always go with a tried-and-true brand which has a track record of manufacturing high-quality products. Knowing the type of work that you'll require from a unit, make sure it's up to the task.