This is another questing submitted by an Air Scrubber HQ visitor. The specific questions asked was:
Do air scrubbers produce ozone?
No, they do not. Air scrubbers used to clean the air and remove particles do not generate ozone. Air scrubbers work through the use of a filter or set of filters which trap particulates. Ozone is not involved in this process.
Air scrubbers in use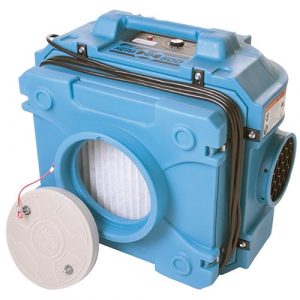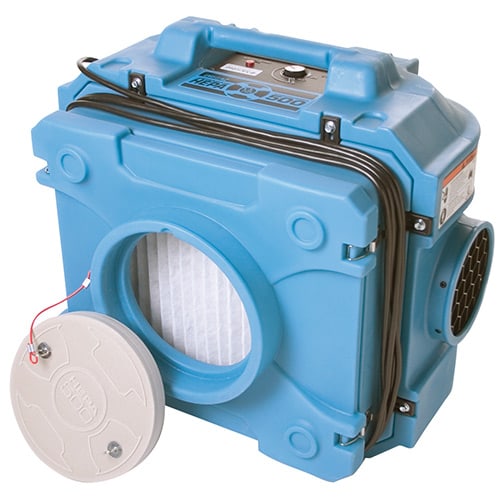 We've documented how air scrubbers work before. When an air scrubber is at work at a remediation, renovation or construction site, it takes in ambient air, passes it through a series of filters, and exhausts it out. Whether that air is expelled into the same space it came from or if it is routed through ducting and passed elsewhere, during the process no ozone generation ever takes place.
All of the work an air scrubber does is achieved when the air is passed through a series of filters. The filters trap particulates, VOCs, dust, mites, and a litany of particles and pollutants, removing them from the air.
How is ozone produced to clean air?
Ozone machines are used in commercial and residential environments, largely to remove unwanted odors and particles. Opinions and research varies on the effectiveness of this approach.
Regardless, as opposed to a filtration process, generation of ozone is more hazardous. This is due to the fact that ozone should not be breathed in by pets or humans. If you are researching the use of an ozone generator be sure to adhere to all manufacturer recommendations for use.
However, we think we know why this question about air scrubbers and ozone is so popular.
The Air Scrubber by Aerus HVAC device CAN produce ozone
There is a device sold in the United States called the Air Scrubber by Aerus. This is not an air scrubber proper, per se. An air scrubber is a portable device that is used to remove particulates, VOCs and irritants from the air, usually at the hands of a commercial professional. A proper air scrubber is used in the renovation, remodeling and mold remediation industries most commonly.
This device created by Aerus is an in-HVAC device. Its purpose is to treat the air passing through that system. And, it comes in an ozone-generating version. This caused quite a bit of scrutiny as it is generally stated by everyone from the EPA to most doctors that ozone generation shouldn't take place in occupied spaces.
The simple naming of this Aerus device is likely what drives most of the questioning if air scrubbers produce ozone. To be clear, our site has no information on this device, nor is it about this type of residential device.