AlorAir has been designing and manufacturing quality commercial dehumidifiers for years. With the AlorAir Storm LGR Extreme Commercial Dehumidifier they've taken years of experience and focused it in one portable unit. Every restoration professional should give the Storm LGR Extreme consideration.
We did, and it was chosen as our top pick for best commercial dehumidifier for mold remediation professionals.
Latest Price and Promotions
Quick Take: AlorAir Storm LGR Extreme
The AlorAir LGR Extreme Commercial Dehumidifier is an excellent professional dehumidifier. If you're in the market for a highly portable dehumidifier for water damage restoration and mold remediation, put it on your list.
Recommended use
The Storm LGR Extreme by AlorAir is a very flexible, hard working moisture removal, restoration and remediation tool. Designed for the professional, the manufacturer recommends several use cases.
This commercial dehumidifier is at home performing a number of tasks including:
Carpet Drying
Cellar and Basement Dehumidification
Crawlspace and Attic Dehumidification
Flood Damage Renovation
Mold Remediation
Water Damage Restoration
Also See: All Our Best Commercial Dehumidifiers Picks
AlorAir Storm LGR Extreme Features
The AlorAir Storm LGR Extreme has an extensive feature set. Here's the features we found most compelling.
Performance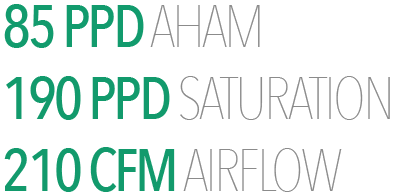 AlorAir created the Storm LGR Extreme with both performance in mind. The unit has a very high COP (coefficient of performance) of 2.8L/Kwh which translates to 5.2 pints/Kwh or .74 gallons/Kwh.
All things considered, the Storm LGR Extreme is capable of 85 PPD AHAM and 190 PPD saturation. That's at 210 CFM, and more than respectable, especially when considering the unit's compact size.
In fact, for portable commercial dehumidifiers with an integrated pump, it's at the sharp end of the field. Speaking of, the pump is good for a 20 foot lifting distance. Water can be pumped away using the included condensate hose, too.
The unit also has a wide temperature and humidity operating range. For temperature, the unit is good from 33.8° to nearly 105° F (1° to 40° Celsius). As far as functioning humidity range, AlorAir states 35 to 95 percent humidity.
High performance across the operating range is the sum of many engineering factors. There is, however, one obvious hint. It's actually right in the product's name: LGR. Running R410A, an LGR, or low-grain refrigerant definitely helps.
AlorAir Storm LGR Extreme Commercial Dehumidifier
Latest Price and Promotions
Usability
Usability is a strong point for this AlorAir unit. First, you can submerge the base of the unit in water. The base is watertight and its the dehumidifier's circuitry is sealed. Second, the unit has memory starting. Enough said. Third, the dehumidifiers LCD panel is crisp while admittedly lower tech. Lower tech is good for this type of equipment. The buttons and controls are confident if not familiar and make sense. Operation? Plug it in, select the setting you want and walk away.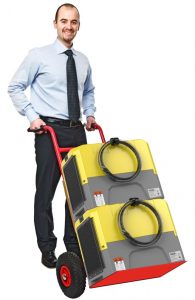 Finally, while weighing it at 78 lb., moving and positioning is manageable. Tough handles are included on each end to position, or even hang the unit in a tight space.
It is worth noting, however, that the unit lacks wheels. While a shortcoming to many, what is great is how well the units stack.
Moving several? This picture from AlorAir's site read our mind. Use a dolly, hand truck or cart. Sure, wheels sound great. But, being able to stack up several units doesn't hurt either. It's a tough call, but we're okay with the lack of casters.
Maintenance and serviceability
This is a low maintenance unit. Aiding in that achievement is a MERV 8 filter. Positioned at the intake end of the dehumidifier it keeps dust and other particles out of the unit. Less dust and dirt in the unit means less buildup on coils.
That filter? Don't worry, it is washable. It can quickly be slid out of the unit, hosed off and replaced. When operating in extreme environments, a HEPA filter can be used in the MERV 8 filter's air inlet position.
AlorAir epoxy powder coats its coils. Thats extra insurance against refrigerant leaking. It also extends the coils' ability to transfer heat. AlorAir recommends servicing the coils annually with any approved, self-rinsing coil cleaner.
When it does need to be serviced, access is easily achieved with hand tools.
Pros and cons
Conclusion
AlorAir is making a statement. The Storm LGR Extreme is a commercial dehumidifier that checks off all the boxes. Packed with features and thoughtfully executed, its an excellent portable dehumidifier for any job type. What's more, the Storm LGR Extreme can fit into those tight spaces that bulkier units simply cannot. It's one of our top commercial dehumidifier picks, our overall winner, and selection for best portable dehumidifier.
Detailed specifications
Specifications
| | |
| --- | --- |
| Brand and Model | AlorAir Storm LGR Extreme Commercial Dehumidifier |
| Power | 115 volts/60 hz |
| Operating Temperature Range | 33.8° to 114° F (1° to 38° C) |
| Operating Humidity Range | 35% to 95% |
| Moisture Removal | 85 PPD (AHAM), 190 PPD (Saturation) |
| Coefficient of Performance (COP) | 2.8L/Kwh / 5.2 pints/Kwh / .74 gallons/Kwh |
| Airflow | 210 CFM |
| Room/Area Size | Up to 3,600 sq. ft. |
| Integrated Humidistat | Yes |
| Onboard Pump | Yes |
| Sound | < 58 dba |
| Dimensions | 22.8 × 13.7 × 17.3 in |
| Weight | 78 lb. |
| Warranty | 5 years |