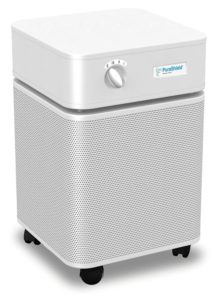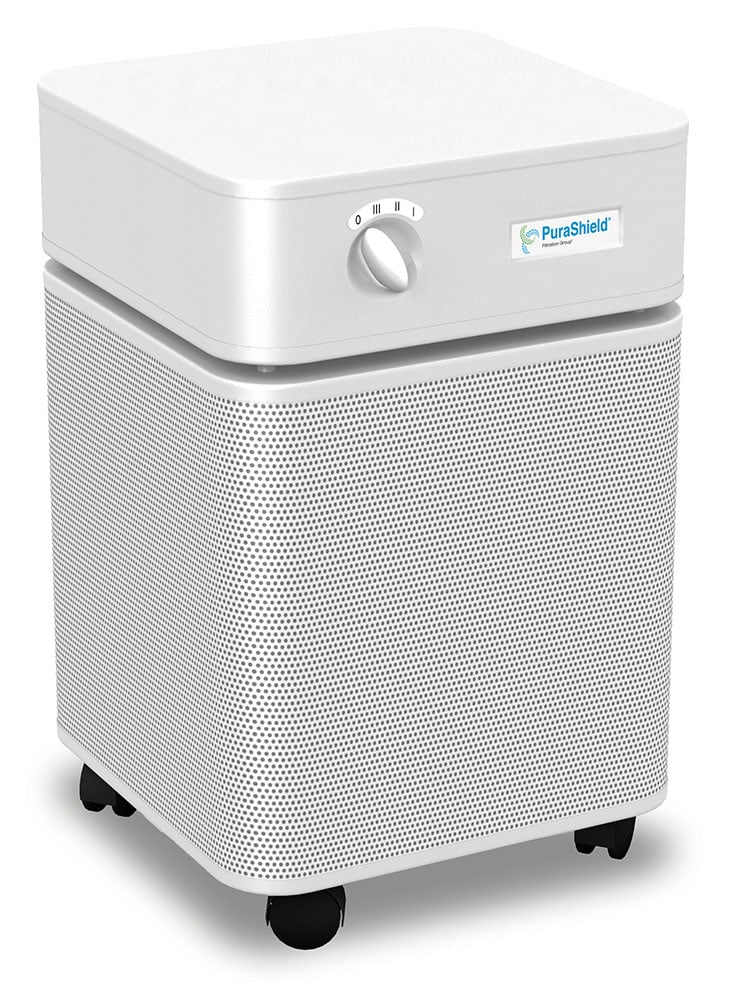 After seeing the PuraShield 500 Air Purifier and PuraShield Mini Air Scrubber we reached out to Purafil to learn more about these products and how they are taking on COVID-19 in schools, doctors offices, the workplace and in the home. We posed several questions which were answered by Alex Spivey and Jay Joshi, PhD. Alex is Marcom Manager and Jay is the Director of Product Innovation.
A unique approach to air scrubbers (air purifiers)
When we first saw the PuraShield 500 and Mini, we immediately knew we weren't dealing with your run of the mill air purifiers. North of a thousand dollars, the price point is on the 500 is at the high end of the spectrum. Digging in we quickly learned that these are far from your standard air purifiers you'll find at your local retailer.
An air purifier effective against COVID-19
It's common to see multi-staged filtration to capture particles of various sizes. Many higher end models often also have a carbon filter. Far less common is an air purifier with patented technology which can remove not only harmful gases, smoke, odors and allergens from air passed through it, but that their filtration media "is tested to remove 99.46% of solutions containing SARS-CoV-2, the virus that causes COVID-19."
The following chart provides some context of the differences between the PuraShield 500 and competing products.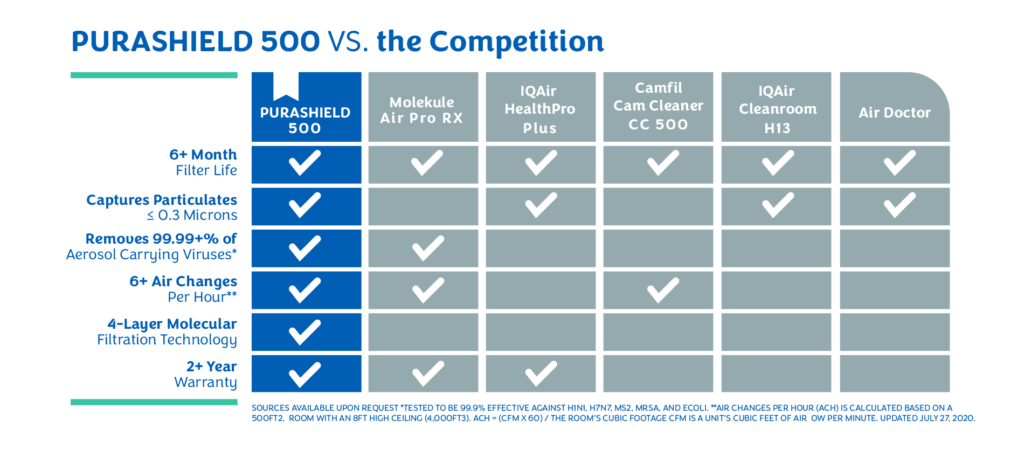 Purchasing a PuraShield Air Scrubber
For commercial or bulk purchasing, PuraShield has a dedicated RFQ page on their website.
Consumers and small business investing in a PuraShield Air Scrubber or Mini can find their products on Amazon, although we recommend purchasing from Sylvane in North America as they offer more comprehensive customer support.
Answers to our questions about PuraShield air purifiers
The following questions were posed to Purafil. We've provided our questions and their answers verbatim.
How long was the process of designing, testing and manufacturing the new Purashield line of air purifiers?
Building on 50 years of air filtration expertise and innovation, Purafil was able to quickly repurpose and miniaturize our custom solutions into a standardized product to help fight the COVID-19 pandemic. In just 60 days the first PuraShield™ product was launched, and we have been continuously improving and expanding our offering since.
Most products that use the phrase air scrubber in their name are usually geared toward mold remediation or other restoration or renovation use. Purashield products are squarely aimed at the consumer market, correct?
Purafil's products uniquely qualify as "air scrubbers" while other commercial solutions may not, since our solutions contain industrial-grade air scrubbing media that is used in heavy-contamination applications. This multi-purpose, proven, and portable solution is great for removing many aerosols carrying harmful viruses, bacteria, mold, smoke, and even odors from the air. The Purashield Mini goes a step further in portability with its size and ability to run off a USB power cord, allowing the consumer to take it when they travel.
Focusing on the Purashield 500, the unit is priced at the premium end of the spectrum. What types of customers and applications were top of mind when designing and developing the Purashield 500, and what can they expect in exchange for that premium price tag?
The Purashield 500 was created for vulnerable spaces, like doctor's offices, restaurants, and class rooms because of the amount of people sharing these places on a regular basis. We have also found consumers buying them for their homes and college dorm rooms providing an increased level of indoor air quality in the spaces they spend the most time. We have multiple 3rd party efficacy report to support our performance and differentiation. The PuraWard™ filter within the 4-stage filter is protected by an embedded microtechnology containing an EPA registered antimicrobial additive using copper and silver ions to combat many bacteria and viruses and the patented molecular filtration media removes molecular contaminants from the air, safely oxidizing the molecules, while removing toxic and harmful gases.
We may have missed it but didn't catch the warranty on the Purashield 500 or mini. How long are the product warranties?
We offer up to a 2 year warranty.
We're familiar with air scrubbing and purification approaches like HEPA filtration, PECO filtration and UV irradiation, but you've taken a novel approach with the Purashield 500. What brought about this approach and how does it compare to more traditional methods?
Purafil was the original innovator of molecular air filtration over 50 years ago and has continued to develop unique indoor air quality solutions for nearly any application, from harsh environments like the world largest oil refinery, to sensitive spaces like semiconductor manufacturing, NASA installations, and even the Sistine chapel. Our PuraShield products use multilayer filtration, have a proven performance removing 99.99% of aerosols carrying viruses*, do not release or generate hazardous airborne chemicals like ozone, and removes harmful gases, smoke, odors and allergens.
What is Purafil SP Media and PuraWard?
Purafil SP is a patented molecular filtration media developed and manufactured in the USA that removes molecular contaminants from the air, safely oxidizing the molecules, while removing toxic and harmful gases.
PuraWard Filters are a high efficiency filters protected by an embedded microtechnology containing an EPA registered antimicrobial additive using copper and silver ions to combat many bacteria and viruses. PuraWard does not use a surface coating, and is non-toxic, non-transdermal, non-off gassing, non-leaching.
The Purashield 500 comes with 22 pounds of Purafil media. How often does that media need to be cleaned, treated or replaced?
The PuraShield 500 Includes 22 lbs of Purafil's patented molecular filtration media, providing an oxidizing surface area roughly the size of 419 soccer fields (32 million ft2). The media is contained within the 4-layer filter, so it gets replaced when the filter is replaced. We suggest every 6 months, but it will be dependent on how often the machine is running and the environment it is in (super dusty or homes with lots of pet dander may need to check the filter more often). The filter is protected with a pre-filter that can be vacuumed off occasionally to help extend the life of the filter.
How safe are Purafil SP Media and PuraWard around the house? Are there any special considerations that homes with children or pets need to be aware of?
Purafil SP and non-toxic and landfill safe. Purafil recommends following the same safety protocols as you would with any other air filtration products.
Many air purifiers, including both the Purashield 500 and mini, state they are effective against bacteria and viruses. We have also seen a few air purifiers and scrubbers stating a level of effectiveness against Coronaviruses. Has either Purashield been tested against Coronaviruses or Covid-19 or are any tests planned?
Our combined PuraShield filtration Media is tested to remove 99.46% of solutions containing SARS-CoV-2, the virus that causes COVID-19‡.
Wildfire smoke concerns created spikes in air purifier sales more than once in the past few years. How does the Purashield 500 perform against smoke and other airborne particulates common near wildfires?
Unlike traditional solutions that only target particulate removal, and allow harmful gases from smoke to pass through, the PuraShield multi-layer filtration combining HEPA and molecular filtration is ideal for removing the harmful particulates, odors, and gaseous contaminants released into the air by wildfires.
Are there plans at this time for other Purashield products, such as in-duct, whole home or commercial applications?
Purafil offers a full line of advanced filtration products, from standalone portable air scrubbers, full building HVAC integrations, and even drop-in replacement filter upgrades.
If there was one point you wanted our readers to clearly walk away with regarding the Purashield 500, what would it be?
The Purashield 500 goes above and beyond other air scrubbers on the market with unique and proven technology that safely and effectively removes 99.99% of aerosols carrying viruses.
*Laboratory testing demonstrated 99.99% reduction of aerosols carrying MS2.
‡ MRIGlobal Project No. 311686.01.001
Copies of the full test reports are available upon request.
We wanted to again thank Purafil for their time and for helping us better understand their innovative products. You can learn more about Purafil at their website.
About the PuraShield 500 Antimicrobial Air Scrubber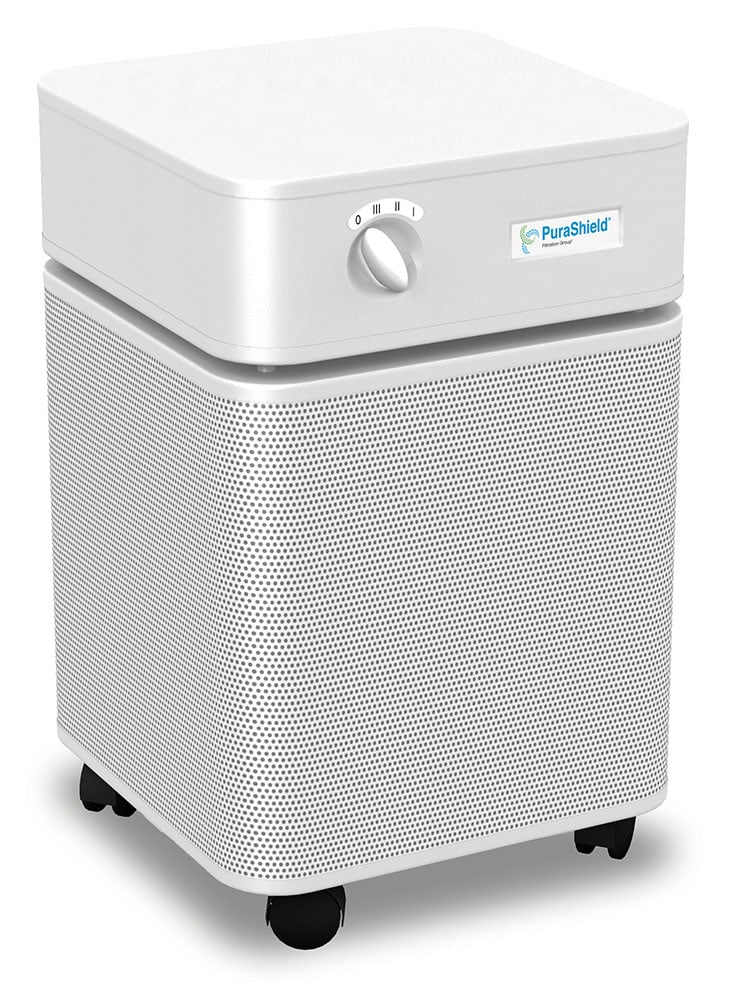 Quickly and effectively removes many aerosols carrying harmful viruses, bacteria, mold, and smoke from the air
Uses a disposable 4-layer filter
Equipped with a filter layer protected by PuraWard® technology using copper & silver ions†
Includes 22 lbs of Purafil's patented§ molecular filtration media
HEPA filtration for harmful particulate matter
Also removes toxic and damaging gaseous pollutants
Compact and mobile design
Workplace customer testimonial video