If you've noticed an uptick in storms during the Atlantic hurricane season, that's because there has been an uptick recently. 2020, in fact, was a record breaking year with 30 named storms, 12 which made landfall landfall. After getting through the 21 names alphabetically named, in 2020 naming moved on to using Greek alphabet.
| | |
| --- | --- |
| Named Storms (Winds above 39 mph) | 30 |
| Hurricanes (Winds above 74 mph) | 13 |
| Major Hurricanes (Winds above 111 mph) | 6 |
2020 Hurricane Season – Atlantic
More Storms, More Mold Remediation Equipment Sales
What do all these storms mean? Well, increased storms mean increased property damage, with flooding being at the top of the list. Last year, contractors responding the the Atlantic hurricane season purchased more air scrubbers, dehumidifiers, carpet fans and ozone generators for restoration and remediation work.
Even a simple look at searches for mold remediation shows search volume reached its highest rate since 2004 in 2020 – twice.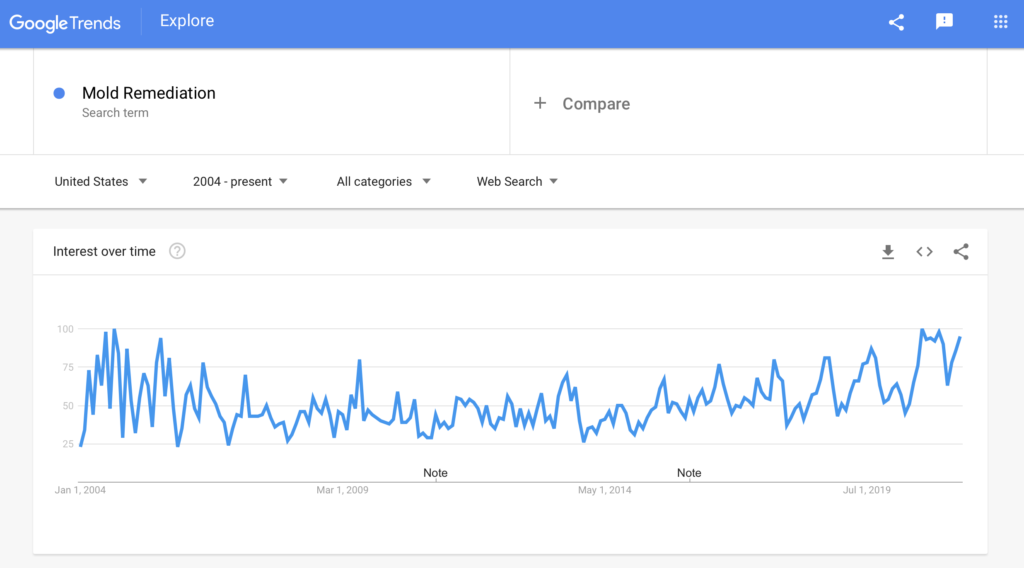 Above Average Years Lead to a Record Breaking Season
2020 marked the fifth year in a row when the Atlantic experienced an above-average Atlantic storm season. And, according to the NOAA ,out of the last 26 season, 18 outpaced the norm.
Those 30 named Atlantic storms in 2020 broke the previous record of 28 named storms in 2005.
The New Normal (Average) for Atlantic Storms
In response to the increase in storms, the NOAA has changed what average means. Going forward, an average season will now consist of the following:
14 Named Storms
7 Hurricanes
3 Major Hurricanes (unchanged)
The changes are in effect for the 2021Atlantic hurricane season which runs from June 1st to November 30th .